A safe space that's made to measure
Finding a safe and welcoming space to create a bespoke outfit can be really challenging, especially when you have your own vision for your wedding day or another special occasion. While traditional tailors are great, they can sometimes fall short for people who don't want the usual three-piece suit or long trailing dress. 
But luckily, there's Orhan Kaplan. 
Orhan London Tailoring is an East-London based business that has carved a niche through its bespoke LGBTQ+ tailoring service. Having founded the business with his wife, Denise, Orhan soon discovered a strong unmet demand within the LGBTQ+ community from people who wanted to choose something other than a standard wedding dress. Recognising the needs of the community has helped shape their product offering, and celebrating their customers' individuality has made women's suits and non-binary tailoring a key part of their business. 
As a tailoring and alterations business, being visible and accessible is fundamental for success. With their Business Profile on Google, casual shoppers who need simple alterations are able to find Orhan London Tailoring easily on Maps, while customers who need extended bookings for bespoke creations are able to swiftly organise appointments. 
However, for more specialised services, such as those for their LGBTQ+ customers, Orhan and his team recognised that an often overlooked community needed something else beyond simply being able to find the business online. They needed an indicator so that LGBTQ+ people would know it's a safe and welcoming place. 
Becoming active allies
Communicating outwardly that Orhan London Tailoring is a safe space with dedicated service for the LGBTQ+ community has since become a top priority for the business. "We want people to know it's a safe environment," says Denise. "We want people to know that we can look after you, we understand your needs, and that we know the sort of things you're going to ask for.''
Activating the "LGBTQ-friendly" attribute on their Business Profile has allowed Orhan to reassure the community that this is a welcoming environment. Sharing photos on their profile has also become an important part of this relationship, as potential customers are able to see other outfits the team have created for other members of the community. The positive reactions from customers, and a 75% increase in the number of women's outfits ordered over the last three years, has been a testament to Orhan's inclusive approach.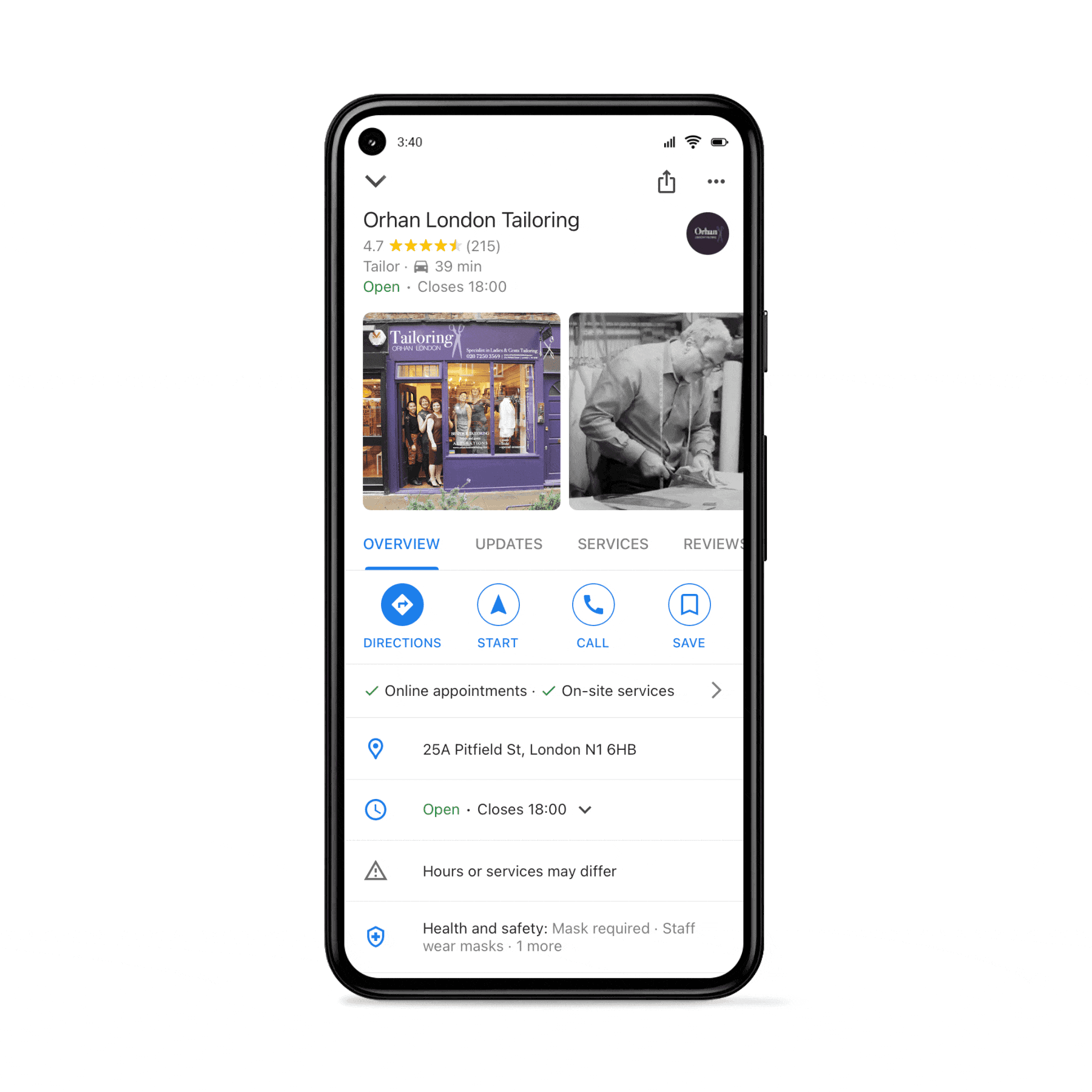 Connecting with the community, with help from Google
The LGBTQ-friendly feature gives businesses like Orhan London Tailoring a way to show potential customers they are inclusive and welcoming to the LGBTQ+ community – something which is more important than ever as businesses reopen after the COVID-19 pandemic.
According to Stonewall's 2017 LGBT in Britain research, 1 in 7 LGBTQ+ people report experiencing discrimination because of their sexual orientation and/or gender identity when in a shop or department store. With the LGBTQ-friendly attribute, along with other inclusive attributes such "transgender safespace" and "gender-neutral restroom," businesses are able to visibly signal that they are a safe space to users on Google Search and Maps.
For Joseph Crouch, Marketing Manager at Orhan London tailoring, these small actions are powerful markers to those who are looking for them, and have encouraged more LGBTQ+ customers to come in-store: "It's these little things that give our customers the confidence to come and make the step."