The Accessibility Discovery Centre is open for collaboration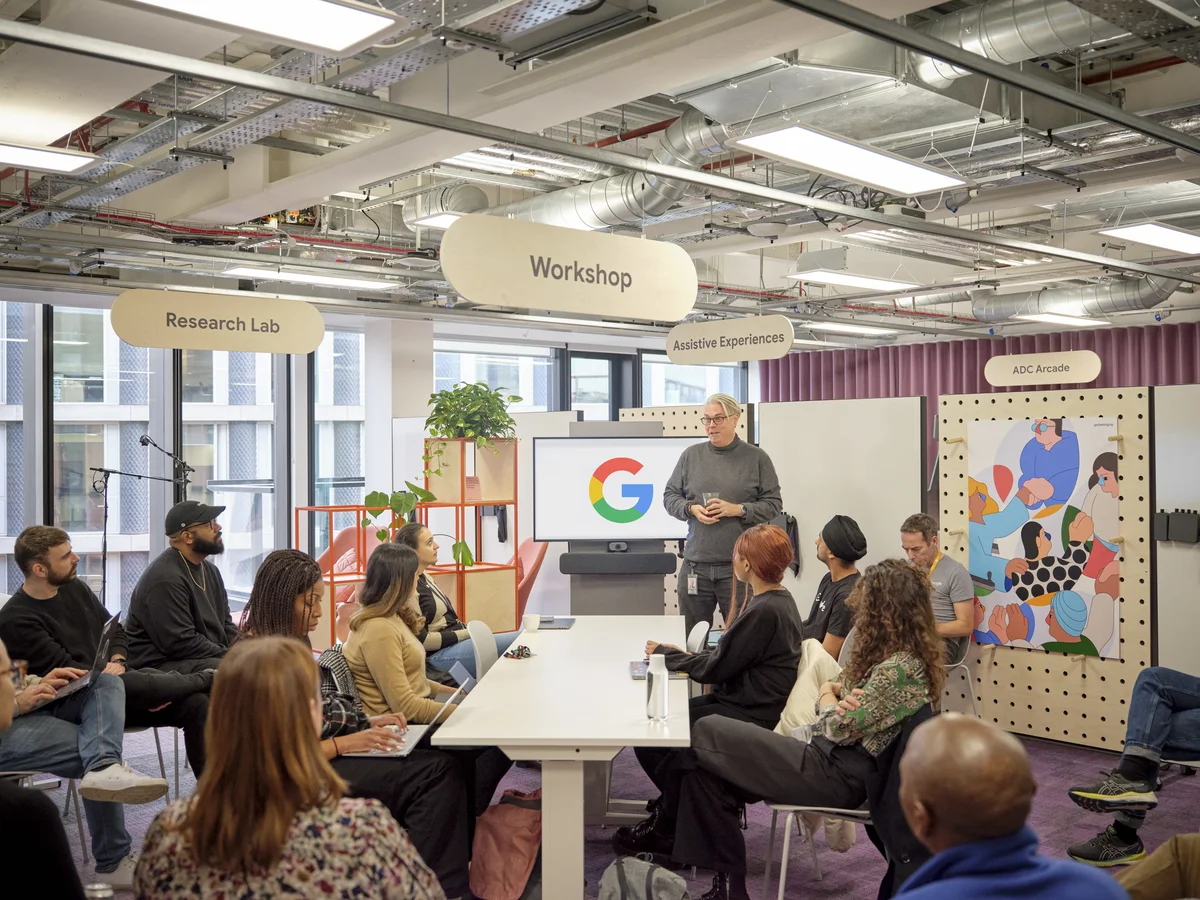 Listen: The Accessibility Discovery Centre is open for collaboration
Have you ever tried lip-reading Mickey Mouse? Six-year-old me definitely did, but without much success. Although I was interested in the colours, the slapstick humour and the endless action, I just didn't 'get' it. And for a good reason — I have been profoundly deaf since I was five years old.
Mainstream entertainment took on new meaning for me when I was a teenager and captions started to become standard for television broadcasts. Captions communicate not only what is being spoken but also any useful background noises which help amplify the plot, such as [dramatic music] for building tension, or a [loud explosion] off camera which helps explain why the main character looks a little alarmed. My children can't read yet, but I already know they will love [loud farting sound] which seems to feature a lot in preschool TV programmes!
A new Accessibility Discovery Centre in the UK
Removing barriers to accessibility can have an enormous impact on everyday life. For example, I used to have to go into the office every day to access a sign language interpreter. But now I can work at home using voice-to-text captions in Google Meet — a meaningful development for a busy working mum.
Inspired by changes like this, today Google is opening a new Accessibility Discovery Centre in London, a space where our engineers, researchers, product teams and partners can build new kinds of accessible technologies to remove more of the barriers that people with disabilities face every day.
Our Accessibility Discovery Centre has been built in consultation with local partners like the The Royal National Institute of Blind People, the Royal National Institute for Deaf People and Everyone Can, and Google's internal Disability Alliance employee resource group. It will be a workshop for research and product development, and a space for collaborating, co-designing and learning with the accessibility and disability communities.
This is our first Accessibility Discovery Centre outside the U.S., and builds on our years of investment and innovation in helpful technology. Yet its opening is an acknowledgement that we have much more to do to meet people's ever-changing needs.
A modified gaming station with a chin-controlled joystick in the ADC Arcade
Bringing Project Relate to people with non-standard speech in the UK
The most recent example of such technology is Project Relate, an app which Google is launching in beta in the UK today. Roughly 250 million people worldwide have non-standard speech and may have trouble being understood. To help address this, Project Relate enables anyone with non-standard speech to teach the app to understand their unique speech patterns, and easily communicate using three features: Listen, which transcribes their speech into text; Repeat, which repeats what is said in a clear voice; and Assistant, which connects with Google Assistant to help people get things done.
Early testers of Project Relate describe how the app has helped them be better understood and build more meaningful connections. One user, Debra, shared how she went from having less than 10% of what she says being understood by people she's just met, to having more than 90% of her speech understood. "Relate has changed my life," Debra said.
Yvonne, one early user of Project Relate said: "I feel better understood – not just by unfamiliar listeners, but also my husband – it's the difference between a meaningful conversation and someone just nodding along."
Over £1 million to support people with disabilities
People with disabilities are nearly three times more likely to be economically inactive than people without disabilities. That's why we're also announcing over £1 million in philanthropic funding to help create opportunities for people with disabilities across the UK and Europe to fulfill their potential, through three grants. As a grantmaker within Google.org, I understand both the challenges and the tangible outcomes that can be delivered through funding, so I'm particularly proud that today we are:
making fully-funded Google Career Certificate scholarships available through Leonard Cheshire in partnership with INCO to create accessible pathways for people with disabilities into high-growth tech jobs. Seventy-eight percent of people who have completed one of these entry-level certifications report a positive impact on their career, such as getting a new job.
providing grant funding for the Royal Mencap Society to deliver digital citizenship and online safety education for children with learning disabilities in the UK. Mencap will create a range of inclusive content based on the Be Internet Citizens curriculum developed by YouTube and the Institute for Strategic Dialogue; and deliver wrap-around care and support.
supporting the European Disability Forum to carry out research into employment barriers for people with disabilities across Europe and the UK, with a focus on the role of digital skills in opening up economic opportunities.
When people have equitable access to information and opportunities, everyone wins. But people's needs are constantly changing, throughout their lives or even throughout their day. We know that technology — and direct partnerships with people with disabilities— are key to helping us meet those needs and making the world's information more accessible.
If you're an academic, community or charitable/non-profit organisation and wish to visit the Accessibility Discovery Centre, email adclondon@google.com.