Google in Latin America
Google for Brazil 2023: Technology at the service of Brazilians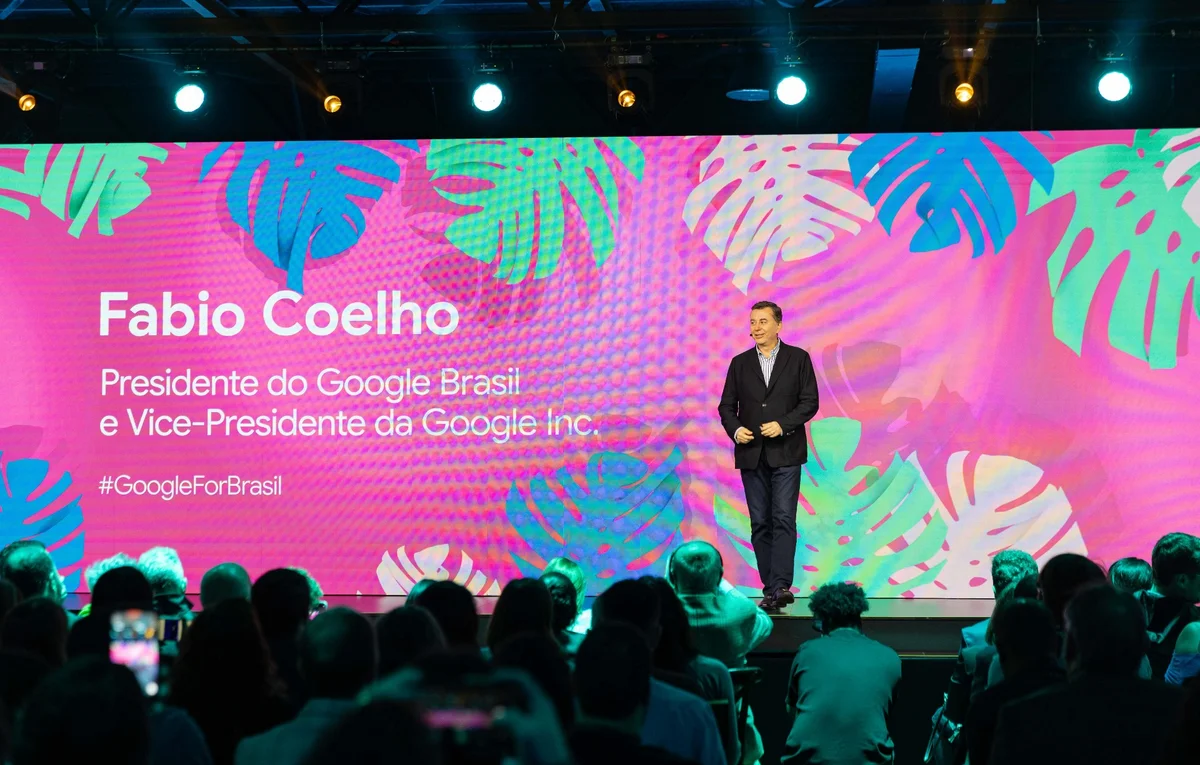 Today, at our fifth Google for Brazil, we shared a series of new initiatives and partnerships that show how we're harnessing technology and artificial intelligence to support Brazil's digital transformation across all walks of life.
After 18 years in Brazil, we also celebrated an important milestone with the opening of our second office in São Paulo. The new space will be the primary location for the Google Cloud team and for our growing engineering footprint in São Paulo.
The new Google office in São Paulo draws inspiration from the city, especially its rivers.
Driving economic growth
Using technology to drive innovation and economic growth is core to our mission in Brazil. Today, we released our latest Economic Impact Report, which showed that in 2022 we helped generate more than 153 billion reais in economic activity for millions of Brazilian businesses, nonprofits, publishers, creators and developers, through Google Ads, Google Play, YouTube and Google Cloud.
The report also assessed the time saved when organizations use the productivity apps that many Brazilians know and love, like Gmail, Calendar, Drive, Docs and Meet. In 2022, Brazilian organizations that used these products to create, communicate and collaborate saved up to 33 days of work.
Expanding digital payments
Brazilians who use Google Wallet will be the first in the world with access to a new Google Wallet feature that allows payments through QR codes. The new feature, to be launched in the coming months, makes any Android device capable of making digital payments with credit and debit cards by using their camera to scan dynamic codes in payment machines.
This feature was designed and developed considering people's needs in countries like Brazil, where a significant portion of smartphones do not have NFC, the technology used in contactless payment methods. It will bring the safety and ease of Google Wallet's digital payments to more people.
Brazil will be the first country to have the option to pay using QR Code via Google Wallet.
Supporting the tourism and gaming industries
We are launching a multi-featured partnership with Embratur, Brazil's state-owned tourism agency. We will assist them in creating videos about top Brazilian destinations and use YouTube Shorts to disseminate them all over the world.
We will also work with Embratur Lab, their innovation branch, to facilitate the digitization of small and medium-sized tourism companies focused on regional attractions. The goal is to train 35,000 entrepreneurs to help update their business profiles, and educate them on how to monitor travel search trends based on Google data.
In addition, we announced a new round of the Indie Games Fund, designed to help the development of the gaming industry in Latin America. Following the success of the first edition, Google Play will once again choose 10 new game developers to receive seed funding and assistance from Google experts.
Promoting digital citizenship
Brazilians turn to Search everyday to find information about social programs like Bolsa-Família, which provides low-income families with a monthly stipend, and Seguro Desemprego, Brazil's unemployment insurance. To facilitate access to those social benefits, we are improving the Search experience to directly connect users to information from official government pages about eligibility requirements and the enrollment process.
Unemployment insurance information is now available on Search.
As part of our continuous efforts to promote quality information about health, we will also start to show up-to-date information on vaccination stations on Google Maps and Search, with data on more than 40,000 health centers around the country. When a Brazilian user searches for "vaccination near me," the Vaccination Panel on Google Maps and Search will display information like contact number, opening hours and websites.
A new database now includes 40,000 health centers and vaccination stations on Maps and Search.
Combating unemployment in Brazil is another critical concern for the country's development. That's why we are also launching another Google Career Certificate in Digital Marketing and E-commerce in Portuguese to train and connect people with areas in high-demand areas. The course, developed by Google and hosted on Coursera, is ideal for those who want to create their own digital business or enter the job market.
Plus Codes in favelas across Brazil
Since May 2022, Plus Codes, a Google project that is integrated into Google Maps, has already created over 14,000 completely free digital addresses in areas without formal addressing in Brazil. The communities of Paraisópolis and Favela dos Sonhos, both in the state of São Paulo, participated in the initial registration.
Now, we are announcing the expansion of the project, renewing our partnership with the NGO Gerando Falcões and the logistics startup NaPorta to bring digital addressing to at least 20 more favelas in the greater São Paulo area by the end of 2023 — with the potential to help 40,000 people obtain addresses. We hope to expand Plus Codes to an additional 100 favelas in the coming years.
Plus Codes at Favela dos Sonhos, in São Paulo. Credit: Laércio Barauna/naPorta
Helping Brazilians prepare for floods and wildfires
Earlier this year, we announced a partnership with the National Institute for Space Research (INPE), which tracks deforestation in Brazil, to pilot a test of our Wildfire Alerts technology that combines public data like satellite images with AI to do early detection of wildfires and forecast fire propagation. We are already issuing test alerts to INPE and we hope they will soon be able to help affected communities respond more rapidly and effectively to wildfires.
Soon, Brazilian Android users who have their notifications system on will be able to receive real-time riverine flood alerts right on their phones. The tool is crucial to strengthening communities' response to riverine floods and is now available for inhabitants of 80 local cities. This is an update of the Flood Forecasting tool that we launched last year, which uses AI and data from the Geological Service of Brazil (SGB) to warn communities of floods in their area.
Providing immersive and sustainable ways to explore the country
Today we also unveiled a first-of-its-kind partnership with O Boticário and eCycle that will help provide up-to-date information about 3,500 recycling collection points in Google Maps and Search. People will be able to find recycling points based on what types of materials they want to recycle through queries like "battery recycling near me" or "clothing recycling near me." The results will include NGOs, shops, recycling cooperatives and public buildings.
In partnership with O Boticário and eCycle, Google Maps and Search show the location and up-to-date information on 3,500 recycling points throughout Brazil.
We are also using AI to make Google Maps more immersive and intuitive for Brazilians. In the coming weeks, we intend to launch Indoor Live View for Guarulhos Airport, helping people to easily navigate the terminals of the busiest flight transportation hub in Latin America. Our Immersive View feature is now available for landmarks in cities like São Paulo, Rio de Janeiro, Brasília and Fortaleza, allowing users to see 3D renderings of iconic places like Rio's Christ the Redeemer Statue and the São Paulo Museum of Art (MASP).
Immersive View shows a 3D rendering of MASP (Museum of Art of São Paulo).
We believe these initiatives showcase our long-term commitment to help Brazilians and support our partners, including businesses and local governments, in using technology to build a more innovative and sustainable future for Brazil.