Google in Latin America
Students in Brazil are taking their impact beyond the classroom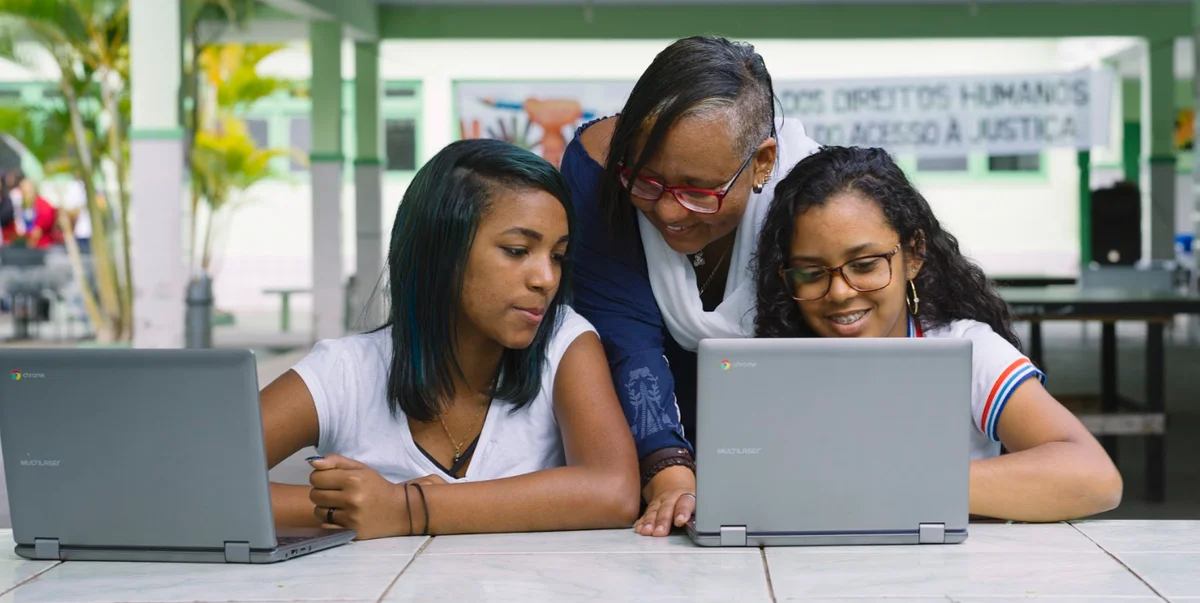 Schools in Latin America and around the world are taking student impact beyond the classroom. In an effort to discover how students and teachers in Brazil are defining "innovation," we launched the campaign #inovarparamim (What innovation means to me) to collect stories from teachers and students from across the country who are using technology to make a difference in their communities.These are three of many inspiring stories:
Making public health more accessible
When the Secretary of Education of Bahia, Brasil partnered with Google to make computers accessible to all of the students and teachers in public schools across the state, high school student Carol Neris used that technology to solve a problem affecting her community.

Determined to do something about the lack of access to information about the public health system, Carol partnered with teachers and peers to build an app called "Hack Saúde" (Hack Health). The app provides all sorts of information about public health posts, including details like doctor availability, health post opening and closing times, and available vaccines. The app has already begun to decrease wait-times, inform people about doctors' shifts,  and educate people about vaccines.
Technology is just a tool. It's up to me to use this tool to make positive things happen. And I'm not just dreaming it; I'm doing it.
Empowering people with disabilities through sports
Ellen Rodrigues, one of the founding member´s of Paraná´s Google Educator Group (a global network of teachers who lead efforts to get their schools and sister schools online) and Professor at Brasil´s University of Paraná, founded a project that engages students in efforts to use technology to make sports more accessible for people with disabilities.
The students collect data sets measuring the ways that their dozens of participants progress over time, and they use the data to inform research about the most inclusive and effective ways to teach and empower through sports.  One of the program´s members Juliano, who is paraplegic, developed a passion for athletics through the program and now represents Brazil on the national Handball team.

We see a community that is under-served, and we take action. Universities have the unique ability to help society at large evolve.
Students in São Paulo are Recycling Water from Polluted Rivers
Students from Google Reference School Colégio Magno describe the pollution they see in their community as "absurd." "We only have one planet; we don't get a second Earth," they exclaim when asked what sparked their idea to create "Recycling Rivers," an initiative that employs technology to purify polluted river water so that it can be reused.
The students—Camila, Renan, and peers—began by analyzing the components of a nearby polluted river. Stunned by the level of pollution they found, they converted an old antenna from their school yard to funnel, condense, and purify the dirty water. As a testament to the project's success, the students have been able to use the river water to plant the vegetables they eat in the school's cafeteria!

We're going from micro to macro; not just one cleaner river: a clean São Paulo, Brazil, and planet.
Carol, in the classroom where she worked with her peers and teacher to build her app!

Carol meets with patients in the health post nearest to her home to spread the word about her app and gather feedback.

Ellen and student João review sit down with Juliano to chat strategy and progress.

João and Juliano warm up before a big game.

Juliano's handball team smiles after a victory.

Camila and Renan collect water samples near the lake.

Renan funnels water through an old antenna attached to a garden hose.

Camila uses the recycled water to plant arugula and lettuce for the school cafeteria.
These are a few of so many inspiring stories of teachers and students across Brazil —and the world—who are using technology to solve the problems they care about. We'd love to hear what innovation means to you—add your voice to this conversation using the hashtag #inovarparamim.