The courage to change: sharing resources for recovery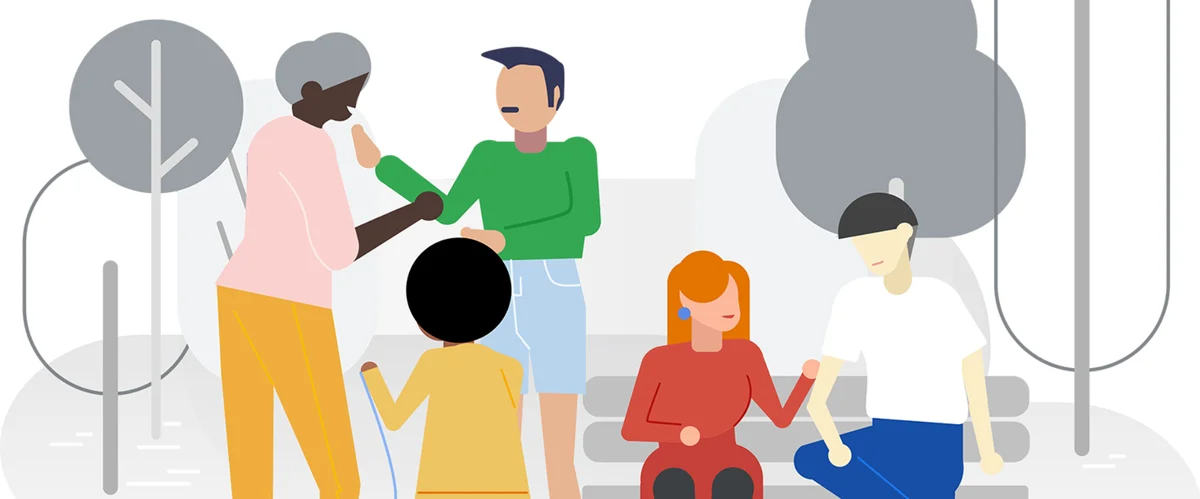 I didn't know what recovery meant until a friend asked me if I was still "in recovery." Confused, I responded, "Yes, I'm still not drinking, if that's what you mean." I know now what I didn't know then: Recovery means life after substance abuse. It means having a clear mind and a healthy body. It means having the foresight to say no to alcohol. It means having the mental clarity to thrive at work and the desire to live a fuller, happier, complete life. 
As someone who has struggled with addiction and embarked on a journey toward recovery, I am so proud that Google is marking National Recovery Month with a new site, Recover Together. I participate in a recovery group at Google and know how important it is for this community to be connected. As part of Google's ongoing efforts to combat the opioid crisis, today we're taking an additional step to support those in recovery.
Too many of us have experienced firsthand the devastating impact of addiction—with our friends, colleagues, family members and loved ones. From the first time I filled my water bottle with alcohol and brought it to school at only 14 years old, to the many times I blacked out and woke up in the back seat of my car in surprising locations, I know how deeply addiction affected my life and worried my family.
More than 21 million Americans struggle with substance use. But it is treatable: An estimated 1 out of 14 American adults is in recovery. In fact, people come to Google every day to seek information on addiction treatment, prevention and recovery. Just last month, we saw an all-time high in search interest for "rehab near me," "addiction treatment near me" and "how to help an addict."
Starting today, you can come to Google to find recovery resources all in one place, beginning with a video series from those in recovery. I felt less alone when hearing others share their stories, and I am grateful to be able to do the same here.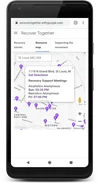 Our new Recovery Locator Tool in Maps. 
We're also launching two new Google Maps locator tools that will connect people with crucial recovery resources, including: 
Recovery Locator Tool: A map with locations of more than 83,000 recovery support meetings such as AA, NA, Al-Anon and SmartRecovery, and other services such as school-based and family support. These take place at more than 33,000 community centers, churches, and other spaces—put in your address and you'll see many recovery services are in your area or wherever you're traveling.

Naloxone Locator Tool:  A special locator tool will show you locations where you can get Naloxone, the life-saving opioid overdose-reversal drug, without a prescription. All you have to do is type "Naloxone near me" or "Narcan near me" into the search bar in the tool. It already includes 20,000 pharmacies (including CVS, Rite-Aid and Walgreens) in 50 states, and we'll continue to add local clinics and independent pharmacies. The site will also have more information about the availability and life-saving capability of this medication. Soon, these locations will also be searchable directly in Google Maps.
Finding recovery is a personal journey, and I am so grateful to work for a company that is making resources available to those who need them. In addition to these new tools, the site points to many other resources for those seeking treatment, including a self-assessment screener from the National Institute of Drug Abuse and state-specific Helpline resources and hotlines. 
To anyone at the beginning stages of recovery: This process is hard and tiring and challenging and you do not need to figure this all out alone. From the moment I first connected to the Employee Assistance Program counselor at Google who helped me confront the reality of my addiction, my life has changed in ways that at one time seemed unimaginable. I teach yoga. I run marathons. My life has been enriched by others in the recovery community. My sorrow has been replaced with a joy I never thought possible. And today, my hope is that anyone seeking recovery can find the same help and resources through Google I wanted so many years ago. Recovery is difficult, and it is so much better when we're all in it together.