Little Doodle, big impact: Honoring the Greensboro sit-in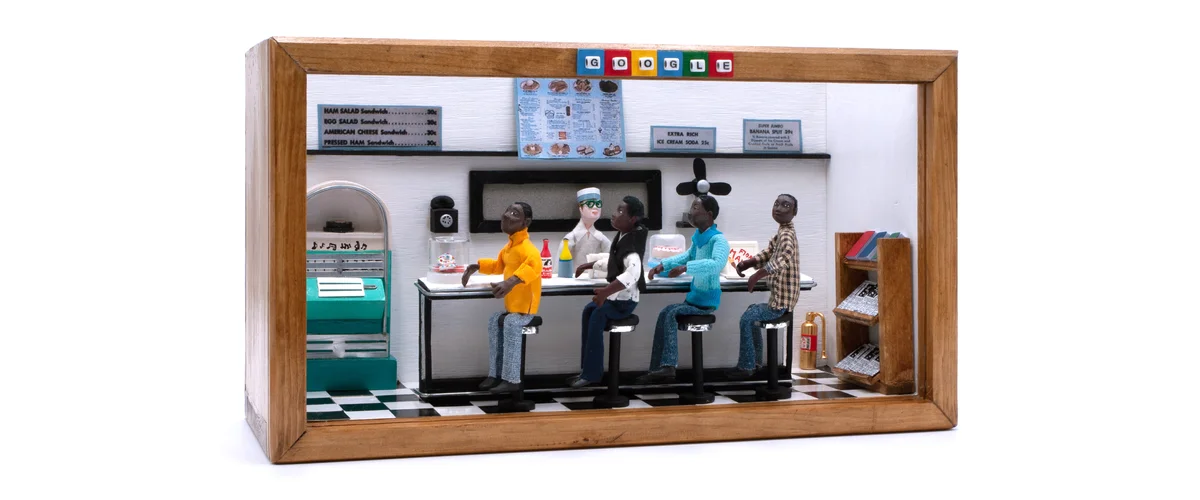 As a little girl, my biggest wish was for a dollhouse. But as the daughter of a single mom, we just couldn't afford things like that. Forty-something years later, that wish came true. I bought my first dollhouse. What I didn't know at the time was that a childhood dream would soon become my passion for telling stories through dioramas.
My love for miniatures gained a new meaning upon the devastating incarceration of my son. It was in the midst of that pain and anguish that I came up with the African American Miniature Museum. This mobile exhibit tells stories of Black history through a collection of dioramas placed in shadow boxes, created by myself and my husband Eddie Lewis. For me, the museum was a way to turn the negativity into something positive and share the stories of our ancestors' strength and perseverance through hardship. I want young people to learn about those that came before them who sacrificed to help make the lives they live today possible. Most importantly, I want them to see that we each have the power to make it through difficult times to thrive and hopefully make things better for those who come after us. 
One such difficult yet inspiring time was the United States Civil Rights Movement. In fact, today marks the 60th anniversary of one of the events that helped spark it—the Greensboro sit-in. Organized by four Black college freshmen, the protest against segregation served as a catalyst for similar demonstrations throughout the nation.
Today's Doodle diorama
not only pays homage to the sit-in, but also to everything that came as a result: changes in our country to make it more possible for ALL Americans—no matter their race, color, or creed—to live to their full potential.
Karen Collins with her Doodle diorama. Photo credit: Rebecca Veit
I hope that when people see this Doodle, at the start of Black History Month, they are inspired to learn more about the sit-in, the movement, and all the stories of Black resilience that helped shape the world we live in today. For folks in the Black community, I hope they feel gratitude and pride and that they remember that we have the strength to build a better future for ourselves and generations to come.