A tribute to Alan Rickman's life and roles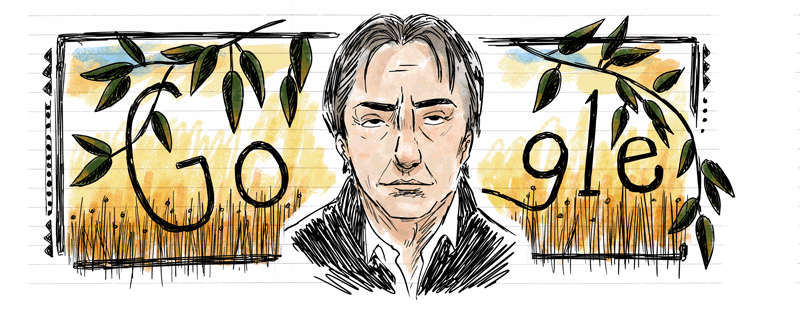 On this day in 1987, the late English actor Alan Rickman performed in the Broadway play that was instrumental in launching his career — "Les Liaisons Dangereuses". To honor that moment in time, today's Doodle celebrates the great thespian and his work.
Over the course of his career, Rickman received numerous acting nominations and awards and even directed three plays and two films. His on-screen performances have no doubt left a unique and lasting imprint on British culture, and I am thrilled that it lives on via my Doodle today.
Following his death, Alan's popular autobiographical diaries captured the nation's attention; these candid and entertaining reflections are represented by the fine, fountain-pen like scratches layered on a background resembling white lined paper. The branches either side of the Doodle are also inspired by his diary scribbles.
At the center of my Doodle is an animation of Rickman, with his arched brow that could communicate so much about his characters. I also wanted to illustrate Alan's passion for visual arts, like the illustrations in his diaries, represented in the soft watercolors of the background of the Doodle.
It was a privilege to honor Alan Rickman's life and career with this Doodle. He will forever be remembered as one of the greatest actors of his time, not only in the U.K. but across the globe.