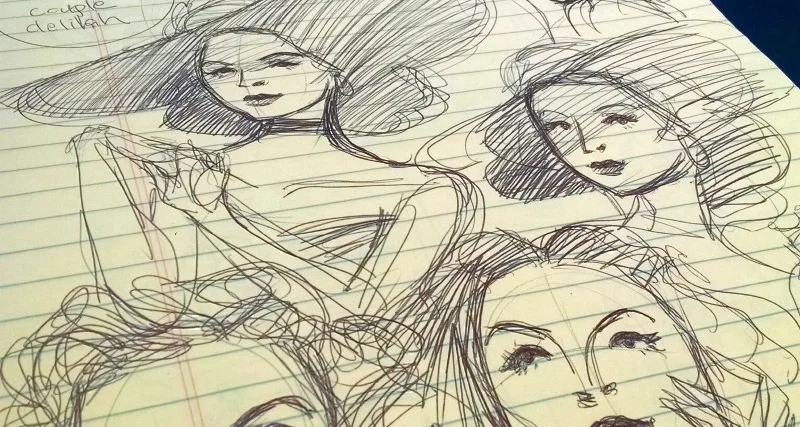 Day one of sketches and exploration
We love highlighting great stories about women's achievements in science and technology. When the story involves a 1940s Hollywood star-turned-inventor who helped develop technologies we all use with our smartphones today … well, we just have to share it with the world.

Today on Google's homepage we're celebrating Hedy Lamarr, the Austrian-born actress Hollywood once dubbed "the most beautiful woman in the world." Lamarr's own story reads like a movie script: bored by the film industry and feeling typecast, Lamarr was more interested in helping the Allied war effort as World War II broke out than in the roles she was being offered. She had some background in military munitions (yes, really), and together with a composer friend, George Antheil, used the principles of how pianos worked (yep, pianos) to identify a way to prevent German submarines from jamming Ally radio signals. The patent for "frequency hopping" Lamarr co-authored laid the groundwork for widely-used technologies like Bluetooth, GPS and wifi that we rely upon daily.

It's no wonder, then, that Lamarr has kind of a mythical status at Google, and I was pretty excited at the chance to tell her story in Doodle form. This took some tinkering of my own—after deciding on the movie format as a nod to her Hollywood career, I dug through old fashion illustrations and movie posters to try to capture the look and feel of the 1940s. Sketching storyboards on a yellow notepad helped me figure out how to show Lamarr in very different scenarios—movie star by day, inventor by night—which we then animated and set to the awesome soundtrack created by composer Adam Ever-Hadani.

So in the spirit of celebrating women in technology everywhere, here's to Hedy Lamarr, who fused the arts with science and never let herself be typecast. Happy birthday, Hedy, on what would have been your 101st birthday. And thank you.

Alternative ending from an early draft