Meet the Doodle for Google guest judges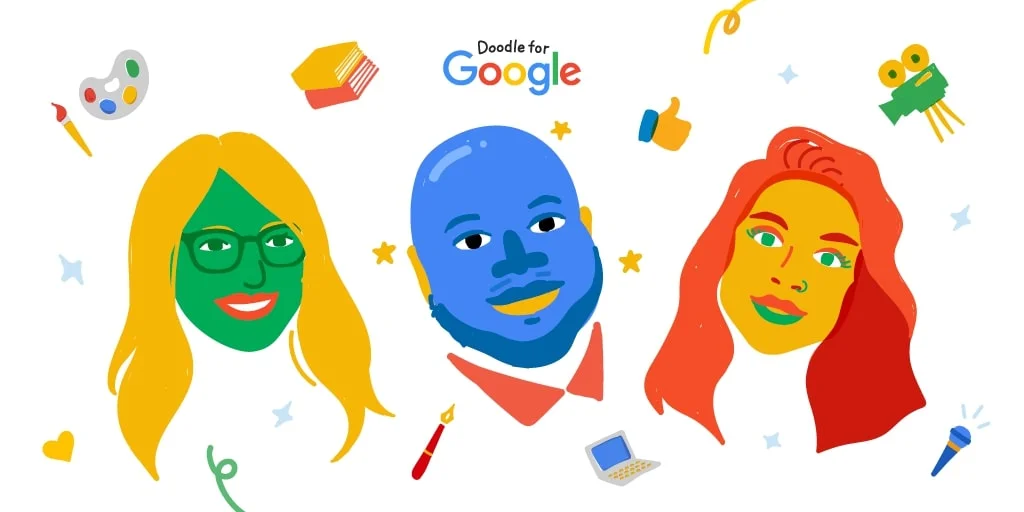 The 12th annual Doodle for Google competition is underway, and we're asking students across the country to unleash their creativity and show us their interpretation of this year's theme, "I show kindness by…".  Submissions are due by March 13.
This year we're excited to announce our panel of stellar guest judges who will help us choose the contest finalists and winners. They have each made showing kindness a guiding principle in their lives. Teacher of the year Rodney Robinson, works to create a positive environment and to empower his students. In 2015 he started teaching at Virgie Binford Education Center, a school inside the Richmond Juvenile Detention Center, in an effort to better understand and prevent students from entering the school-to-prison pipeline.
Joining Rodney as a judge is acclaimed author and illustrator Mari Andrew. Mari values optimism, resilience and vulnerability in her work and has inspired over 1 million devoted fans through her art and writing, where she beautifully covers these subjects. In her New York Times Bestseller book, "Am I There Yet?: The Loop-de-loop, Zigzagging Journey to Adulthood," she uses poignant essays and illustrations to help her readers feel less alone as they experience the trials and tribulations of life. 
Last but certainly not least, the multifaceted entertainer and late-night host Lilly Singh will also join our guest judge panel. Lilly has amassed a global audience of millions through her social channels and work in entertainment—she uses her platform to uplift others. In 2017, UNICEF appointed Lilly as one of their Goodwill Ambassadors.  She also created her #GirlLove initiative to inspire positivity among women and support each other's voices encouraging upward mobility.  

Teacher of the Year Rodney Robinson.

 Author and illustrator Mari Andrew.

Entertainer and late-night host Lilly Singh.
Kindness means something different to everyone, whether it's starting a community garden, standing up for a friend or doing chores around the home—so it's up to you how to interpret this year's theme. 
 With Rodney, Mari and Lilly's help, we'll select five National Finalists who will win a $5,000 college scholarship and a trip to our Mountainview headquarters. One National Winner will receive: a  $30,000 college scholarship, a $50,000 technology package for their school or non-profit and their artwork featured on the Google homepage for a day. 
We can't wait to see how you show kindness. Let's get Doodling!