Doodle for Google is back for its 13th year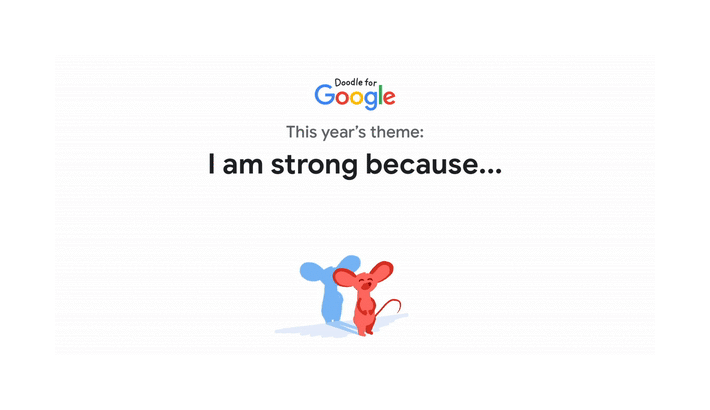 2020 was a challenging year for many of us. As a mother of three young children, it was filled with important conversations and loads of feelings as we took on distance learning, quarantining and even  changes like wearing masks. 
No one knew how to parent through a pandemic (that wasn't in the handbook) but my family's chats kept coming back to the concept of being strong – for ourselves and for others. While nothing could have prepared us for the highs and lows of last year, we somehow managed to grow a little stronger. 
That idea of inner strength felt like a natural theme to bring into our 13th annual Doodle for Google contest: The 2021 contest theme is "I am strong because…"  We're asking students to creatively share how they keep moving forward when things get tough. When you make mistakes or get scared, what helps you clear the clouds above your head? When people around you are feeling down, how do you use your inner strength to lift them up?
This year we have an impressive judging panel helping us to determine our 54 state and territory winners and five national finalists, one of whom will go on to be the national grand prize winner. Dav Pilkey, best-selling book author and illustrator ("Dog Man," "Captain Underpants" and "Cat Kid Comic Club"), Grammy Award-winning producer and artist Peter CottonTale and 2020's National Teacher of the Year Tabatha Rosproy will join us as guest judges. 
Inner strength is something all of our judges have relied on. As a child, our first guest judge Dav was diagnosed with dyslexia and ADHD and was often sent out in the hallway during class. While alone in the hallway, he drew and created stories that evolved into his books. Today, his #1 bestselling "Dog Man" series has 40 million copies in print, has been translated into 40 languages and is being developed as a feature film by DreamWorks. Dav explores themes like kindness, courage, empathy and doing good in his unique graphic novels, and he recently created a series of read-aloud and how-to-draw videos to encourage kids to be creative. This led to the launch of "Dav Pilkey at Home," a collaboration with the Library of Congress and Scholastic which provides free online content for kids and families during the pandemic lock down.

Our second guest judge, Chicago native Peter CottonTale, is a Grammy Award-winning producer, composer, musical director and artist. Peter is known for his collaborations with Chance the Rapper, whose historic Grammy Award-winning album "Coloring Book" Peter executive produced. In 2020, Peter independently released his debut album CATCH, and composed "Together" for Google's 2020 Year in Search campaign, in close collaboration with the Chicago Children's Choir. Through his music and leadership in the studio, Peter hopes to help people freely express what they believe and who they are. 
Our last guest judge, Tabatha Rosproy, is a 10-year veteran Kansas teacher and the first early childhood educator to be named National Teacher of the Year. She teaches in a preschool classroom housed in a local retirement community and nursing home. Her inclusive classroom is an intergenerational program that provides preschoolers and residents with multiple daily interactions. As the COVID-19 pandemic forced the closure of school buildings across the country, Rosproy served as a co-chair of the educator task force that helped compile Kansas's continuous education strategy. Rosproy hopes to bring a voice to the important role of early childhood education and to highlight the value of social-emotional education for all ages.
Today the 2021 Doodle for Google contest opens to students based in the U.S., Guam, Puerto Rico and the U.S. Virgin Islands and is open through Friday, February 26.  For more details on how to enter the contest, resources for educators and parents, as well the contest rules, head to our website. The winning artist will see their work on the Google homepage for a day, receive a $30,000 college scholarship and the winner's school will receive a $50,000 technology grant. We can't wait to see some strong Doodles!