Doodle me this: 20 notable Doodles from Google history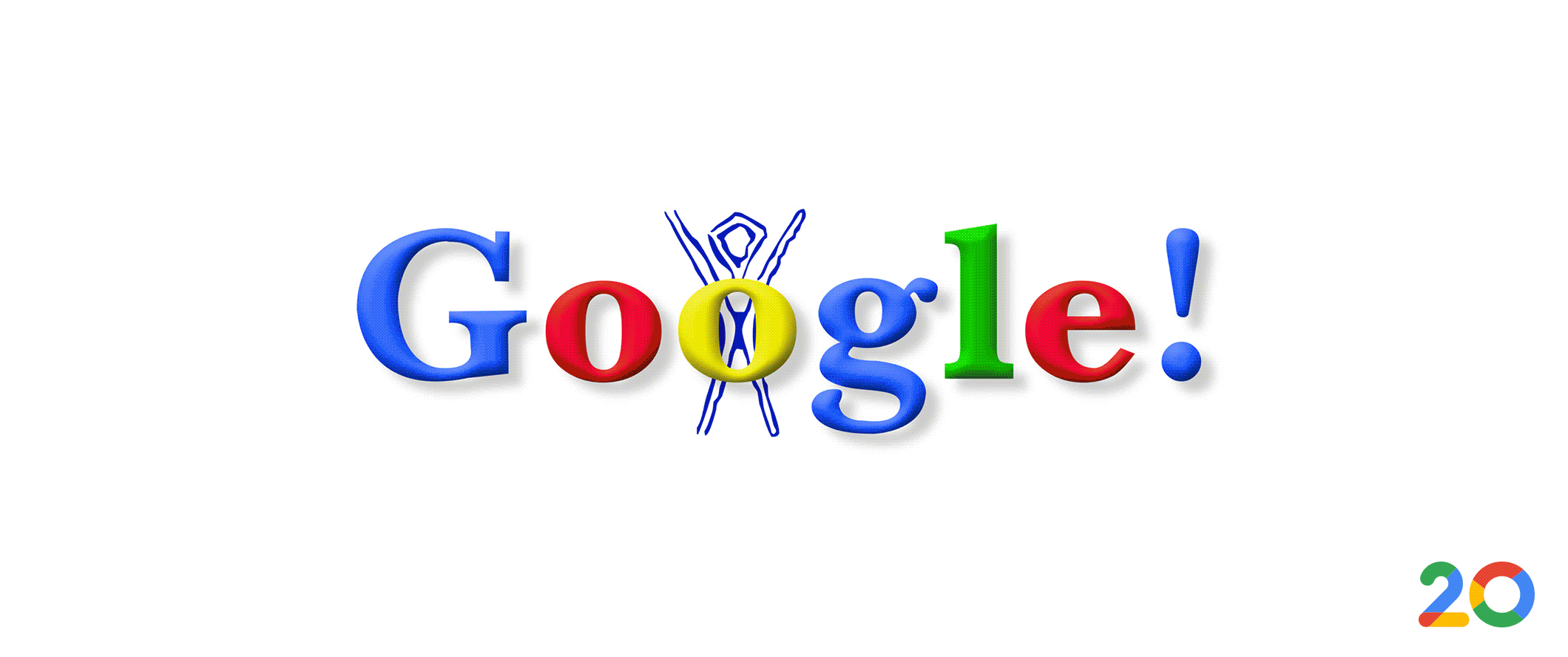 Technically, the Google Doodle existed before the Google company. A few days before Google incorporated, our founders added the Burning Man festival logo to the Google homepage to indicate they were out of town. With this, a colorful legacy was born: our homepage Doodles.
In the last two decades a talented team has created thousands of illustrated, animated and interactive variations of our logo. From our humble roots of using the same clipart turkey in both the 1998 and 1999 Thanksgiving Doodles, to our Emmy-nominated VR short earlier this year (congrats, NASA! 🚀💜), we've come a long way.
As we celebrate 20 years of Google, join us on a quick trip down memory lane to revisit 20 notable Doodles from the last two decades.
First, there were early Doodles.
First Doodle ever: Burning Man Festival, 1998
Google founders Larry Page and Sergey Brin played with the corporate logo to indicate that they were headed to the Burning Man festival—it was their "out of office" message for Google users. With this, the idea of creatively altering the company logo was born.
First Doodle series: Google Aliens, 2000
In May 2000, five Doodles by illustrator Ian David Marsden followed aliens encountering the Google logo, then hauling it off to Mars (1, 2, 3, 4, 5).Though Doodles are traditionally tied to a milestone date, this series was just for the LOLs.
First international Doodle: Bastille Day, 2000
Larry and Sergey asked Dennis Hwang, an intern at the time, to produce a Doodle to commemorate Bastille Day. It was so well received that Dennis was appointed Google's first Chief Doodler, and Doodles started appearing regularly on the Google homepage.
First animated Doodle: Halloween, 2000
Created by guest artist Lorie Loeb, this Doodle featured two jack-o-lanterns in place of the "O's" in Google, and was punctuated by a scary spider dangling from the "L." Sp🎃🎃ky.
They became more technologically advanced...
First interactive game Doodle: 30th anniversary of PAC-MAN, 2010
Drawing inspiration from his dad's career as an arcade technician, designer/engineer Marcin Wichary built the PAC-MAN Doodle from the ground up. The Doodle was true to PAC-MAN's roots: it included the original game logic, graphics, sounds, and even the original bugs.
First live-action Doodle: Charlie Chaplin's 122nd birthday, 2011
This short film featured appearances from the entire Doodle team, with Doodler Mike Dutton in the starring role. In order to stay as close to Chaplin's original films as possible, it was recorded in Niles, California on the same set where many of his silent movies were filmed. Niles is also the home to the advisers for this Doodle, the Niles Essanay Silent Film Museum.
First Doodle slideshow: 200th Anniversary of Grimm's Fairy Tales, 2012
This Doodle was inspired by comics, and let readers pan through the story at their own pace. Doodler Matt Cruickshank's modern take on "Little Red Riding Hood," the tale featured flat designs and even an alternative ending.
First open-sourced code Doodle: 60th Anniversary of Stanislaw Lem's First Publication, 2011
Honoring prolific science-fiction writer Stanisław Lem, this Doodle was a mini-game designed by Sophia Foster-Dimino (inspired by the work of Polish illustrator/Lem collaborator, Daniel Mróz) that let you manipulate a robot after seeing it grow on the screen. It was the first time the code (all 17,000 lines of it!) behind a Doodle had been open sourced, allowing the public to access the code and see how the Doodle was built.
First Doodle animated via piano: Claude Debussy's 151st birthday, 2013
This Doodle panned across an 1800's cityscape at night, and relied on a bit of technological ingenuity to perfectly time lights, smoke puffs and star twinkles to Debussy's music. Fun fact: the music for this Doodle was performed by Doodler Leon Hong's sister, Sabrina Hong.
And got even more creative.
First organic Doodle: Earth Day 2012
Life's a garden and so are Doodles (we dig both). A handful of dedicated Doodlers rigged a camera to the roof of the building to grow this colorful Doodle. Talk about a green thumb.
First animated paper cut-out Doodle, Lotte Reiniger's 117th birthday, 2016
In this video, Doodler Olivia Huynh, set out to recreate filmmaker and animator Lotte Reiniger's style, painstakingly cutting out thousands of paper silhouettes, and moving them ever so slightly for each frame. Fittingly, the film featured Reiniger herself—in paper form of course!.
First Doodle with a narrated poem: Dr. Maya Angelou's 90th Birthday, 2018
In this video Doodle, people inspired by Dr. Angelou's life and legacy—including Alicia Keys, Martina McBride, Oprah Winfrey and even the author's son Guy Johnson—narrated Angelou's iconic poem "Still I Rise," set to a backdrop of beautiful captions designed by Melissa Crowton.
First VR/360 Doodle: Celebrating Georges Méliès, 2018
This Emmy-nominated VR/360 video Doodle celebrated the pioneering French illusionist and film director Georges Méliès. The Doodle team's Helene Leroux, in collaboration with Spotlight Stories and Nexus Studios, told the story of a Méliès-like character and his adventures on a virtual film set.
Pulling off some impressive feats...
First same-day Doodle: Discovery of Water on the Moon, 2009
Doodle artist Jennifer Hom was so inspired by a news article she read about the discovery of water on the moon that she immediately set to work on a Doodle to commemorate this event. The Doodle was completed in roughly four hours, and still holds the record for fastest Doodle launch ever.
Most people featured in a Doodle: International Women's Day, 2014
Featuring more than 100 women from all over the world, this video Doodle included such inspiring women as Russian actress, comedian and singer Nonna Grishaeva; 14-year-old Brazilian education activist Isadora Faber; Nigerian agricultural pioneer Foluso Olaniyan and many, many more.
Most partners involved in a Doodle: 44th Anniversary of the Birth of Hip Hop, 2017
This Doodle took interactivity to a new level, letting you mix samples from legendary breakbeats. Following a primer on the history of Hip Hop, narrated by Fab 5 Freddy, former host of "Yo! MTV Raps," the Doodle gave a tutorial on how to be a virtual DJ on a pair of interactive turntables. Fittingly for a Doodle celebrating an inherently collaborative musical genre, we worked with seven creative partners and nine Hip Hop pioneers to create the Doodle, and more than 50 Hip Hop insiders helped us spread the word.
Longest production time: Celebrating Selena Quintanilla, 2017
The life of Mexican-American musician, fashion icon, entrepreneur, philanthropist and international superstar Selena Quintanilla was celebrated in a musical Doodle video animated by Doodler Kevin Laughlin. Set to one of Selena's most iconic songs, "Bidi Bidi Bom Bom," the video illustrated Selena's rise from childhood phenom to musical powerhouse and took 18 months to produce. If you count that Doodle team member Perla Campos swears she was born to help bring this Doodle to life, it was a work in progress for nearly 30 years. 💃🏽
Surprising and delighting, always
First Doodle 4 Google contest, 2005
The first Doodle 4 Google contest took place in the U.K., and found its first winner in 11-year-old Lisa Wainaina's design, "The Day of the Child." The contest, which now takes place every year in multiple countries, invites students to design their own Doodle and compete for a chance at scholarships and technology packages for their schools.
First Doodle Quiz, Earth Day Quiz 2015
This totally scientific quiz helped people discover themselves in the animal kingdom—and learn fun animal facts in the process. Animal-loving celebrities like Jane Goodall and Edward Norton filmed videos sharing their personal critters, and helped raise money for several animal charities. You can still take the quiz by searching for "earth day quiz" on Google.
Best cat cameo: Momo the Cat, Halloween 2016
An animated version of Doodler artist Juliana Chen's cat made his second of several Doodle appearances in this adorable Halloween-themed game. The game included five levels, magic spells, and a powerful wand to fend of ghostly foes. Momo made appearances in 2015 and 2017's Halloween Doodles as well, and has inspired a *lot* of Momo fan art.
On behalf of Doodlers past and present, thank you for viewing, sharing and clicking our creations all these years. You never know what will show up in our Doodles in the next few decades—probably some turkeys, maybe a cat—but it will definitely be made with love and appreciation for your curiosity and support.