A Doodle honoring Steve Irwin: zookeeper, conservationist and father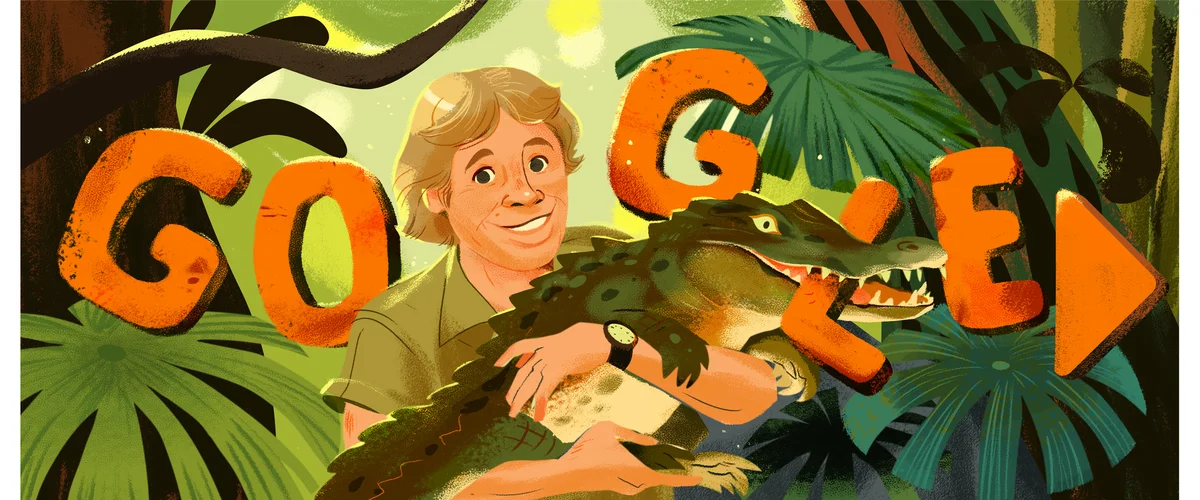 Editor's note: Today's guest post comes from Dr. Terri Irwin, wife of the late Steve Irwin, who is honored in today's Google Doodle. 
Today's Google Doodle acknowledges the life and achievements of my husband Steve Irwin, whose efforts to protect wildlife and wild places have been recognised as the most extensive of any conservationist. We are so proud that his legacy lives on, as that was his greatest wish. He once said, "I don't care if I'm remembered, as long as my message is remembered." 
Steve was born on February 22, 1962 in Upper Fern Tree Gully, Victoria, Australia. The Irwin Family moved to Beerwah on Queensland's Sunshine Coast in 1970 and opened a tiny roadside wildlife park called the Beerwah Reptile Park (later renamed as the Queensland Reptile and Fauna Park). Steve helped to monitor, study and relocate crocodiles living too close to populated areas, which lead to his love and respect for these apex predators.
I happened to go into this tiny roadside park in 1991, when I was visiting Australia with some friends. There I encountered an outspoken man who was clearly passionate about wildlife, especially crocodiles. He was actually inside one of the croc enclosures sharing with the visitors just how special crocodiles really are. "They are very protective mothers and male and female crocodiles show great affection to each other," he was saying. I had never heard anyone speak about crocs with such enthusiasm, much less have the calm courage to hand feed one of these giant saurians. I just had to speak to him. It was a decision that would change my life forever.
Steve and I married in June 1992 in my grandmother's church in Eugene, Oregon. Afterward, we received a phone call about a poacher trying to kill a large crocodile in North Queensland, so instead of a honeymoon, Steve and I went to Australia to save the croc before the bad guys got him. We invited a film crew to come along and document our efforts. Although we didn't arrive in time to save the crocodile, we did save his mate. She was a beautiful girl, not quite 10 feet long. We didn't know it at the time, but this would turn out to be the very first episode of "The Crocodile Hunter" and the beginning of a 14-year adventure, filming in locations across Australia and around the world.
It was love at first sight when zookeeper Steve Irwin met naturalist Terri Raines. Steve and Terri's love for each other matched equally with their passion for animal conservation.

The married duo were partners in life and in work, shooting nature documentaries across the globe, including this Komodo Dragon.

One special moment in Steve's adventures is the time a wild mother orangutan dropped in and hugged him in Sumatra.

Carrying the Irwin legacy, Steve and Terri raised their children to love and respect wildlife.  
The very best part of our lives together would have to be our two incredible children. Bindi was born in 1998, the same year we changed the name of our zoological park to Australia Zoo. Robert was born in 2003, and we travelled and filmed with both of our amazing kids.
Our lives changed forever when Steve had an accident while filming in the Great Barrier Reef. Losing Steve was a real crossroads for us, but together we decided to continue his mission. Bindi, Robert and I have dedicated our lives to the wildlife conservation work that Steve began.

Today, Australia Zoo is still growing with more than 1,200 animals, and nearly 1,000 acres. We protect nearly half a million acres of habitat, and our non-profit organisation supports conservation projects around the world. We even have a Wildlife Hospital that has treated over 82,000 sick, injured, and orphaned wildlife, solely to return them back to the wild.

As Wildlife Warriors, we continue the battle to protect wilderness areas just like Steve did. Our global conservation programs protect many vulnerable and critically endangered species including rhinos in Kenya, tigers in Sumatra, elephants in Cambodia, crocodiles home in Australia and many more. We've also continued the longest running and most comprehensive crocodile research program in the world aiming to educate people everywhere about the essential role crocodiles play in our eco-system as apex predators and why they deserve to be conserved for future generations.  We do this work every day to honor Steve's memory, and now today's Doodle honors him, too.