Two weeks of Doodles to thank essential workers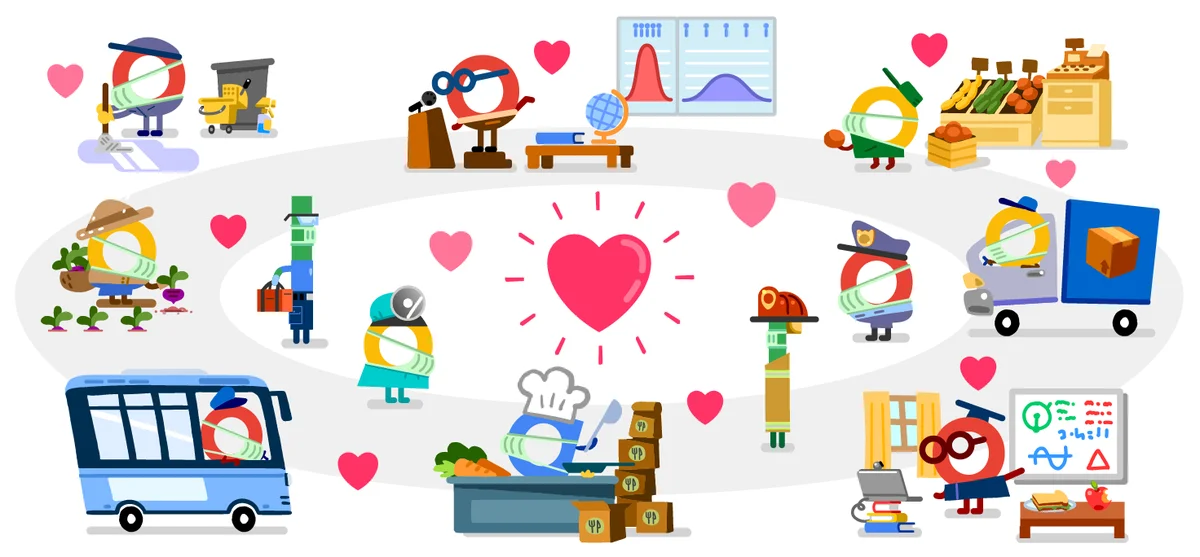 Essential workers keeping our world safe and running during this global pandemic deserve a standing ovation. To show our appreciation, we created a two week Google Doodle series to honor and recognize all who have stepped up in unprecedented ways— including putting their own lives at risk—to provide services that keep our society moving forward.
Google Doodles usually take months (sometimes years!) of planning and development. This one came together in a matter of days. Though in the past we've moved quickly to create a Doodle in response to a major world—or even outer world—event, this is our first real-time Doodle series focusing on one theme. 
In this series of animated GIF Doodles, the big "G" represents communities around the world sending our love to the other letters, which represent the essential workers. Fun fact: we purposely used the first and last letters of our logo to ensure characters in every Doodle were practicing social distancing.
Beyond the efforts of essential workers, "help" has become more than a concept, a desire or an unusual action. Help has become part of our day-to-day lives. We notice it in small actions—like going to the supermarket for your elderly neighbor, or donating homemade face masks to healthcare workers—and in what people are searching for around the world. One thing has become clear: people want to help.
As with all of our Doodles, we hope the series allows for helpers everywhere to feel seen, heard, and valued and for everyone to remember there will be a light at the end of what could feel like a long tunnel. Because where there's help, there's hope.