Annie Jean-Baptiste keeps asking, "who else?"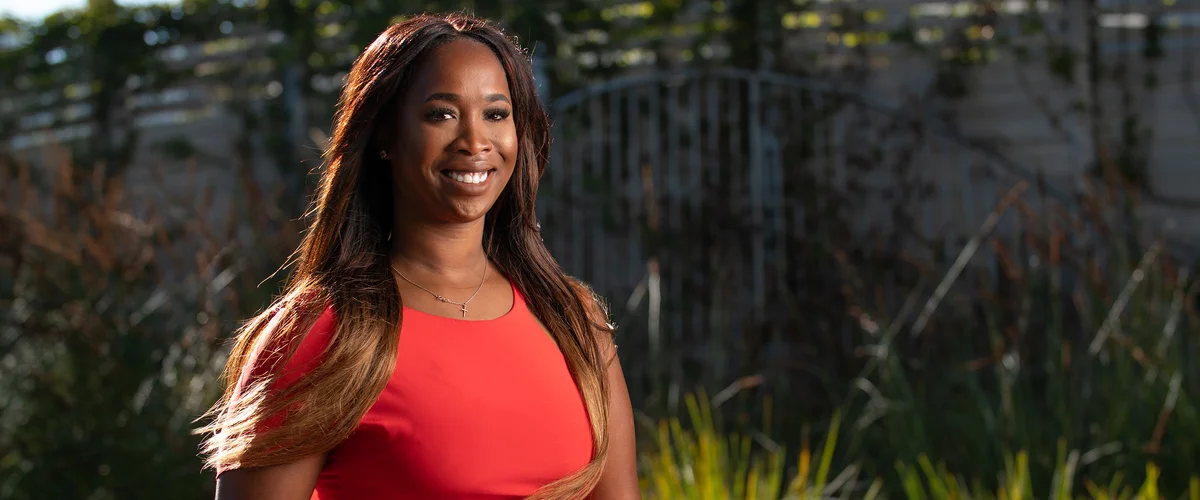 As a child, Annie Jean-Baptiste wanted to be a pediatrician. But when her freshman year of college rolled around, her dream took a turn. "I started taking some of the classes and thinking 'I don't know if this is really what I should be doing…'" she laughs. Now, as Google's Head of Product Inclusion, Annie helps teams make sure Google products are made for everyone. She's not wearing scrubs, but she says she's found another way to help people live fuller lives. 
"I feel most alive when I'm interacting with people and really connecting with them," she says. Annie, who's Haitian-American, knows what it's like to be underrepresented in the world, and brings this perspective to her work. "I've discovered that when technology is done correctly, it has such potential to amplify peoples' lives in a positive way." 
In our latest installment of The She Word, we talked with Annie about diversity and intersectionality, her vision-boarding process and what she loves most about Haiti.
How do you explain your job at a dinner party?
I help teams that create Google products—so things like Pixel, Chrome, Assistant—bring an inclusive lens to the design process. Because we're building for billions of users who may not look or act or think like the teams building them, we need to make sure we're bringing different perspectives to the table at key points in the process. 
What's the hardest part of your job? 
We try to focus on multiple dimensions of diversity, and then also the intersections of those dimensions—and that can be challenging. I always say "I'm not Black on Monday, a woman on Tuesday, and left-handed on Wednesday." All of those things are always within me and affect how I move through the world. When you apply that to billions of users, it can get complicated. 
What we don't want to do is rank dimensions of diversity, or look at them individually; we really want to look at people in a complete way. We want to ask, "who else?" And it can be challenging to ask "who else?" and bring people into the fold at critical points while also balancing deadlines and needs of product teams. 
Thankfully, teams are super excited to do this work and they've been really awesome partners in taking the feedback, in asking "who else?," in bringing other people in, in changing the way they're doing their work—even changing products or features. 
What's the most rewarding part of your job? 
Hands down, it's hearing from people who say they felt seen or validated in a product. "The Pixel camera takes really beautiful pictures of my family, and we all feel seen," or "I asked the Assistant to tell me something about Pride and it said something really beautiful to me and it made me cry"—those are the things that make the work worth it. It's a testament to the incredible efforts of our product and design teams. 
You touched on it earlier, but how would you describe "intersectionality" to someone who's never heard the term before?
Intersectionality looks at the intersections of dimensions of underrepresented people and acknowledges how those intersections can potentially result in negative experiences. 
The easiest way to describe it is that I'm a Black woman, right? Both of those things are always within me and both of those demographics—women and Black people—historically have experienced barriers. If a Black woman also has a disability, those barriers might be amplified further. You have to think about what that means in terms of what you're building, especially if that isn't the background you come from. 
What's one habit that's made you successful?
Relationships are the core of everything. When people trust you, they're more likely to take risks with you and try new things with you. That's really important to my work, including with users who share their experiences with us. When we get feedback from users and they tell us how they use a product  with their family, that's really personal stuff. There needs to be a baseline of trust, mutual understanding and empathy. Working with Google teams, it's similar: Relationships are important, so I make sure I take time to get to know product teams. 
What's something most people don't know about you?
I'm definitely an introvert. Presenting to teams does not come naturally to me; it's something I have to work at and psyche myself up for. I recharge by spending a lot of introspective time alone. I've also been trying to read more. When I was younger, my parents didn't allow my brother and I to watch TV on weekdays until my senior spring of high school. Looking back, that was such an amazing thing because I was a voracious reader! Now, being able to watch TV as much as I want…there are times where I'm like, "why am I watching this?! I could be doing so many other things!" I'm trying to balance that decompression time with more focused activities. I read 10 pages a day last year and I ended up reading 15 books. I want to constantly be curious and for that to be part of my me time. 
I scanned your Twitter, and have to ask: What is your vision boarding process?
I love vision boarding! I've hosted vision boarding parties for the past five years. My approach is to first reflect on the past year: What went well, what didn't go well, what am I proud of. Then, decide on what you want the themes of the year ahead to be. It's helpful to have a baseline of what you want to accomplish in different areas of your life, whether it's family, relationships, work or giving back. 
I tried vision boarding with a friend once without any direction, and she had a minor internal crisis! 
It can be emotional! I'm a Pisces, I get it! 
Your parents are from Haiti and moved here when they were young adults. What are some ways you keep Haiti with you? 
Haiti courses through my veins and I'm intentional about being proud of my heritage. I mentor people at and outside of Google, and I've been really surprised how many people tell me, "It's so nice to see you being so proud of being Haitian and it's inspired me to be proud of who I am and my heritage, too!" 
What was it like for you when the earthquake struck Haiti in 2010?
I had family there; it was terrifying. Haitian people have had so many things thrown at them. It was sort of like "how is there another devastating thing happening?" You'd think something like that could make people cynical about life or unhappy all the time, and that's just not the case. They're the warmest, most positive, brilliant people. Even looking at all the technology that came out following the earthquake to mitigate this disaster; it's a testament to Haiti's resilience.
What's the first thing you do...
[Laughing] Eat. 
...when you go back to Haiti?
Definitely eat! Rice, beans, plantains. Obviously the food is delicious, but it also reminds me of my family. And then of course, going to the beach. Ideally if I could eat on the beach, that would be the first thing I'd do.
What is one of your favorite memories of Haiti?
When I was around 11, we went to my grandparents' house for a month. Every afternoon, I would sit on the porch and eat sugar cane with my grandfather, and it was so simple and so nice to just be outside and spend this quality time with someone I love. It felt like the epitome of island life and I treasure those moments.