Give it up for the woman who helps Googlers give back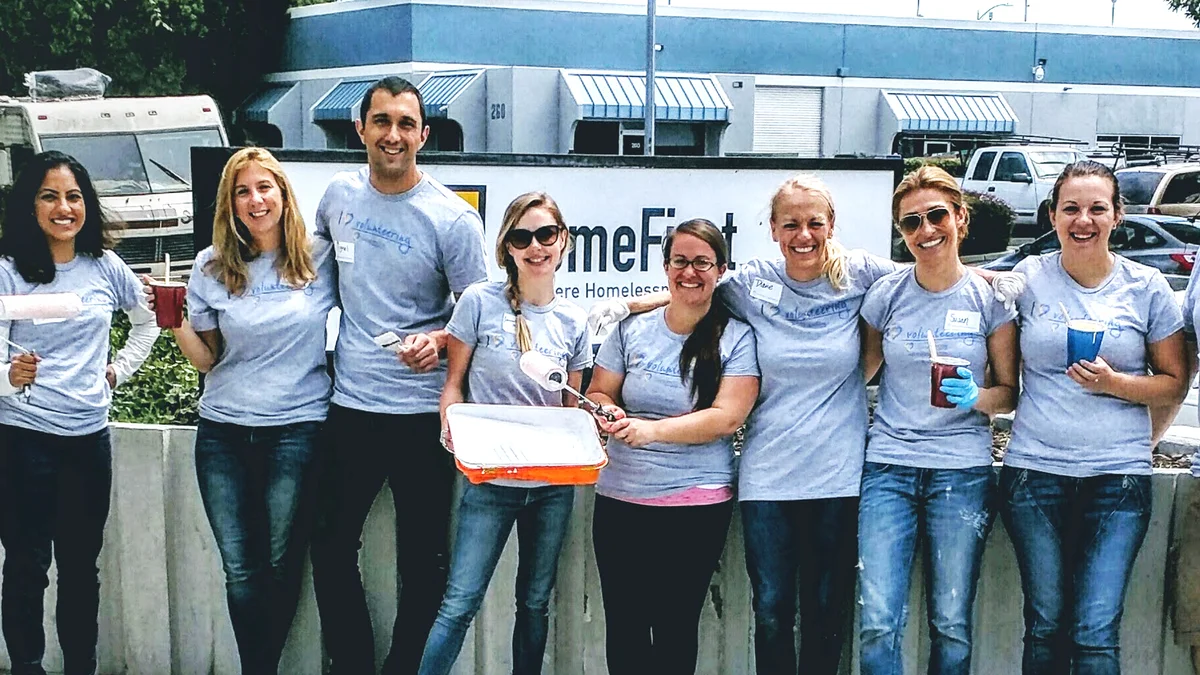 Over the past month, Googlers around the world have virtually volunteered in their communities — from mentoring students to reviewing resumes for job seekers. It's all a part of GoogleServe, our month-long campaign that encourages Googlers to lend their time and expertise to others. GoogleServe is just one of many opportunities employees have to give back, and one of the projects that Megan Colla Wheeler is responsible for running. 
As the lead for Google.org's global employee giving and volunteering campaigns, Megan's role is to create and run programs like GoogleServe and connect the nearly 150,000 Googlers around the world to them. Ultimately, her job is to help Googlers dedicate their time, money or expertise to their communities. How's that for paying it forward?
With more than ten years of experience at Google, we wanted to hear more about how she ended up in this job, her advice to others and all the ways volunteering at Google has changed — particularly this past year. 
How do you explain your job to friends?
My goal is to create meaningful ways for Googlers to contribute to their communities — by offering their time, expertise or money — and help connect them to those opportunities. 
When did you realize you were interested in philanthropy and volunteering?
I was a Kinesiology major in college. Toward the end of my sophomore year, I took a course on social justice and it struck a chord in me. Though I loved sports, I realized I wanted my career to be about something bigger, something meaningful. I wanted to lend my skills for good. So even though I graduated with a kinesiology major, I focused my job search on the nonprofit sector and got a job working for a nonprofit legal organization.
How did you go from there to leading volunteer programs for Google.org?
I never knew that the job I have now was even possible. I left my nonprofit job to become a recruiting coordinator at Google. My plan was to do it for a year, diversify my skills, then go back to the nonprofit world. 
I remember going to my first GoogleServe event. We helped paint and organize a senior citizen community center — all during the workday! It blew me away that Google placed such an importance on volunteering. Coming from the nonprofit world, it felt meaningful seeing a company that cares deeply about these things and encourages employees to get involved. So I stayed at Google and kept finding ways to work on these programs. 
Fast forward 10 years and you're one of the masterminds behind these events. How has employee volunteering and giving at Google changed over the years?
So many of the things that Google has created, like Gmail, came out of grassroots ideas that then grew as the company did. The same is true of our work to help Googlers get involved in their communities. 
Take GoogleServe for example. In 2008, a Googler came up with the idea to create a company day of service. Over a decade later that campaign has gone from a day-long event to a month of service that encourages over 25,000 employees to volunteer in over 90 offices around the world. And it all started with one Googler saying, "This would be a cool idea." Along the way, more Googlers have come up with ideas to get involved in the communities where we live and work through giving and volunteering. Although the programs have grown and evolved over the years, we've maintained the sentiment that inspired those campaigns in the first place.
We've also been focused on connecting Googlers to opportunities that use their distinct skills, like coding or data analysis. For example, a team of Googlers - including software engineers, program managers, and UX designers - are currently working with the City of Detroit to help build a mobile-friendly search tool to help people find affordable housing. 
How has it changed in the past year?
At the core, these programs are about giving back, but they're also culturally iconic moments at Google. They're a chance for teams to connect and do something together that's more than just your average team-building activity. You're building a shared experience and meeting people from completely different roles and departments. They're also a chance for teams to learn and grow from people outside of Google and to bring that perspective back to their job. 
Over the past year, people have felt generally disconnected. So even though our volunteering has become virtual, it's still a chance to interact and contribute. Virtual or not, it really does create a positive work culture. 
What advice would you give to people who have a day job in one area and a passion in another?
Be willing to work hard and get your core job done and carve out time to keep doing what you're passionate about. When you are working on projects that you love, it keeps you engaged in a really special way. And you never know when those passion projects will intersect with your core work, or when they'll turn into something bigger.