A Googler tells us how the world can show up for Afghans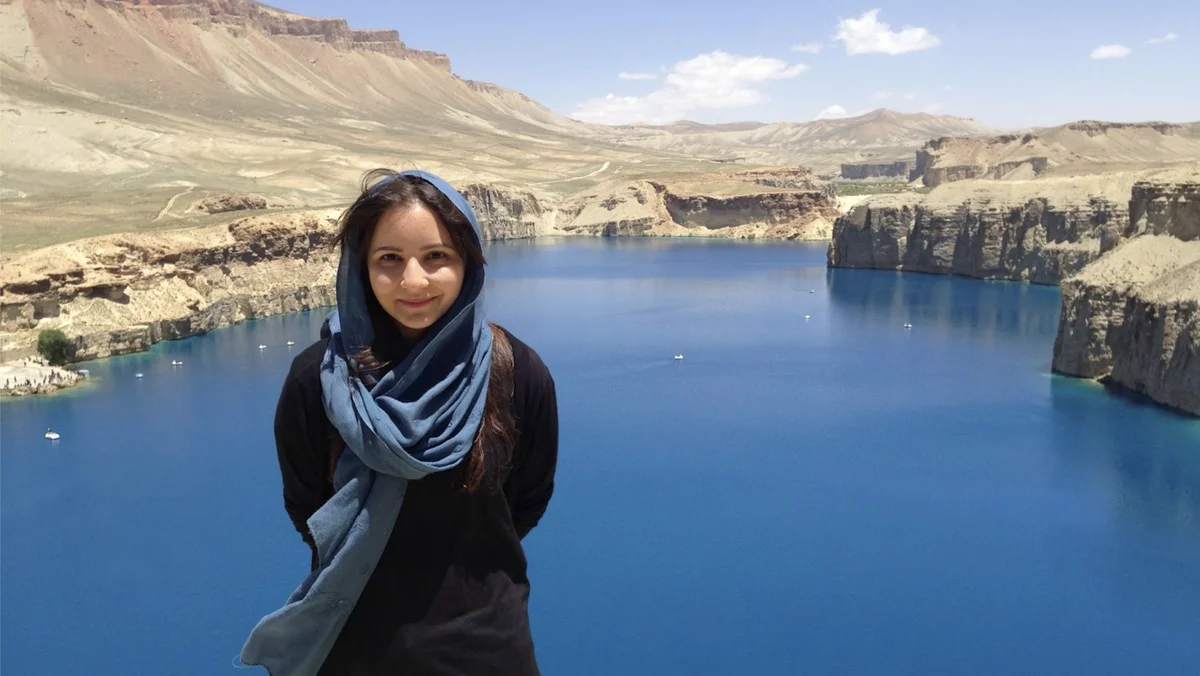 In the early 1980s, Shahla Naimi's mother arrived at a United States air force base in California as a refugee from Afghanistan. Weary from her journey, she was met by a group of volunteers who welcomed her to her new home. So began her new life in the United States.
40 years later, Shahla – a Senior Program Manager at Google – found herself at a government facility in New Jersey where she partnered with the International Rescue Committee to welcome 9,000 Afghans who'd fled the recent Taliban takeover in Afghanistan.
"I didn't realize how many times my heart could break," says Shahla. "​​It was the most emotionally and physically exhausting experience I've ever had – and perhaps the most rewarding one as well. As an Afghan and as an American, it pushed me in unexpected ways to see my own people so newly displaced from their homes."
We recently took some time to ask Shahla about her work with the IRC.
What are your ties with Afghanistan?
I am Afghan! I grew up in south L.A. in the wake of 9/11, fairly isolated from the broader Afghan-American community but surrounded by fellow immigrants from all over the world.
I traveled to Afghanistan for the first time in 2011, when my uncle encouraged me to visit him in Kabul. Walking around the city, I saw my parent's faces everywhere I went. Similar features, same classic Afghan expressions. Afghans from the diaspora occupy a complicated space in Afghanistan, and I was grateful to feel so welcomed.
Shahla on one of her recent visits to Afghanistan, playing with children from the Bamiyan Valley.
Why did you decide to volunteer with the International Rescue Committee?
When the Taliban takeover began, people started to flee through the airport. I tried to do what I could from my computer and phone, staying up all night trying to help family and friends in Afghanistan. Knowing firsthand the benefit of Afghans showing up for Afghans, I wanted to welcome people as best I could. I saw on social media that the IRC was looking for volunteers for the thousands of Afghans who would soon be arriving. Within a week, I was on my way to welcome new arrivals.
What was volunteering like?
It was a full-on emergency situation. My job was to work with the U.S. Government staff to lead reception services at a location we informally called the "Welcome Center." Afghans would arrive — at any hour of the day or night — and I would help get their immigration process started by taking down their basic info.
We had to be quick on our feet about how we tackle unforeseen circumstances, like developing new ways of incorporating COVID precautions, or trying to reunite a husband with his wife without any identifying documentation to work off of other than their names.
This was nothing in comparison to what Afghans newly arriving were feeling. They were exhausted. By the time people reached us, they had been traveling for 20+ days, some separated from their families, many without a hot meal or shower for weeks. Someone even asked, "Where am I?" before collapsing on the ground. To see my own people so exhausted was devastating.
A bulletin board of drawings made by newly arrived Afghan children in the U.S.
What should someone know about refugees coming from Afghanistan?
This is going to be a long, hard process for Afghans — from identifying a path to immigration to resettling into a new home, all while so many grieve separation from their families and communities in Afghanistan. Show up for them today, but also show up for them and all people searching for a safer, better life in the years and decades to come.
You're co-lead of the Afghan Googler's Network. Can you tell us more about how this group came to be?
I met my co-lead, Fereshta, in a group chat at a Google event for women of color in tech. I was inspired by the great work of other Google employee groups, like the Black Googlers Network. Many Afghans had been informally meeting up for years, but we felt it was time to organize officially. We were in the early stages of formally launching the group when the Taliban takeover sped up our plans.
What's next for you?
I'm partnering with an Afghan foundation called Boum Books to launch a series of children's books in the United States in Dari, English and Pashto. The first book, called "Boum-e Dana wa Dokhtare Ba-hosh" (which translated means "The Wise Owl and the Clever Girl") is about an Afghan girl building her confidence and sense of self. It's fully written and illustrated by Afghans. Seeing ourselves in the books that we read is important – more so when you've been forced to leave your home and resettle in an unfamiliar place. We hope this book, and others forthcoming, will bring a sense of belonging to Afghan children in the U.S.
An illustration from Shahla's upcoming children's book, "Boum-e Dana wa Dokhtare Ba-hosh" ("The Wise Owl and the Clever Girl").
What advice would you give to the average person on how to show support regarding the humanitarian crisis in Afghanistan?
I'd suggest following and listening to Afghan experts – and supporting organizations run and led by Afghans. Additionally, consider reading and amplifying local, grassroots news organizations. It's critical to amplify voices from Afghanistan, as international headlines subside.Continue to seek news about what's happening in Afghanistan. Afghanistan may fall from the international headlines, but it's critical to continue seeking out information and remaining informed. Many Afghans are suffering from a nationwide humanitarian crisis — one that is likely to get worse as the winter approaches. The precursor to helping is understanding what's happening.