How 3 engineers found careers and community at Google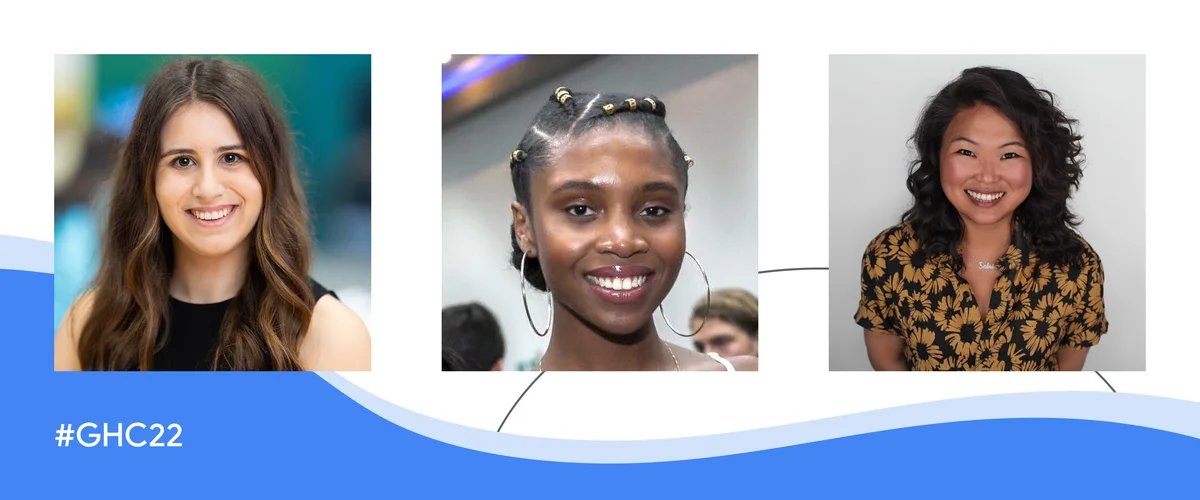 Grace Hopper Celebration of Women in Computing (GHC) is the world's largest annual gathering of women technologists, bringing together thousands of students and industry professionals to build their careers and communities. This year's conference is taking place in person — in Orlando, Florida — for the first time since 2019.
Ahead of #GHC22, I spoke with three Googlers attending the conference — Elena Escalas, Faith Carter and Sabrina Hong — about their paths to engineering and the importance of community.
Tell us a little bit about yourself.
Elena: I grew up in Nashville, Tennessee and studied computer science (CS) at the University of California, Los Angeles (UCLA) as a Division 1 swimmer. I'm a software engineer on the Google TV team, where I work on smart home capabilities. My typical work day includes fixing bugs, prototyping new features, reviewing code and writing design documents.
Faith: I grew up in Houston and studied petroleum engineering, which is the study of extracting and producing oil and natural gas, at the University of Texas at Austin. I'm currently a product manager on the Payments Platform team at Google, where I build payments and identity management systems to help merchants grow their businesses. My typical day begins with an espresso macchiato from the amazing baristas working in my office building. After that, every day is different — but most of my time is spent working with engineers and designers across the company.
Sabrina: I was born in Seoul, South Korea and immigrated to the Los Angeles area when I was two years old, eventually studying astrophysics at UCLA. While a lot of my peers went off to graduate school, I needed to find a job right away. So I became an instructor at a year-round outdoor science education camp. A year later, I joined the quantum computing industry. Now, I'm a hardware engineer on Google Research's Quantum AI team, where I conduct research and development toward building a useful quantum computer and improving the quality of our quantum processors.
How did you get into engineering?
Elena: I wanted to challenge myself to do something difficult. And even though I had no coding experience, I loved the technology and software I used in my day-to-day life and wanted to help create these products. It was difficult to catch up to my classmates who had been coding since they were much younger, but my experience at my first-ever Grace Hopper Celebration — where I met so many women in tech and landed my first internship — helped me stay motivated.
Faith: I was fortunate enough to grow up in an amazing community of Black women engineers who helped me understand the different career paths available in the industry. Watching them create technology that fundamentally improved people's lives gave me the confidence to know I could do the same. I pivoted into tech, and specifically commerce technology, after traveling throughout Latin America and West Africa. I saw how heavily reliant those economies were on informal commerce, like street vendors and home-run businesses, and the challenges merchants faced as a result. Those experiences piqued my interest in improving and making commerce technology more accessible.
Sabrina: My affinity for the sciences started when I was a kid. I always had a lot of questions that were grounded in science: How do clouds form? How do instruments make their sound? On top of that, I was enamored with all things NASA and the space race, and I dreamed of either becoming an astronaut, or a scientist or engineer at the forefront of a technology. All of that led me to study astrophysics, which introduced me to quantum computing.
Do you participate in any employee resource groups (ERGs) at Google? If so, what does that community mean to you?
Elena: Although it's not an official ERG, I created a community group for newly graduated Nooglers ("Nooglers" are what we call new hires). "Noograds" hosts social events for recent graduates, and it's helped me discover a passion for event planning, introduced me to lifelong friends and built a community of over 7,000 Googlers around the world. I'm excited to meet some of our newest members who are attending the Grace Hopper Celebration this year.
Faith: I'm part of the Black Googler Network (BGN), a community for Black Googlers around the world, which has played an important role in helping me feel welcome at Google. BGN has also given me access to incredible learning and mentorship opportunities.
Sabrina: I'm an active member of the Women@Google ERG, a global community for women at Google. Some of my colleagues in Quantum AI and I even started an informal community for women in our organization. I'm grateful to have a community I can lean on for career development advice and support as I navigate this field.