How an X program manager writes her own history and preserves her Ecuadorian legacy
In honor of Hispanic Heritage Month, we're celebrating the fascinating stories and important contributions of our Hispanic Googlers—their histories, their families, and what keeps them busy inside and outside of work. Today we hear from Gladys Karina Jimenez Opper, an audacious moonshot catalyst and collector of world experiences, whose curiosity rivals Nancy Drew's.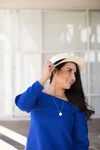 What is the 10-second explanation of your job?
I am a Program Manager at X—I plan and execute internal projects that support the launch of moonshot technologies that we hope will one day make the world a radically better place.
What does Hispanic culture and heritage mean to you?
No matter your ethnicity, country of origin, or language, we all have a cultural heritage—a history written by those who came before us and a standing legacy for those yet to come. Culture represents our innate desire for community; a social framework that connects us to people with whom we share something in common. Heritage is generation-upon-generation of cultural experiences passed on by our parents, forefathers, and their ancestors before them, and traditions are the way we pass that heritage down. Sometimes preserved in song or in dance, food or artifacts, our cultural heritage and traditions keep our past, present and future connected at all times.
What is your favorite cultural tradition?

Dinner is always better when we eat together! Family dinners are a tradition in my household. Growing up, my great-aunt Emilia ("Mami Mila") would cook the most heavenly dishes and no one was allowed to start dinner until everyone was present at the table. You usually don't think of food when you think of mindfulness, but a shared meal is an extraordinary way to cultivate connection, allowing us to be present for ourselves and hold space for each other.
When did you (or generations before you) immigrate to the U.S.?
I was born in Ecuador. My parents were born in Ecuador. My grandparents were born in Ecuador. And that history goes back as far as we've been able to trace. When I was three years old my parents decided to move to the United States in pursuit of our American dream—it was surely the most difficult decision they ever had to make.
Tell us a bit about how you got to where you are today, and who helped you get there.
Knowing where I come from is a key part of knowing who I am and what I stand for. It helps me stay rooted and centered no matter the circumstance.
As a kid, many people disparaged my dreams of attending college. They would tell me,"Those things don't happen to people like us," but my parents encouraged me to persevere, work hard and retain hope. I was valedictorian of my high school class and attended Stanford University, where I graduated with both undergraduate and graduate degrees.
A couple of years later, I decided to pursue my dream of working at Google. My parents and husband continuously reminded me of the power and strength of conviction. Even the most audacious dreams can come true if you believe in yourself and work relentlessly toward your goal. That's true at X too. What some deem impossible, we see as an opportunity to create impact. Not a bad fit for me at all.
What has been an important moment for you at X?
Important moments arise in everyday interactions; I am continuously humbled by the brilliance, kindness and generosity that surrounds me. And that's more meaningful than one specific moment. "Meraki" is a Greek word for "doing something with soul, creativity, or love," and that describes my colleagues, partners and friends at X. Every day is an opportunity to present a different perspective for our projects and products, to exemplify leadership, camaraderie and compassion.
High school graduation, valedictorian speech.

College graduation day! This is a photo of my parents by my side the day I graduated from Stanford University. Si se puede. Yes we can. 


Here is a photo of my parent's first Google "Take Your Parents To Work Day." It was such a memorable day filled with riding Google bikes, enjoying yummy Google food, collecting Google souvenirs and the opportunity to experience being a Googler for a day (massage chairs included). They were so happy!

No matter how difficult the obstacle, I know that I do not stand alone. Here is a photo of mi gran familia.