First-ever summit connects hundreds of Latina Googlers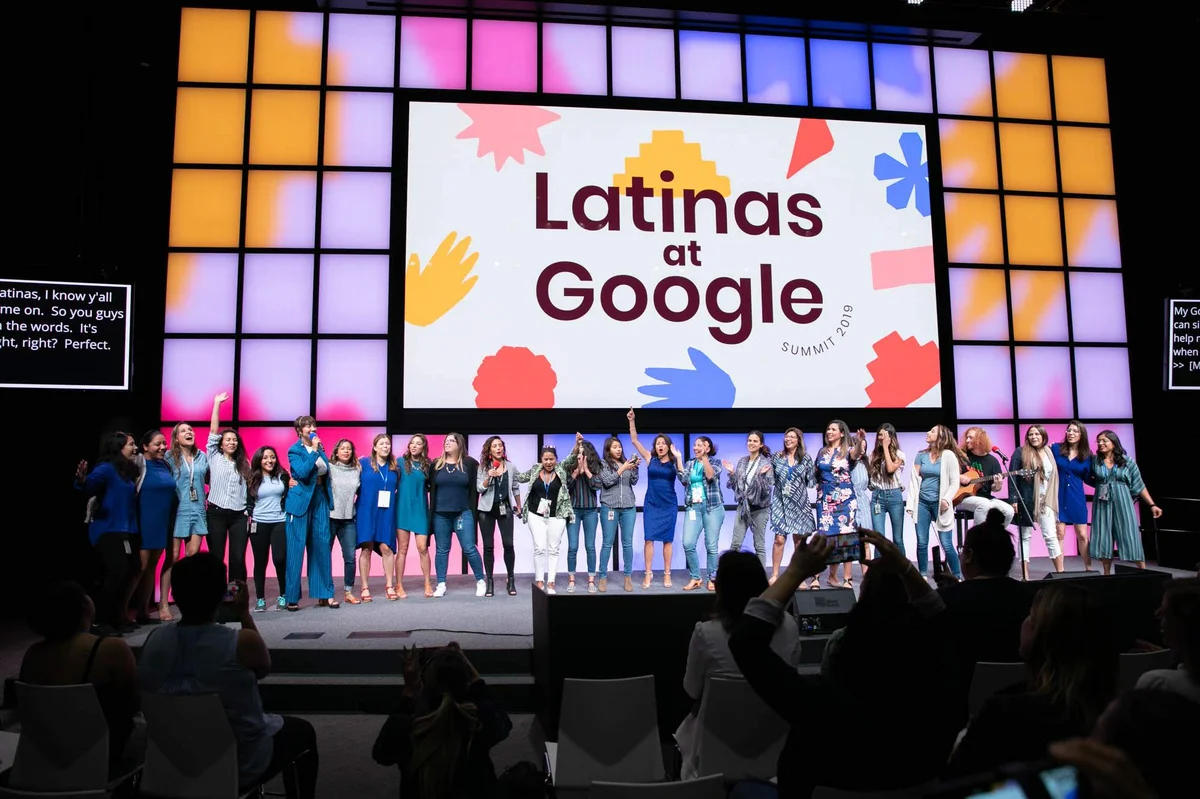 At the end of a two-day summit in Sunnyvale, California, keynote speaker Dolores Huerta led a chant with the audience. She asked the crowd, "Who's got the power?" And we responded, "We've got the power!" She continued: "What kind of power?" We responded: "Latina power!" 
We were at the first-ever Latinas at Google Summit, which took place earlier this month. The summit, called "Building for the Future," aimed to create community and discuss the unique U.S. experience of being a Latina at Google. Five hundred Googlers attended the summit, which featured guest speakers Huerta and "Orange Is the New Black" actress Jackie Cruz, as well as conversations with senior leaders at Google. 
A group of Google volunteers, myself included, took seven months to carefully plan workshops, music, art exhibits and food inspired by our heritage. The size of the group was awe-inspiring, and so was their response after the event. When they gave us feedback, they told us they found community in the personal stories they shared and left the summit feeling more connected. At the event, they said, they learned new ways to amplify the work they do at Google—and in turn, reach people beyond our walls.
Dolores Huerta and Laura Marquez speak on stage.

Jackie Cruz addresses the crowd.

The author, along with other event organizers, kicks off the summit.

Ana Corrales, Chief Operating Officer, Hardware, sits for a fireside chat with Lisa Martinez, Global Head of Android Security and Privacy.

Attendees pose for a group photo outside the event space in Sunnyvale.
One of the most inspirational moments involved Huerta, who is widely known for her advocacy, especially around farmworker rights, and her foundation, which focuses on civic engagement for young people and families. She delivered a keynote speech and later sat down for an interview with Laura Marquez, Google's head of Latino community engagement. 
Huerta urged the crowd to use their voice to reach out to their own families and communities to educate and get involved in issues that affect our everyday lives. With one of her 11 children in the audience, Huerta shared her experience and insights that continue to guide her through her 90th birthday, and the work she'll continue doing in the future. 
Here are a few key lessons Huerta shared with the crowd:
Own your power. 
"As women, sometimes we're afraid of that word, power. We see it in a negative connotation. A lot of times, we as women kind of hold ourselves back a little bit from the positions we aspire to. And we think, well, maybe I'm not experienced enough, not qualified enough. And I just say: Do it like the guys do. Pretend! Think of yourselves as being the decision makers.  It takes courage to do the things we need to do. And the biggest courage of all is to stand up for ourselves."
Don't discount people without formal education. 
"In our organization, many of our women never had a chance to go to high school or college. But does that mean they're not educated? You know, in Spanish, the word educado has a whole different meaning than it does in English. It means if you're educated, you're civil, you have a conscience, you have compassion for other people, you have good manners. That means what educado means in Spanish. It doesn't mean you have to have a formal education. So that means that many of our parents or our grandparents who never had a chance to go to school, that doesn't mean they're not educated. They are educated!"
Research your history. 
"My family has been here for many generations. My great-grandfather was in the Civil War on the Union side. But when I went to Mexico, it was such a revelation to me, even though both of my parents were born in the United States of America. When I saw how many people there were who were so proud of being Mexicans, that really saved me. Because in high school, there was so much racial discrimination, I thought I was on the verge of a nervous breakdown. That really saved me in terms of my identity. I want to make sure that [Latino history] is introduced into our school books so people are proud of who they are and can stand up to racial discrimination. If we don't know our own history, we don't know our own identity."