Mariate Arnal wants everyone in Mexico to get online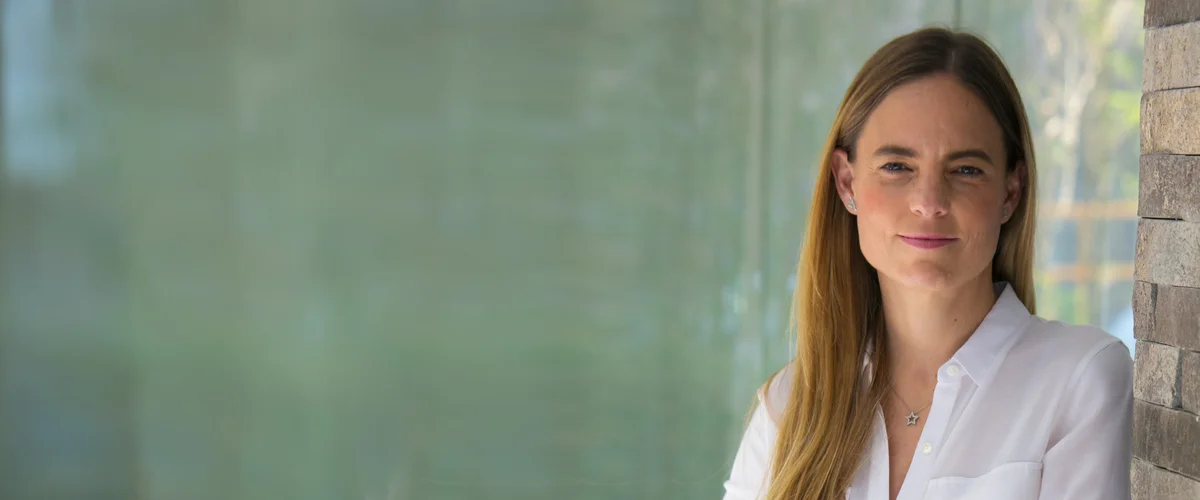 When you enter Mariate Arnal's office, you can feel the energy. Her whiteboard always has a work-in-progress idea, her agenda is fully packed and new folders, papers and documents show up on her desk at all times. Despite her daily tasks as managing director of Google Mexico, her energy always stays high, so much so that she walks up and down the office stairs every day. 
Mariate describes herself as restless and passionate. She studied to become an engineer, and enjoyed math and questioned how things worked since she was a little girl. Born in Venezuela and a recent Mexican citizen, she is constantly examining how to make things better, not only inside the office, but also outside it, brainstorming how to make an impact and solve the problems the country has.
She has a challenging mission: creating two different strategies for one single country. "Mexico has a very Dickensian quality: it's a country of two tales," she says. "You have the technologically advanced Mexico, and the left behind Mexico."
With the first edition of Google for Mexico happening this July, it was the perfect time to sit down with Mariate for the She Word and learn about her the challenges of her role and her vision for empowering women with technology. 
Make digital access inclusive. 
Mexico has a population of over 119 million people, 63 percent of which is online. "Mexico is a top 10 market for core Google products such as YouTube, Chrome, Search and Gmail," she says. "However, the thing we need to focus on is how to bring in the rest of the people who aren't yet online. And to do so we need to have a different approach." An important challenge to get the remaining 37 percent of Mexicans online is that connectivity is quite expensive, so Mariate pushes Google to design products for a country where data is very costly.
Learn from other countries. 
There are 11 countries that will account for a significant share of the next billion new internet users in the world, and Mexico is one of them. Each Next Billion User (NBU) country launches different Google products, but Mariate believes it's important to examine what other countries are doing about issues that are similar to Mexico's. 
Mariate considers Google Pay's launch in India a great example, since both countries have very low levels of bank usage. Another example is the investment on the Indonesian startup GO-JEK, which addresses technology issues many of these countries have, like a lack of affordable connectivity. "Despite the differences each market may have, we can learn a lot from each other, take in the best experiences and explore new opportunities in our country," Mariate said. 
Become a helping hand for small businesses.   
Building digital skills is essential to close the gap between the tech-savvy and the yet-to-be-connected parts of Mexico. That's clear when you look at small businesses, and how many of them have yet to take advantage of digital solutions like online shopping. "Small and medium sized businesses are the backbone of the country's economy," Mariate says.  "However, most of them are not betting on online opportunities." There are over 5 million small and medium businesses in Mexico, which represent more than 50 percent of the country's GDP. Many of those businesses don't know how to bring themselves online, and those who do invest less than one percent of their budget in digital marketing. 
Mariate thinks trainings like the ones Grow With Google offers can help small business owners learn more about the importance of digital skills and how to use them for their businesses. She also believes that products like Google My Business can keep growing to solve wide-ranging problems, from helping customers discover businesses to allowing customers to make transactions, such as shopping or making a reservation.   
Open up more opportunities for women. 
In an industry that's majority male and in a country with a large gender gap, Mariate is an advocate for women both at Google and across Mexico. Most recently, she was on a panel at the Women's Forum for the Economy and Society, one of the most influential global events focused on inclusion and women's empowerment. 
During the panel, the main topic was to discuss what's next for women in business, and the current challenges that prevent them from reaching  leadership positions. "What many companies are still not realizing is that it's not just bringing women into the organizations, but working on a true inclusion," Mariate said during the panel. "If they don't include women, they are just going to leave." 
In the office, she's an executive sponsor of Women@Google, the company's largest employee resource group, which is focused on women's inclusion and empowerment. There, she has recently helped create alliances with nonprofits so that Googlers can help unprivileged girls have access to STEM classes. 
In many communities in Mexico, women are the breadwinners. But half of them have a very limited education, so they turn to the informal economy to support their families. Mariate, as a fighter for gender equality, wants to help women join the formal economy. "As a woman, when you are close to technology you can make a leap in every sense," she says. "Technology can also give you more economic opportunities."