Meet Nathalia Silva, a Cloud Googler and DEI leader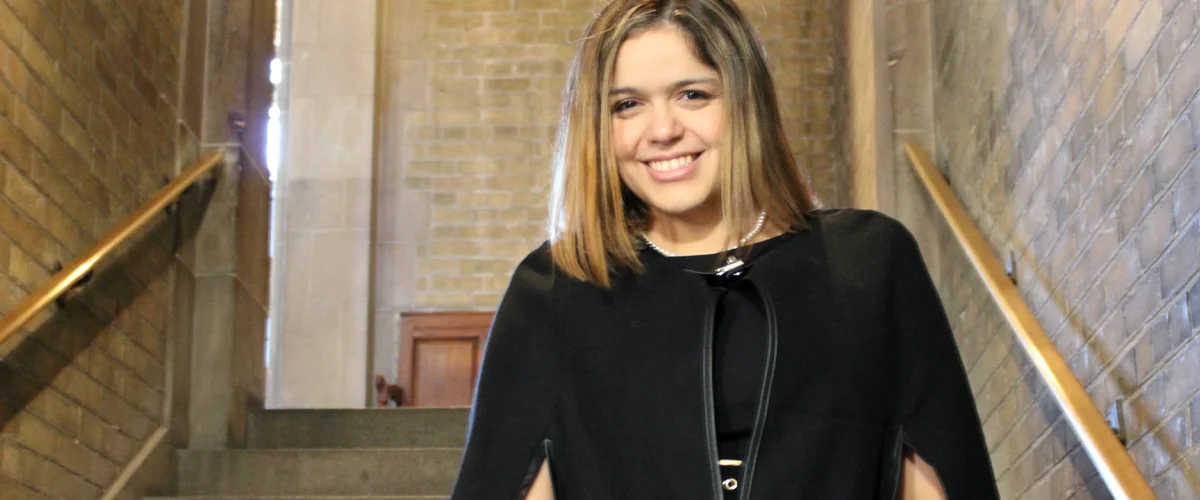 Welcome to the latest edition of "My Path to Google," where we talk to Googlers, interns and alumni about how they got to Google, what their roles are like and how they prepared for interviews.
Today's post features Nathalia Silva — a Toronto-based program manager on the Google Cloud Learning team, and a leader of two employee resource groups supporting Latino Googlers.
Can you tell us a bit about yourself and your role at Google?
I work on the Google Cloud Learning team, whose mission is to train and certify millions of people on Google Cloud. As a program manager, I oversee processes that help design learning content, offerings and solutions for Google Cloud professionals. Outside of my core work, I'm a diversity, equity and inclusion (DEI) advocate, Star Wars fan and soccer lover — Fluminense is my favorite team!
How did you first become interested in tech?
I grew up in Rio de Janeiro, a beautiful city in Brazil. My mom and dad always believed in the power of education, but good high schools are expensive in my hometown. They both worked hard to provide access to a quality education for me and my brother. Through my parents' efforts and the support of my grandparents, uncles and aunts, I was able to attend an engineering university. Once I got there, I earned an academic scholarship to study in Toronto. After moving to Canada, most of my new friends were computer science students. They used to tell me about their projects and assignments, which inspired me to start studying computer science and eventually join the tech world.
Why did you apply to work at Google?
While working with local tech communities in Toronto, I met many Googlers who always spoke highly of their jobs and the company culture. This made me want to join the Google family. I also always wanted to work at a global company that fosters curiosity, and Google definitely does that. Most of my teammates love traveling and learning about different cultures — just like me!
How did you first get involved in DEI work?
Being a first-generation Latina has helped shape my passion for DEI initiatives. Like many other first-gen college students, I struggled with financial challenges, racial discrimination, frequent homesickness and a lack of networking opportunities. So I founded an academic club offering networking events, workshops and career guidance to college students in Toronto. The club earned several academic awards and has evolved into a group that aims to connect women and kickstart their careers in tech.
How have you continued your DEI advocacy work at Google?
In addition to my previous work supporting groups such as women in tech and immigrants in Canada, I've always looked for a chance to help the Latino community. Once I started working at Google, I got involved with HOLA@ Google, an employee resource group that creates community for Latino Googlers and allies. Today, I am a global lead for HOLA@ and a founder of our local chapter, HOLA@ Toronto.
Nathalia at Google's Austin office during a Women in Tech conference in 2019.
What was it like interviewing for Google?
I loved every minute of it. My recruiter was really supportive, which helped make the process feel much more straightforward. It was also amazing to meet many different Googlers. Every Googler who interviewed me was attentive and supportive, which made a big difference in my interview performance.
Any tips for aspiring Googlers?
Never stop learning. Once you get an interview at Google, I recommend visiting both the Google Careers site and, if applicable to the role you're applying for, Google Cloud's training website. I didn't have much experience working with the cloud, so Google Cloud's training website was a key tool for me. It houses a number of resources to help you better understand core cloud products and services. Attending community events can also be helpful, since you get access to industry content and networking sessions.
Any advice for your past self?
I wish I could tell my past self to never stop believing in my potential. For some time, I doubted if I could get a job at Google, and this brought a lot of stress and anxiety into my life. Once I fully believed in my capabilities and knowledge, I built the confidence to apply to the role that I have now!