Neha Palmer keeps Google's data centers green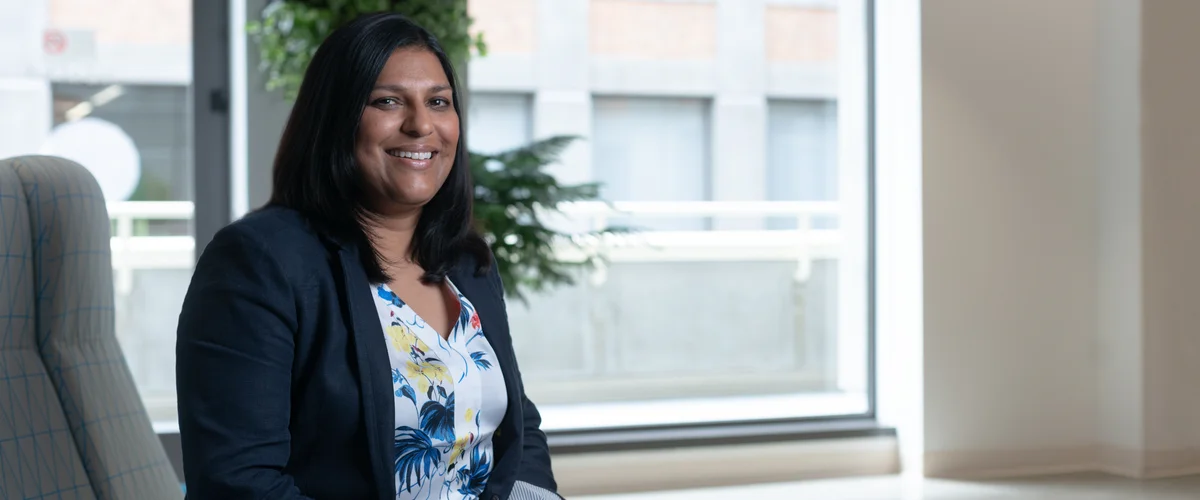 When Neha Palmer was a kid, she idolized Marie Curie. Reading a book about the pioneering scientist inspired her to pursue the field herself. "I think of it as the geek's princess story," she says. And now, both in and out of her role at Google, she's working to inspire others who want to find a way to translate their passion for science and the environment into a career. 
Neha leads the team responsible for purchasing clean energy to fuel Google's data centers. She's helping to reach our goal of remaining carbon neutral, which we have been since 2007, and matching all of Google's energy consumption with 100 percent renewable energy, which we have achieved for two years in a row. Thanks to the work of Neha's team, Google recently announced our largest ever purchase of renewable energy and was recognized by the Environmental Protection Agency with its Green Power Leadership Partner of the Year award.
For this installment of The She Word, Neha explains why renewable energy is so important, how Google has inspired companies to take action themselves and the one trick that keeps her productive, even on the busiest days. 
How do you describe your job at a dinner party?
When you use Search, YouTube and Gmail, all of that sits on a computer somewhere, and that somewhere is our network of data centers around the world. My job is to buy as much clean energy in the locations we have data centers as we can. Data centers are the largest portion of our carbon footprint as a company, driven by the amount of electricity they consume.
How does Google define clean energy? 
We define 100 percent renewable as: For every year, across the globe, we match every single kilowatt hour of electricity we use with a kilowatt hour of renewable energy. So far, that has meant wind and solar. But now we're thinking: How do we get beyond that? If you have a solar farm, for example, it's going to produce energy during the day, but when it's dark, we still have to use the power that's on the grid, which often includes carbon-emitting resources. Our next big goal is to buy 100 percent clean, carbon-free energy 24 hours a day, seven days a week and 365 days a year. That would mean resources that don't emit carbon. 
I feel lucky that I have a job where I feel like I can make a difference.
Why is it so important to focus on clean energy? 
The production of electricity results in around 30 percent of all the emissions in the world. From my perspective, it's the most important thing that we can do as a company to make sure we're operating in an environmentally sustainable way. What we've seen is that a lot of companies from all sectors have followed. We see the automotive industry, consumer products, even candy bar companies moving toward clean energy. Corporations have realized that this is something that is not only beneficial for their environment, but also for their business. 
Climate is top of mind for many people right now, but a lot of people are confused about what they can do as individuals. I feel lucky that I have a job where I feel like I can make a difference. Seeing the impact of the work is really satisfying. 
What do you do in a typical day? 
I try to get big projects out of the way in the morning. If there's something I need to sit down and think about critically, I try to block out at least an hour to focus on that. If I do have a bunch of things that are top of mind, but I know I'll only have that one hour, I usually start the day by writing exactly one thing, and only one thing, on a sticky note. I stick it on my computer, and I won't leave for the day until it is done. I spend a lot of time in meetings, since I'm on a very large team. And I try to sit down and have an actual lunch and be technology-free, to let my mind clear and re-energize. In the afternoons it's a scramble—I've got two small children, so I get home and spend time with them before they go to bed and end the day. 
What's one habit that makes you successful?
There's so much discussion right now about work-life balance. One thing I've learned is that it's going to be seasonal. There are plenty of times where you feel stressed and you're not going to have that balance, but there are  plenty of times where you feel like you are in control. Knowing that you can get back to that place gives me enough mental stability to get through the hectic times. 
You spent most of your career in the utilities industry, which is historically male-dominated. How have you navigated that?
I've always sought out strong female leaders, whether it's within my company or outside the company, I've also tried to think about how I can help pull people up. It might be talking to a group of high schoolers about STEM and engineering careers, or it might be talking to an MBA class about how you convert your passion for the environment into a job. There are plenty of people who are interested in the energy industry, it's just making sure that we find them, engage them and then hire them.