This Googler is crocheting a royal dynasty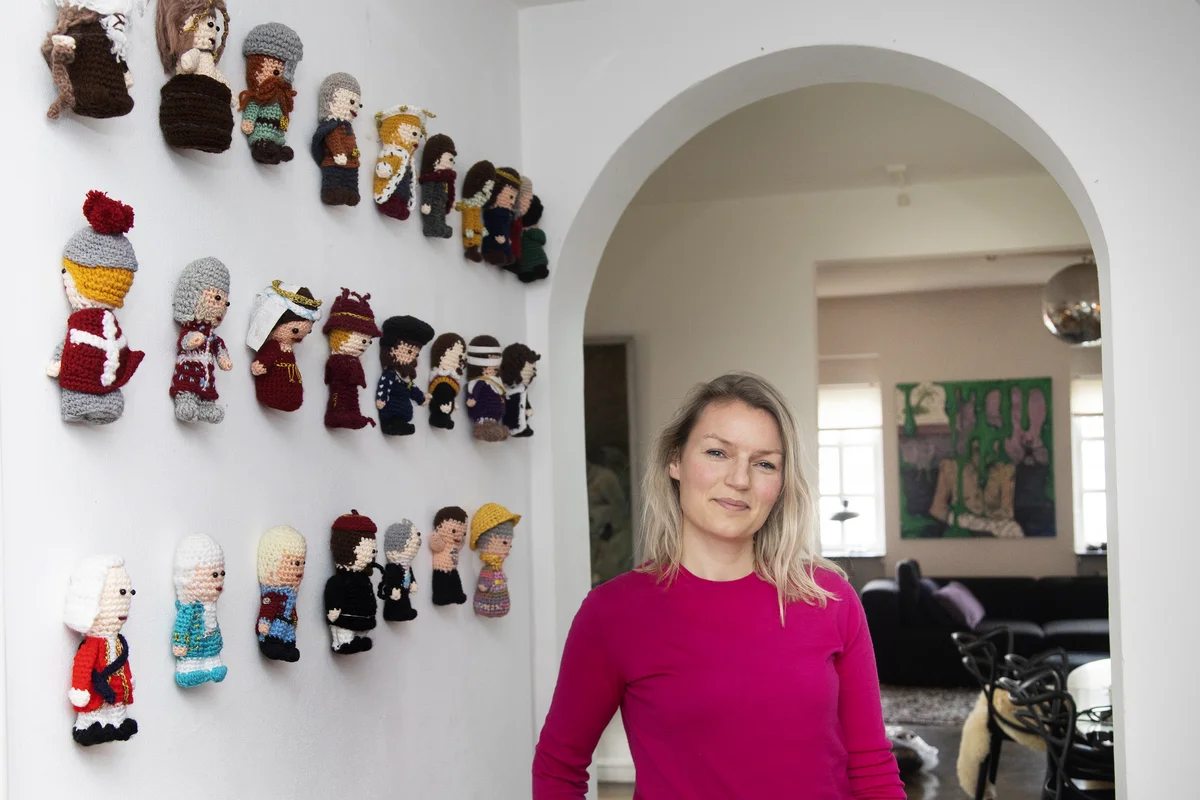 In recent months, many of us have been taking up eclectic new hobbies while stuck at home. But Danish Googler Christine Sørensen didn't need social distancing to inspire her unusual passion project: She was already well on her way to crocheting all 54 monarchs in Denmark's history. We spoke with her to learn what inspired her, and how it's had some unexpected intersections with her day job.

Christine's first crochet project, Queen Margrethe I
What's your role at Google?
I work in the Government Affairs team. I talk to politicians about how Google can contribute to the Danish economy and society with our innovations and ideas.
Where did you get the idea to crochet Danish monarchs?
One day, when I was visiting New York for business, I was in Chelsea Market and noticed a book teaching you how to crochet the Star Wars characters. I like Star Wars, so I got the book and started on Princess Leia. I also really like history, and as I was crocheting I realized that Leia looked a lot like Queen Margrethe I. I modified the dress, and there she was. And then I thought, we've had 54 kings and queens, why not do them all?
How far along are you now?

I started in 2017, but it wasn't a priority. Then, at the end of the year, our queen made a speech that inspired me. Instead of always striving to accomplish something, she recommended doing something that wasn't at all useful, something colorful. I thought, "That's me!" and I really started in on the project.

Queen Margrethe II, the current queen of Denmark, giving a birthday speech to her assembled forerunners
It's been a great opportunity for me to learn and think about the way our monarchy has evolved over a thousand years. It's a story of hard power turning into soft power: In the year 1000, the monarch decided everything. They had all the power and the resources to enforce it. Now, monarchy is a very soft power—we send the queen to whatever country we're trying to get a good trade deal with, for example.

I've done 27 of them now. Number 28  is King Christian X, who is portrayed on a horse. That played a very big symbolic role for the country: After the First World War, southern Denmark was finally reunited with the rest of the country, and he rode over the former border as a symbolic gesture. Then in World War II, when Denmark was occupied by the Germans, he rode his horse around Copenhagen every morning at 10:00 as a reminder of Danish sovereignty. I'll have him ready by July 10th the 100th anniversary of the reunification of Denmark.

So before this you'd never crocheted anything?
No, I just taught myself from the Star Wars book. Since then, I've realized that there's a major crochet community online, and people are very helpful whenever I ask questions. For example, right now I'm at great pains trying to figure out whether King Christian will be attached to his horse or not, and how to even make the horse in the first place, and I'm getting tons of very good advice.
Christine poses with her crocheted Queen Margrethe II

Former Danish Prime Minister Helle Thorning-Schmidt and Christine's crocheted Queen Margrethe I
Has this project had any unexpected effects on your work?

A lot of my job involves talking to journalists and politicians, and many of them will check in on how the crocheting is going—there's always a nice conversation to be had if you're stuck waiting around with someone. And then there are some unexpected similarities between certain monarchs and some of the politicians I meet with. For example, I brought together Denmark's first woman prime minister, Helle Thorning-Schmidt, and my crocheted Queen Margrethe I for a "chat" about what it was like to be the first woman in each of their roles.
What are your plans for your collection when you're done?
My moonshot is to get an exhibition at the National Museum of Denmark—stay tuned! For now, I'm slowly building up a community on Instagram. I travel a lot all over Northern Europe for work—or at least I used to—which means not only do I have time to crochet while I'm on a plane, but I can also bring the kings and queens to the places associated with them. Harald Bluetooth can go to the city of Jelling, where he marked his introduction of Christianity with a massive runestone. Christian IV can go to Oslo, a city he founded. Valdemar the Victorious can go to Estonia, where the Danish flag miraculously appeared to him in the sky. 
Recently, when coronavirus spoiled further celebrations, Christian I held an anniversary speech at the Copenhagen University Ceremonial Hall, which he founded 541 years ago. But the kings and I can't wait to go explore the realm (and the past) again.

Harald Bluetooth and a rune stone

Christian IV visited Oslo

Valdemar the Victorious visited Estonia

Christian I gave a speech at the Copenhagen University Ceremonial Hall