Meet the Googlers making coding education more equitable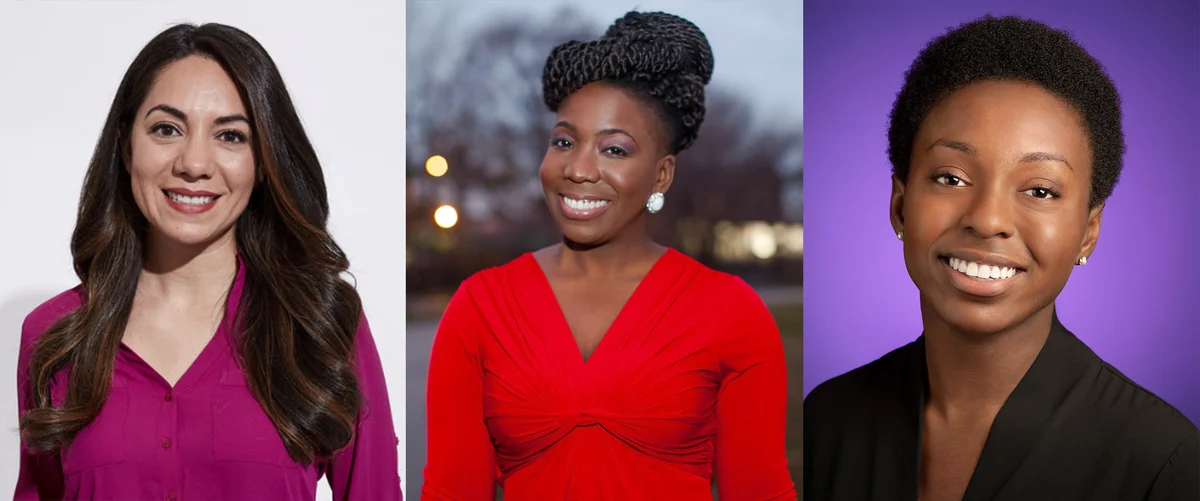 Within the Education Equity team at Google, three women are changing the education landscape for the next generation of black and Latinx engineers—and I'm lucky enough to call them coworkers.  
April Alvarez, Peta-Gay Clarke and Bianca Okafor are part of my team at Google that's leading two education initiatives: Code Next is a free computer science education program for black and Latinx high schoolers, and Tech Exchange is a semester-long program for historically black colleges and universities (HBCUs) and Hispanic-Serving Institutions (HSIs) where computer science majors immerse themselves in coding instruction on the Google campus in Mountain View. Both of these programs are part of Code with Google, our commitment focused on ensuring every student has access to the collaborative, coding, and technical skills that unlock opportunities in the classroom and beyond—no matter what their future goals may be. 
In the latest installment of The She Word, and in celebration of Computer Science Education Week (Dec. 9-15), we sat down with the ladies to discuss mentorship, the lack of diversity in tech and advice for young women of color looking to get into the coding space.
Why are the programs you work on described as "Education Equity"? 
April: When we design and develop programs for the Education Equity team, we start by acknowledging that advantages and barriers to success in education do exist, and that not all students have the same starting point. For example, when designing the Code Next program, we realized that access is a big barrier for Black and Latinx students interested in computer science, so we designed lab spaces that are proximate to where students live; we brought the labs to them. 
For Code Next and Tech Exchange, we focus on helping students cultivate their tech "social capital" (meaning their networks of connections) by bringing in folks who work in the tech industry and connecting them to one of our students through our mentorship programs. 
What are Code Next and Tech Exchange doing differently compared to other coding education programs in the space? 
Bianca: From the beginning, Tech Exchange has focused on providing an immersive and enriching experience both inside and outside of the classroom. The program takes a thoughtful approach to engaging the HBCU/HSI students with social and career development programming to further bolster and add meaning to their experience on Google's campus. We make an effort to expose students to a variety of community groups and product teams to broaden their perspective on opportunities available to them in the tech industry.  
Peta: With Code Next, we work with students from 9th-12th grade in a physical lab close to their homes and communities. These labs were intentionally built by Google and architects experienced in designing inspirational learning spaces. Our goal is to expose youth traditionally underrepresented in the tech industry to the wonderful world of computer science and give them the agency to immerse themselves into the areas that most interest them. We met our first cohort of students when they were in middle school, and they're now applying to college! 
When you look at a Code Next student's resume, you will see the impact of our program—they take computer science classes at a Code Next Lab, they work with a Google mentor, and they spend the last few years of high school immersing themselves in emerging tech like app development, artificial intelligence, virtual reality and more.
You all came from different industries to work in this space—April from K-12 schools, Peta from government and higher education, Bianca from her earlier years in Google's R&D departments. How does that affect the work that you do together? 
April: First, it makes for a fun and interesting team to be a part of! Second, it allows us to make design decisions from multiple angles and perspectives. When I'm making decisions, I'm thinking about learning outcomes, the student experience and the educational pathway. Bianca and Peta do this as well, but they're also able to chime in and share industry knowledge and experience, and then work this into the design of the program.
The tech space is working to improve diversity among its ranks. In your experience, what is one thing that could address that situation?
Peta: There isn't one thing that will address the issue of underrepresentation in the tech industry.  Instead, there are a number of ways industry leaders can have impact. For starters, we can increase focus on collaboration and partnership within and across industries. We can improve education and understanding of how to foster a diverse and inclusive culture and more importantly, what it looks like in practice. We can broaden our understanding of the internal and external systems that lead to heterogeneous workforces, and better communicate the interventions needed for changing or dismantling those systems, to produce more equitable outcomes. Lastly, we can increase investment in finding and supporting the next generation of talent from underrepresented communities. 
It's Computer Science Education Week! What's one recommendation you have for young women of color who are interested in careers in coding?
Bianca: Mentorship is powerful. Seek out individuals who are doing the things you want to do. They can act as sounding boards and help support and motivate you. 
Lastly, what gets you up in the morning? Why do you do what you do?
Peta: It comes down to empathy. Initiatives like Code Next and Tech Exchange are near and dear to my heart. I am an engineer. I am where I am today because I was exposed to tech at an early age. I come from the same communities that we are trying to uplift.
Bianca: For me, it's engaging with and supporting our students. I'm continually inspired and amazed by the level of talent, energy and enthusiasm our Tech Exchange students bring to the program and to Google. It's an honor to run a program that's preparing the next generation of Black and Latinx technologists.  
April: Any time I get to see the direct impact of our programs, it motivates me to keep pushing and reassures me that all of this hard work is so worth it. In a lot of ways, I relate to our students and their educational experience, so it keeps me grounded in the work. I went to school with a lot of friends and family who hit barriers in their career paths, and being able to remove some of those barriers for a whole new generation of students will always keep me energized.