Going behind the design of the new Chromecast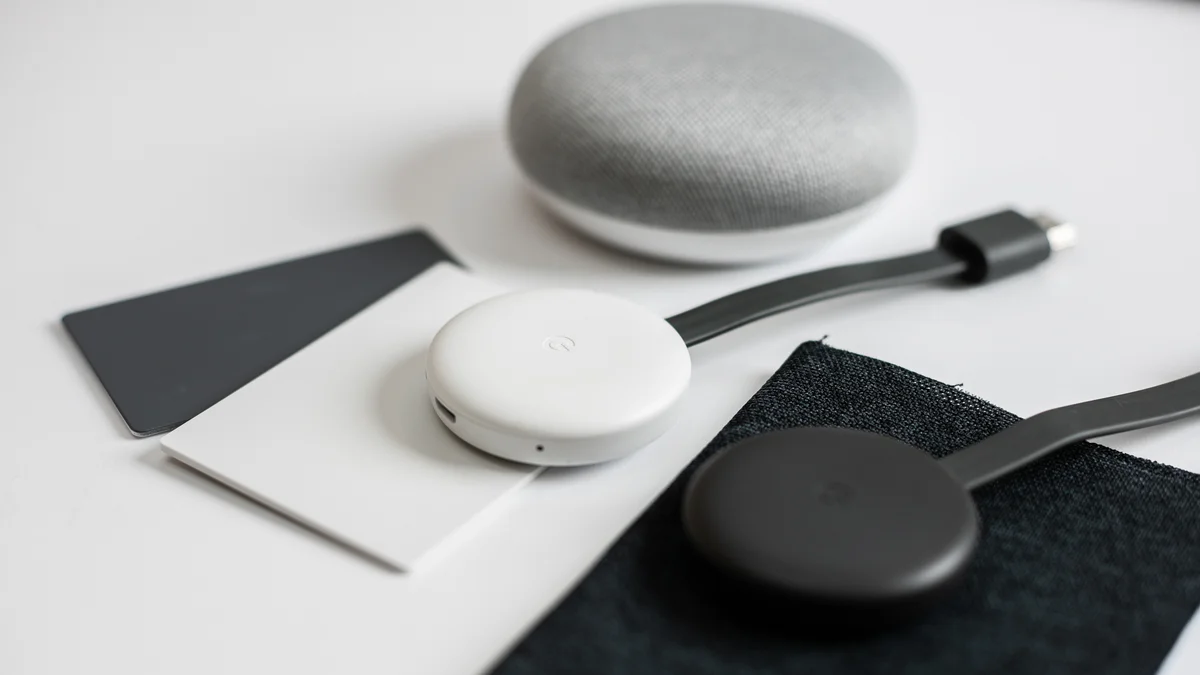 The She Word is a Keyword series all about dynamic and creative women at Google, and we recently spoke to two women behind the design of the new Chromecast, which hit shelves this week. Diana Chang and Katie Morgenroth are industrial designers tasked with designing hardware that fits naturally into your home. Below, we share how they tackle that challenge, as well as what's in store for our favorite macaron-sized Made by Google device.  
Elisabeth: How do you explain your job at a dinner party?
Diana: I make tech less intimidating, more approachable, and easier to use—building a bridge between the consumer and the technology they're using.
Katie: These days, I'm focused on creating the conditions to help our amazing design team feel inspired and supported to do their best work. Framing design sprints, working closely with engineers to unblock challenging constraints and collaborating with the team to ensure our products are harmonious and beautiful are all in a day's work.
Diana (left) and Katie (right) in their office at Google's headquarters in Mountain View.
What are you most excited about with the new Chromecast? How is it different than what we've seen before?
D: Chromecast was our first-ever Made by Google product, and the foundation of our Cast technology. It was created way before our other hardware products, so we've updated the new Chromecast to make it look and feel more a part of the Google hardware family. It's a small device, and the biggest improvements are actually in the tiny details. And those details can say a lot about a brand and how much we care about the people who use our products.
K: The new design of Chromecast is all about simplicity; it looks like a little macaron. And it's coming out in two new colors—Chalk and Charcoal—to match other devices in the Made by Google family. With all of our hardware devices, we want to make sure that they feel like they're a part of your home.
D: And because of the low cost (it's still $35!), Chromecast remains an easy entry point for people to experience the power of smart home entertainment.
Here it is! The new Chromecast is now available in the U.S., Canada, U.K., the Netherlands, Denmark, Norway, Sweden, Finland, Australia, New Zealand, Japan and Singapore, with more regions to come. In the U.S., you can buy it for $35 at the Google Store, Best Buy, Target, Walmart and even more retailers.

What sets Chromecast (and Made by Google products) apart from other devices?

D: The design language: it's the reason I wanted to join Google. We're making tech that is approachable, human-centric and easily blends in with other things in your house.
K: Echo Diana. Our aesthetic is taking a counter stance to what we traditionally think about when we imagine technology. We are carefully designing our products to look beautiful as a family or individually.
How would you describe Made by Google design aesthetic in one word?
K: Can I have two? Approachable and optimistic.
D: I would love to hear our customers describe it as sincere and honest.
What's a challenge you face as an industrial designer?
D: Design is a form of art—unlike math, there's no way to quantify if design is good or bad, right or wrong. And sometimes, it's hard to explain a design decision to logical thinkers.
Do you do other types of art too?

D: Yes, art is a stress release for me—you don't have to worry about specs or cost or whether people will like it. I love ceramics because every piece is unique. Clay has its own personality–you can't really control it like plastic, rather, respect, understand and work together.
What's one habit that makes you successful?
D: Hmm, well it's hard to evaluate what "successful" means, but I'll tell you what makes me different: my background. Growing up, I moved a lot and lived in different countries. Industrial design is a highly diverse field, and each of us brings a bit of our culture and background to the table. I make it a point to go to one new country every year—it helps me get a different perspective and think outside the box.
K: This is a more boring than Diana's answer, but I am an avid notetaker. I'm always distracted by something and I need to take notes to keep my inspiration and ideas organized. My wrist is a common spot for quick thoughts and I couldn't live without Google Keep. I also sleep with a notebook beside my bed, just in case an idea pops up in a dream.
Do you have any advice for aspiring designers?
K: Struggle through the uncomfortable time until it makes sense.
Was there a time that you had to apply that lesson while designing Chromecast?
K: Oh, definitely. We had to work through a lot of tricky requirements in order to keep the size compact and form simple. As often happens, our original intent evolved a bit, but we love the final result. As designers, we pride ourselves on our ability to keep an open mind and meet challenges with opportunities.