A strong network of women changed the course of my career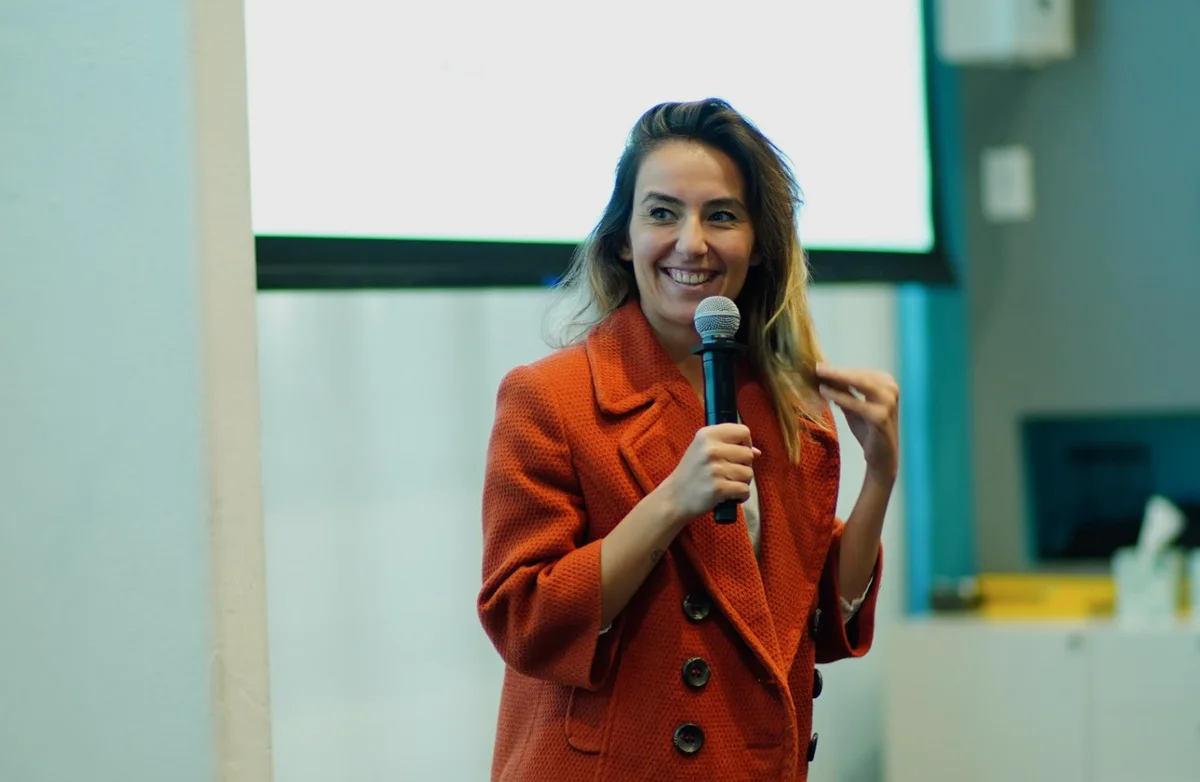 Kübra speaking at Women Techmakers Ambassadors North America Summit.
In this post:

Kübra Zengin found it difficult to break into tech in Turkey.
She took a non-traditional career path into the industry.
Networking can be a crucial asset to realizing your goals.
---
Growing up in Turkey, it felt like women were meant to do one thing: Take care of their children. When I was younger, people always told me I should become a teacher, for the "work-life balance," so I'd be able to spend more time with my kids. I had an ex-boyfriend who asked me to quit my job to take care of our family, and we weren't even married yet. 

I didn't realize technology was my passion until after I graduated from college. I noticed that I was on the computer all the time, downloading things, reading about tech. So I went to a digital conference in search of a job. One of the speakers gave a particularly inspiring talk, and I approached him afterward — I was so nervous. He told me to send him my resume, and I ended up with an internship at his company.
That simple action taught me to go after my dreams, even if I didn't have the right background. Still, as I continued to pursue my career in Turkey's tech sector — first as a marketing specialist and then as a product development specialist focused on UX design — I noticed how challenging it was for women to make their voices heard. All of the companies I worked for had male leadership, and I constantly felt like I needed to prove myself, to study really hard and perform to a specific standard.
In 2013, I helped organize a women's conference (DevFest Women by Women Techmakers Istanbul) in Istanbul to help lift up marginalized voices. We brought together almost 1,000 people and provided a platform for dozens of female speakers. This was before programs like Women Techmakers were the norm, and I was able to connect with so many other women who, like me, dreamed of making an impact in the technology space. I didn't know then that one of those women I met at the time would end up changing my life forever. 
After a few more career moves and a brief stint studying business administration in the U.S., I wound up back in Turkey working for a startup building a chatbot analytics platform. I loved being able to help build a product from scratch. But I also knew I wanted to return to the U.S., and I was lucky enough to win a green card lottery. My San Francisco-based company was supportive of the move, and in early 2018, I moved to New York. Five days later, I was fired. 
Alone and unemployed in a new country, I immediately turned to the network of women who had supported me in Turkey. One of the women who helped me plan the conference in 2013 was in a contract role at Google and looking for someone to replace her. The timing couldn't have been more perfect. I landed the job, and soon after, I relocated to Silicon Valley. I worked as hard as I possibly could, and almost two years later, I became a full-time employee.

Kübra on a hiking trip in Hawaii.
Now, I'm fortunate to lead Google Developer Groups and Women Techmakers in North America. Every day I support communities of aspiring tech leaders, like the one that lifted me up when I was growing my own career. I've planned and facilitated events like Elevate, which helps equip members of our developer community with the skills to find jobs. And because I know firsthand the barriers that women in the industry face, this year my team is planning something special for International Women's Day: We're hosting the International Women's Day North America Summit, a two-day virtual event filled with both technical and applied skills trainings, inspiring speakers and a chance to connect with like-minded women. 
Everything starts with one person. And if you want to make a positive impact in the world, that one person might be you. I hope this summit will change women's lives the way similar events  impacted me. It's a domino effect: We'll lift women up, and they will be able to pay it forward. That's the magic of a strong network.