Ask a Techspert: Why am I getting so many spam calls?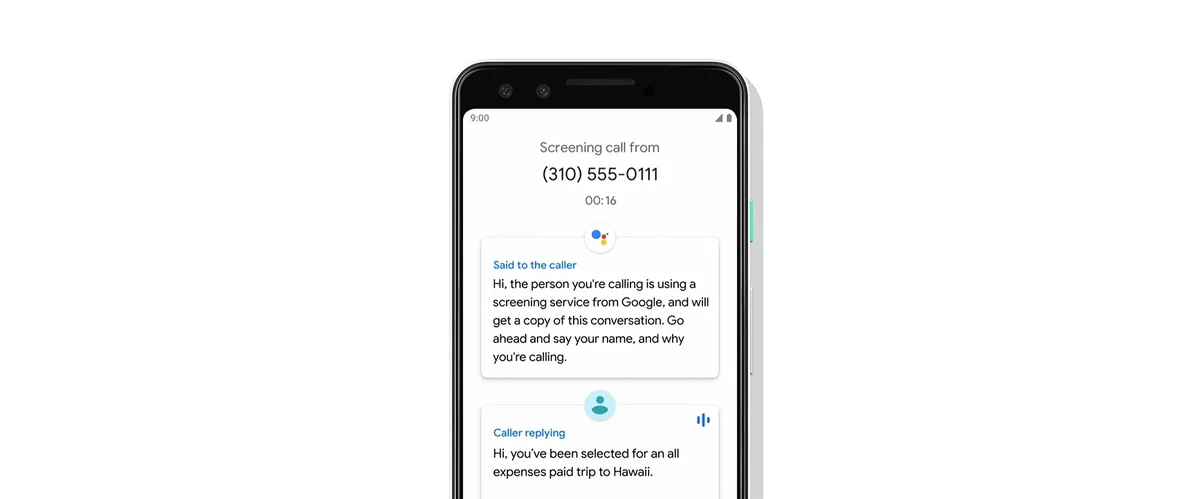 Editor's Note: Do you ever feel like a fish out of water? Try being a tech novice and talking to an engineer at a place like Google. Ask a Techspert is a new series on the Keyword asking Googler experts to explain complicated technology for the rest of us. This isn't meant to be comprehensive, but just enough to make you sound smart at a dinner party.
Growing up, I was taught to say "Schottenfels residence" when answering the phone. It was the polite way of doing things. When the phone rang, it was usually family, friends and, yes, the occasional telemarketer on the other side of the line. Then things changed. Personal calls moved to mobile phones, and the landline became the domain of robocalls. My cell was a sanctuary, free of the pesky automated dialers that plague the landlines of yore. Until recently.
Today, it feels like the only phone calls I get are spam calls. And I know I'm not alone. According to a recent Google survey, half of respondents received at least one spam call per day, and one third received two or more per day.
And people are answering those calls. More than one third of respondents worry that a call from an unknown number is a call about a loved one, and another third think it could be a call from a potential loved one, so they pick up. And almost everyone agrees: Spam calls are the worst. In fact, 75 percent of those surveyed think spam calls are more annoying than spam texts or emails.
So what's the deal with spam calls? And how can we stop them from happening? For the latest edition of Ask a Techspert, I spoke to Paul Dunlop, the product manager for the Google Phone App, to better understand why, all of the sudden, spam calls are happening so frequently, and what tools, like Pixel's Call Screen feature, you can use  to avoid the headache.
Why spam calls are more common lately
According to Paul, voice-over IP (VoIP) is the culprit. These are phone calls made using the web instead of a traditional telephone line, and today they're cheaper and easier than ever to use. "Using VoIP technology, spammers place phone calls over the Internet and imitate a different phone number," Paul says. "It used to be that they had a fixed number, and you could block that number. Now with VoIP, spammers have the ability to imitate any phone number." Paul says this became possible when companies, which wanted to call customers from call centers, made it so one general 1-800 number for a business showed up on caller IDs. So what started as a common-sense solution ended up becoming an easy loophole for spammers.
This is called spoofing, and there's nothing in phone systems—the infrastructure of telephones—that can prevent spam callers from imitating numbers. "You can actually be spammed by your own phone number," Paul says. "But the most common is neighborhood spam, using your area code and the first three digits of your phone number, which increases the likelihood you'll answer."
How Pixel can help you avoid picking up spam calls
Enter Call Screen, a feature on Pixel phones that helps protect you from spam calls by giving you more information before you decide to answer. Before you have to pick up, Call Screen asks the caller to say why they're calling and, with the help of the Google Assistant, translates the message into text so you can decide whether or not to answer. All of this happens "on device," meaning it protects your privacy while it makes sure you get the message as fast as possible.
"Call Screen gives you that bit of protection from those spam calls, and helps you make sure you don't miss those really important calls," Paul explains. "It's only one piece of the puzzle though."
The future of fighting spam calls
But what about the problem of spam calls at large? Paul and other industry techsperts look to technology called STIR/SHAKEN to address that spoof phone number technology, which the FTC is in the process of approving. And, yes, they are acronyms: STIR for "Secure Telephone Identity Revisited" and SHAKEN for "Signature-based Handling of Asserted information using toKENs."
This new technology allows cell phone networks to authenticate calls by validating that the number associated with each phone call is legitimate. You can then know that the caller is a real person using a real phone number.
According to our survey respondents, spam calls are the worst type of call you can get. With new advances in technology, however, the number two most annoying group of callers—exes —might just take the top spot.