Googlers get creative while working from home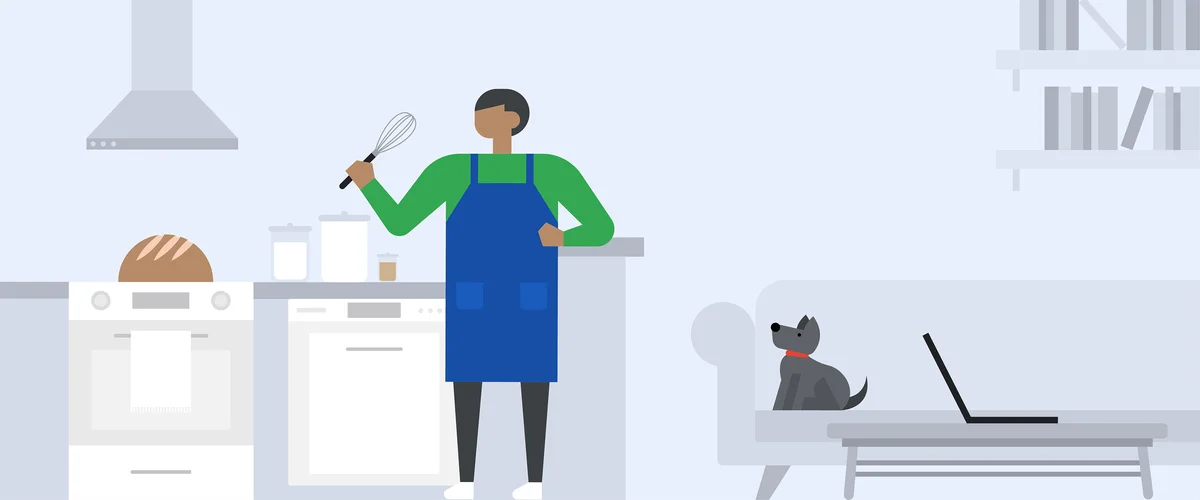 When the going gets tough, the tough bake sourdough bread. Or take up knitting. Or just really get into a new video game. In the months since the COVID-19 pandemic left many of us working from home and social distancing cut down on our calendars, we've had plenty of time to pick up a few new hobbies here and there. Others have spent time figuring out how to adapt their passions to the inside of their homes. And that's the case for Googlers, too, who are still playing in orchestras and working on arts and crafts in quarantine. Here are a few inspiring projects Googlers are working on in their spare time, from home. 
Dancing on their own, together
Last year, a group of 20 San Francisco-area Googlers got together to compete in a local dance competition. They called themselves Incognito Mode and won second place. Since then, they performed in showcases both inside and outside the office, but the pandemic put a stop to performing in person anytime soon. Instead, they recorded a dance video from their homes, dodging friends, roommates and pets in the process. Each of the 18 participants choreographed a portion of the routine, and they later edited the footage together. "We faced new challenges of dancing together virtually, but it also allowed us to connect in ways we wouldn't have otherwise," says Jason Scott, head of Google's U.S. startup developer ecosystem and one of the group's creative directors. "Many of our members now live around the country, but remote dance projects have let them continue dancing with us."
A work-from-home virtual orchestra
In the summer of 2016, around 30 Googlers picked up their instruments and played in The Googler Orchestra's very first concert. Ever since then, they've rehearsed weekly and grown in numbers, with their last in-person performance featuring 80 Googler musicians. After Googlers started working from home, one orchestra member posted a call to get people to play together virtually. That started the Googler Virtual Orchestra, which has increased the group's membership; their third recording will feature more than 100 musicians across three countries. 
Members each individually record their parts and then edit the footage together into one track. "It's a logistical challenge," says Colton Provias, the group's lead audio engineer and a software engineer based in Sunnyvale, California. "It takes about three months from first discussions of what piece to play through the released video."
The group intends to continue their work-from-home performances, and potentially adding other instruments or even a choir. "It speaks to the many talents that Googlers have, not just in the workplace, but outside of it too," says Derek Wu, the orchestra's founder and a software engineer based in Palo Alto, California. "The orchestra, for myself and others, allows everyone to unite together and create music that as a whole is greater than the sum of its parts."

Comic relief from the pandemic's stresses
Gao Fang, who works in information security from Google's Singapore office, had never drawn a comic before she started working from home in March. "Before the pandemic, I could roam around and sketch landscapes," she says. "Then the lockdown happened and there was only that much I could sketch in my apartment. My hands got itchy for things to draw, and since I would like to keep a diary of this historical event, it's a natural step to record my days with some drawings." 
She ended up
drawing more than 80 comics
while staying at home, and it ended up being a way to cope with living in isolation. Gao Fang's comics touch on topics like awkward video chat moments and how stressful it can be to keep up with global news. Many of her sketches feature a rabbit as a main character, which she says was a stand-in for herself. "When I woke up everyday to frustrating news around the world, this little bunny did an amazing job keeping me company and guarding my sanity," she says.
Focusing on the small things—the really small things
Adam Stoves, who works on the Real Estate and Workplace Services team in New York, has been working from his 600-square-foot apartment alongside his wife and their toddler. Back in May, on a whim, he bought a pack of Play-Doh to entertain his daughter, but it ended up entertaining the parents, too. He and his wife started crafting miniature sculptures, which they now share online. They've created miniature foods, animals and even a teensy face mask. "Our daughter will pitch in from time to time, but her true talent lies indisputably in being the cutest hand model ever," Adam says. "We have a limited window where she remains attentive, so we do a little chant: Big flat hand! Big flat hand!, when it's time to photograph. It helps sharpen her toddler focus."