Bay View is open — the first campus built by Google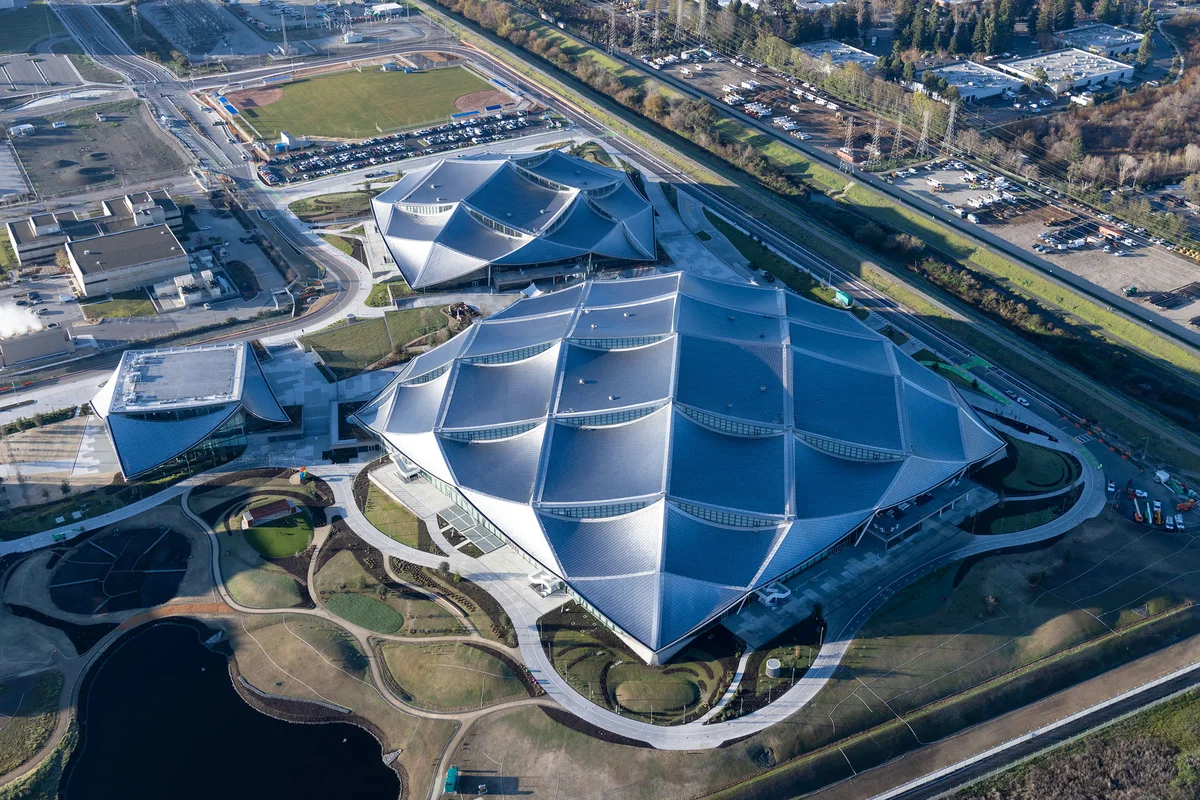 After breaking ground in 2017, our Bay View campus officially opened to Googlers and our Charleston East project is in the final phase of construction. This marks the first time we developed one of our own major campuses, and the process gave us the chance to rethink the very idea of an office.
As we celebrate the opening of Bay View — an all-electric, net water positive campus with the largest geothermal installation in North America — here's a look at how we applied human-centered and sustainable design to the workplace.
Designing an adaptable and healthy workplace
The design of both projects began with a deep dive into what powers Google: our people. We then designed out from there, prioritizing the experience of the people in the building over the exterior form.
After talking to Googlers about what they need from a workplace, we found that they're happy, productive and creative when they come together in teams, but need spaces that are buffered from sound and movement to get deep-focus work done. So we designed team spaces on the upper level and gathering spaces below to separate focus and collaboration areas — with easy access between both. The upper floor is broken down into smaller neighborhoods separated by courtyards and connected via ramps that gradually rise as you move to the center of the building. This variation in the floor plate gives teams a designated area that changes with their needs, while keeping them close to their larger work community. The result is a building where you can feel connected to people — whether they're in your larger organization of 2,000 people, your team of 50 people or your immediate working group of 10 people.
A bird's-eye view of the second floor workspace at Bay View shows how thousands of Googlers can be in a connected space with individual team neighborhoods under an inspiring canopy. (Photo: Iwan Baan)

Bay View's mothership stair and the second-floor team neighborhoods. (Photo: Iwan Baan)

The outdoor courtyard between Bay View's two primary buildings shows Google's focus on connecting employees with nature. (Photo: Iwan Baan)
The focus on people carried into the careful attention we paid to elements you can see and feel — like materials, daylight, air quality, thermal comfort and acoustics. Here's how this shows up throughout the campus:
The campus incorporates biophilic design principles — like greenery, natural daylight and outdoor views from every desk — to improve the health and wellbeing of those inside. Clerestory windows modulate direct light onto desks with automated window shades that open and close throughout the day.
The ventilation system uses 100% outside air — a remarkable achievement when you consider that a typical system only uses around 20-30% of outside air.
To create the healthiest environment possible, we vetted thousands of building products and materials to remove toxins. Everything from carpet tiles, paints, piping, plywood and furniture were evaluated using the Living Building Challenge Red List as a framework.
Artwork from local artists through Google's Artist In Residence program are a part of the courtyards. The artwork relates to Bay Area ecology and helps with wayfinding in the building.
Finally, we designed a building that can evolve as the way we work changes. With a distributed workforce, an office needs to create harmony between those who are in the office and those who are elsewhere. The flexible nature of the focus and collaboration spaces at Bay View is just one way to accommodate these changes. I truly believe these buildings will keep up as we introduce new spaces to improve hybrid work.
Taking green building to a new scale
To deliver on our commitment to operate every hour of every day on carbon-free energy by 2030, we prioritized renewable energy and maximized the solar potential of our buildings. Bay View's first-of-its-kind dragonscale solar skin and nearby wind farms will power it on carbon-free energy 90% of the time.
The campus is also on track to be the largest project certified by the International Living Future Institute (ILFI) under any of their programs, at any certification level. As part of ILFI's Living Building Challenge, we're targeting a Water Petal certification, meaning the site is net-positive with all non-potable water demands being met using the recycled water generated on site. Above-ground ponds that gather rainwater year round and a building wastewater treatment system serve as water sources for cooling towers, flushing toilets and irrigating the landscape. This is a big step toward delivering on our commitment to replenish 120% of the water we consume by 2030.
It doesn't stop there. Bay View is an example of an all-electric campus and shows what's possible in regenerative building. Here's how:
The two kitchens that serve seven cafes are equipped with electric equipment rather than gas — a template for fully carbon-free cafes and kitchens.
There are 17.3 acres of high-value natural areas — including wet meadows, woodlands and a marsh — that are designed to reestablish native landscapes and rehabilitate Bay Area wetlands. Something that's especially important as Bay View sits close to the San Francisco Bay.
The water retention ponds not only collect water for reuse, but also provide nature restoration, sea level rise protection, and access to the beauty of natural wetlands. New willow groves along the stormwater ponds provide resources for wildlife.
The integrated geothermal pile system will help heat and cool the campus. The massive geoexchange field is integrated into the structural system, reducing the amount of water typically used for cooling by 90% — that's equal to five million gallons of water annually.
Bay View, as seen from across its stormwater retention pond with a sunburst coming through the clerestory windows of the canopy. (Photo: Iwan Baan)

With Bay View, a first-of-its-kind building-integrated solar panel called 'dragonscale' was developed to create a seamless design. (Photo: Iwan Baan)

Bay View sits in the foreground with parts of Google's Mountain View campus and the San Francisco Bay in the distance. (Photo: Iwan Baan)
Sharing what we've learned
Our goal was to push the limits on what an office building could be — not just for the benefit of Googlers, but for the wider community and industry. The Bay View campus can adapt to changing workplace needs so our offices remain vibrant for decades to come. We even wrote a book about these projects that we hope inspires others to build more sustainable places that can benefit people and the planet. You can learn more about our journey at g.co/realestate/bayview.