A chance encounter led this researcher to Google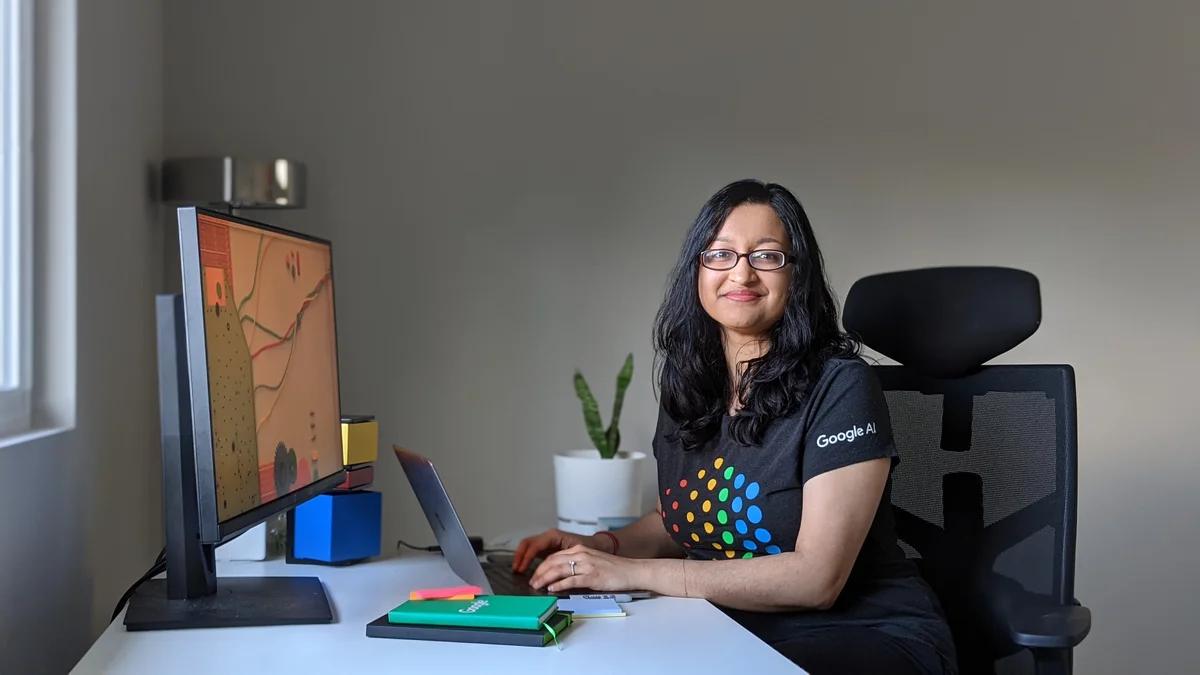 Welcome to the latest edition of "My Path to Google," where we talk to Googlers, interns and alumni about how they got to Google, what their roles are like and even some tips on how to prepare for interviews.
Today's post is all about Preeti Talwai, an architecture student turned user experience researcher. Preeti shares how her initial reluctance about tech faded as she realized how many different types of roles there are in the space.
What's your role at Google?
I work as a user experience (UX) researcher on the AI User Experience (AIUX) team in Google Research. Our team studies changes in society and science and creates product concepts in close collaboration with research scientists and UX folks across the company. 
My focus is on early-stage, foundational research that tries to unpack big questions about human behavior and needs. With early-stage work, we're often working with technologies that aren't built yet and may be very new to users. For example, one of my favorite projects was studying people's personal goals for a year and helping teams understand how technology can better support those goals.
What does your typical day look like right now?
When I'm planning research, there's a lot of collective strategizing with other teams and my UX colleagues. When I'm conducting a study, my days usually involve a number of sessions with participants. When I'm synthesizing data, it's a lot of "heads-down" time punctuated by ongoing sharing and collaboration with my team.  And when I'm sharing the insights and working to put them into action, my days involve meetings and presentations.  
Can you tell us about your decision to apply to work at Google and your path to your current role?
I always felt a pull towards design, so I decided to study architecture in college and went on to do a design research/architectural theory degree. Honestly, I never thought I'd work in tech and was actually against that idea at first. I had a very narrow understanding of tech jobs, and I was pretty sure they weren't for me. The first time I became interested in Google was at the end of grad school.

I accidentally walked into a networking event after a class at the business school on campus, and I heard a panelist say she worked for Google's Real Estate and Workplace Services division. I was surprised that something relevant to architecture existed at Google, and I stuck around until the end of the event to meet her. I sent her my resume, and though a role on her team didn't work out, my information ended up getting passed along to a UX research manager who offered me a role as a research assistant. I decided to take this year-long contract role to test-drive a tech career, and, to my own surprise, loved it. After my contract, I transferred to a full-time role on my current team. 
My path to Google has been meandering and unpredictable. I have always been drawn to understanding human stories and shaping people's experiences, but I didn't know the job I had been describing was called "UX research" until I graduated from college. I've found that my non-traditional background has opened doors to unique types of research and teams at Alphabet that I may not have otherwise known to look for.

Preeti on her first day at Google.
What inspires you to come in (virtually) every day?
Being able to meet so many different types of people and tell their stories, especially when those voices are not often heard or need to be amplified. The topics I research require deep and personal conversations with our users, and I'm always amazed at how open and candid these sessions can be. I find this an inspiration, but also a privilege and a responsibility I take seriously. My most gratifying moments are when I get to share what we've learned back with the communities who gave us this knowledge.
What's one thing you wish you could go back and tell yourself before applying? 
I would tell my past self that there's so much more to do at a tech company like Google beyond engineering.  There are so many roles I didn't know existed, and getting to these roles doesn't have to be, and is often not, a formulaic process or a straight line.
Do you have any tips you'd like to share with aspiring Googlers?
I see a lot of aspiring UXers wondering how to build a portfolio and feeling like they "need experience to get experience," especially to come to a place like Google. One strategy that helped me is to focus less on job titles and skills as you're building experience, and instead seek opportunities that help you hone your human-centered research lens and approach. Those opportunities might come in diverse and even surprising disciplines, and can help you get methods experience nearly identical to what you'd be getting in a typical UX internship.