Gabriel Jimenez knows the power of different perspectives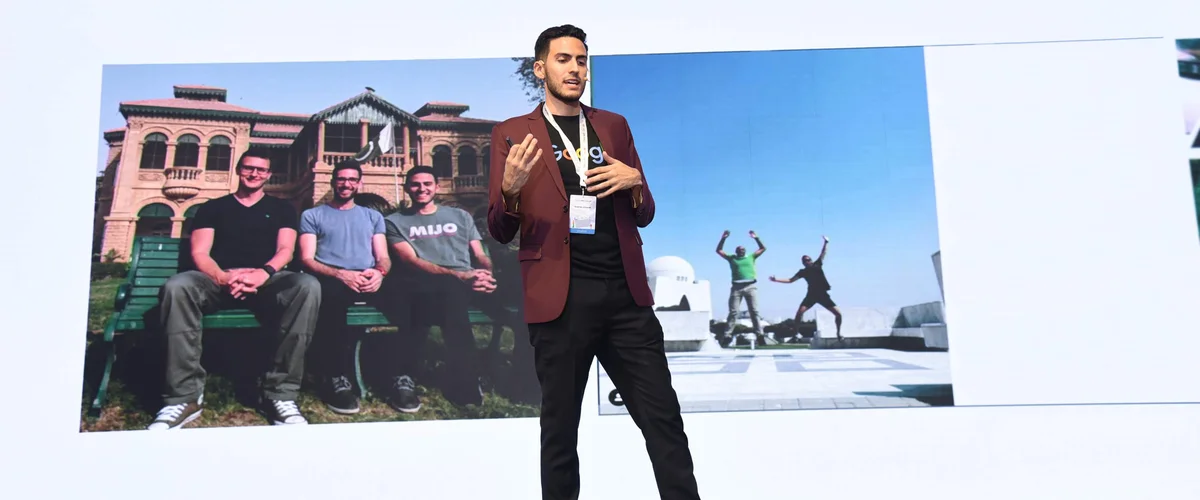 Welcome to the latest installment of our blog series "My Path to Google." These are real stories from Googlers, interns and alumni highlighting how they got to Google, what their roles are like and even some tips on how to prepare for interviews.
Today's post is all about Gabriel Jimenez, a Product Marketing Manager in our
Singapore office
. He's passionate about helping people, both in his work supporting job seekers and in helping build space for underrepresented groups at Google.
What were some of the most important things you learned while growing up?
I grew up the youngest of three kids with parents from Mexico and Puerto Rico in Temple City, California. I was raised to respectfully speak my mind, to open my heart and home to those who need help and to never let the status quo or expectations limit me. 
The last one became particularly important in my sophomore year of high school, when I was diagnosed with fibromyalgia, a disorder characterized by widespread musculoskeletal pain accompanied by issues with fatigue, sleep, memory and mood. It is an invisible disability that I didn't get comfortable with openly discussing until I went to college.
I attended the University of Pennsylvania, where I studied International Development. Penn gave me incredible opportunities for growth, helping me solidify my queer identity and experience with my disability. But observing the stark divides in experiences across socioeconomics, race, ability and sexuality also helped me become more aware of how I use my privilege in spaces where folks are underrepresented. I currently live in Singapore, where I try to lend a hand to NGOs supporting migrant workers and the LBGTQ+ communities.
What's your role at Google?
I'm a Product Marketing Manager working on Next Billion Users products in Southeast Asia. While there are over three billion people already online, another billion are expected to come online in the next four years. They predominantly only use mobile devices, often struggle with data connection, and generally have an understandable mistrust of the internet. I work with engineers, UX designers and product managers to make sure that Google's mission rings true for everyone, everywhere.
I'm currently working on Kormo Jobs, an app that connects job seekers with businesses looking to hire. Given the impact COVID-19 has had on unemployment, it's critical we build platforms that not only help job seekers find good jobs, but also help candidates present the best version of themselves to potential employers.
What inspires you to log on every day?
Google is the type of place that not only lets you respectfully question the status quo, but also expects you to do so to make our products more accessible to and inclusive of everyone. As a queer Latino with a disability, I know that the representation of voices from communities I identify with is still far below where I'd like it to be at Google. That's why the culture of welcoming a different perspective, even amongst our highest leaders, still keeps me invested in Google. It lets me know that I can use my privilege to enact a meaningful change for those who aren't in the room with me just yet.
What made you decide to apply to Google?
Like many liberal arts students without a "technical" degree, I hadn't thought of Google as a place I could work. If I'm candid, I really didn't know how to manage the transition from academic life to professional life. Although quite successful in their own right, my parents did not graduate from university and didn't know how to advise me on the types of careers I was interested in. I was worried that the accommodations and processes I had developed to navigate my disability as a student wouldn't be available in a work setting. 
Halfway through college I learned about Google's BOLD Internship program through Lime Connect, an organization that prepares and connects university students and professionals who happen to have disabilities for scholarships, internships and full time careers.
After attending just one information session and doing some research on Google's career site, I quickly discovered how expansive Google's work is—including entire teams dedicated to improving internet access in developing countries—and how Google aims to make interview accommodations that set candidates up for success.
What resources did you use to prepare for your interview?
Because I knew I was interviewing for a role related to Google Ads for small to medium businesses (SMBs), I read updates on new Ads features and watched YouTube videos directed at SMBs. My goal was to understand how Google explained its values to small business advertisers. Being able to articulate that showed the interviewer that I really focused on helping the user, which is a top priority for any current or potential Googler.
Any tips you'd like to share with aspiring Googlers?
Stop thinking of your career as jobs you want to have. Instead, think of your career as things you want to learn or problems and challenges you want to solve. Not only will you become a much more interesting and thoughtful candidate, but you will better recognize how seemingly unrelated roles are actually perfect for you.