Google interns take on 2021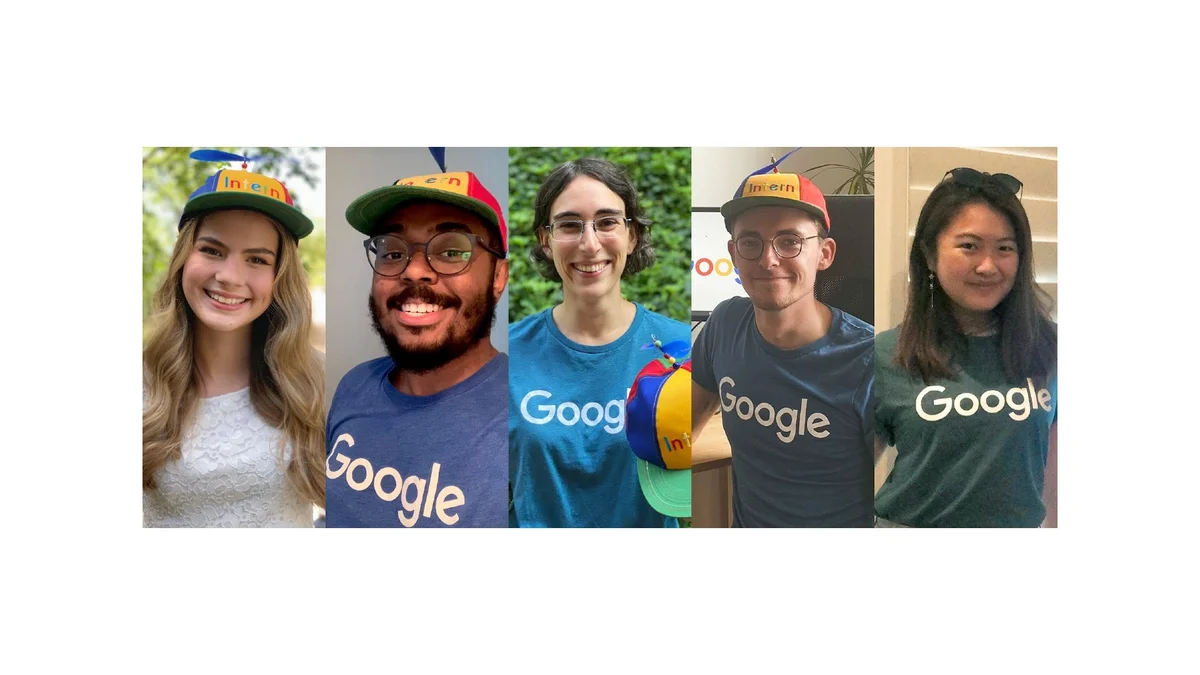 When I applied to be an intern at Google, I didn't know what I wanted to do. But I knew what I was hoping for: a collaborative culture, to work on interesting new technology, and, of course, one of those colorful propeller hats. 
Still, I had no idea what part of the company I should work in, and I was worried about completing an entire internship remotely from my bedroom. I eventually was placed on the Global Communications and Public Affairs team — a specialty that was new to me. All my anxieties disintegrated when I met the Googlers who guided me through the internship process. I was welcomed onto a team that didn't expect me to have everything figured out. They just wanted to support me.
During my internship, I've been encouraged to ask questions and given the resources to explore what interests me. Google is focused on continuous learning, and its internships are no exception. I may spend my morning interviewing a team lead about a product launch, followed by a coffee chat to learn about new Search features, and finish my day strategizing for this blog post. 
But my favorite part of my internship has been connecting with Googlers from all over the world and helping share their stories. This year, Google's 3,500+ interns (who come from more than 400 universities and more than 40 countries) have been collaborating on and leading all kinds of meaningful projects. As we celebrate International Intern Day today, I spoke with a few members of my intern class about the work they're doing at Google and what they've learned so far.

Meet Sarah
Pittsburgh, Pennsylvania
As a PhD candidate studying human-computer interaction, Sarah is used to designing new ways for people to utilize technology. She has spent her internship researching how a device could be helpful to people with hearing loss who might lipread. As part of her work on the Hearing Accessibility team, she tested a bracelet that can translate audio into tactile vibrations, which can provide an added layer of communication in addition to lipreading. 
New to the area of hearing accessibility, Sarah quickly dove into the existing research, studying sound processing, phonetics and what makes lipreading both difficult and useful. 
"At the start of the internship I built a tool to help people practice with the devices," Sarah says. "It also lets us run experiments with the devices remotely, and I've been really excited by what we've been able to learn with this tool over the last few weeks. It's great to work on something that my teammates as well as our pilot users get value from."
Work that's never been done

Meet Lino
Berlin, Germany
Lino has spent his internship creating a central hub that helps direct Sales teams to relevant support resources and services. When he started, Lino wasn't told to build a specific product. Instead, Lino's team explained their problem and supported him while he worked on a solution. Through his project, he's learned how to thrive in ambiguity.  
"Many of the things we do at Google haven't been done before," Lino says. "There's no manual. It can be challenging to not have a step-by-step guide to follow, but really creating something from the ground up has been a very exciting experience."

Meet Dana
Los Angeles, California
Throughout her internship, Dana has been working with Google Video Partners to grow a new format for audio ads. She's partnered with various Google engineers to explore ideas like expanding to new inventory and making ad content more engaging. Did I mention she's only a little more than half way through her 12-week internship? While working, Dana's also built relationships with her peers. 
"Working virtually is nudging me to be more intentional about reaching out," she says. "A highlight for me was when a team member organized a waffle-making event. Imagine 12 people on video call flipping waffles! It just made me so happy."
Creating new opportunities

Meet João
São Paulo, Brazil
Balancing two projects, João worked as the technical point of contact for customers at Google Cloud Brazil, and analyzed team productivity at Google using AI. During his internship, he took advantage of Google's career resources, earning two engineering certificates. The best part is that his time at Google isn't over: Since João's internship ended a few weeks ago, he accepted a full-time role.
"I'm very glad that my relationship with Google is only beginning," João says. "It feels like every single contribution I made as an intern had an impact and it's great to know there's even more to come."