A Googler's story of overcoming obstacles and doubts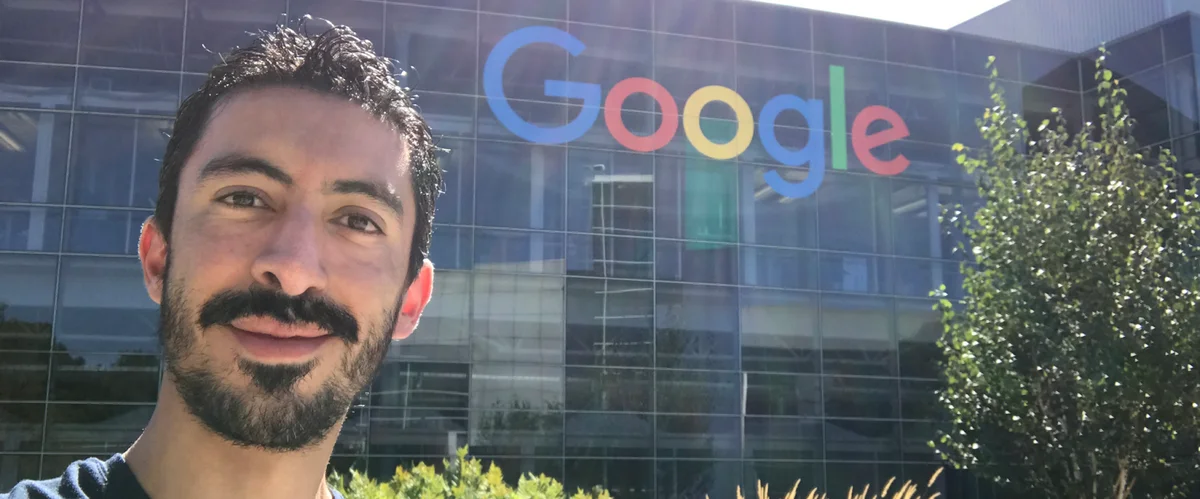 Welcome to the latest edition of "My Path to Google," where we talk to Googlers, interns and alumni about how they got to Google, what their roles are like and even some tips on how to prepare for interviews.
Today's post is all about Ernesto Gutierrez — a Partner Development Manager in our Mexico City office — and the obstacles he overcame on his journey to Google.
What's your role at Google?
As an ISV Partner Development Manager at Google Cloud, I am responsible for opening the ISV (Independent Software Vendors) area in Mexico. Our goal is to help these software vendors use the Google Cloud Platform, and I help them do this. One of the things I really enjoy about this role is that I get to meet and promote so many passionate partners throughout the region.
What's your typical work day like?
In the morning, I check my schedule to see what adventures await me throughout the day. I then wake up my 4-year-old twins — my motivation and the reason for everything I do. Together, we head to my home office, where they occasionally join in on my meetings throughout the day. These meetings are often with my partners to review our progress and identify challenges. Each partner has a very particular vision of the future and the strategy we need to get there — I learn a lot from them. I also meet with my manager to go over what I've learned and the way I think we should move forward. Last, I devote time to closing out pending issues and planning my next day. I spend the rest of my evening in my most important role — having fun and laughing with my twins.
Ernesto speaking at a Google Marketing event.
What was your path to this role like?
Since I was a student, I dreamed of working at Google. However, I feared I lacked the professional experience needed to apply, so I didn't until I received an email from a Google recruiter. During my interviews I focused on just being myself — and I got an offer.
When I joined Google, I became Partner Manager for large agencies in Latin America and was responsible for promoting the use of data driven marketing. I was constantly learning new things. Around this time, I realized that the future is cloud computing, so I decided to make the change to my current role. While I didn't have much experience with Google Cloud before, I am grateful for the ample opportunity I was given to grow into this role.
What resources did you use to prepare for your interview?
I prepared a lot for my interviews. I started by researching and reading everything I could find about Google's Marketing Platform until I understood very well where the company was going. I also studied other companies in this space, which gave me a lot of clarity around how the same industry objective can be approached from different perspectives. Once I learned all of this information, I organized my thoughts around my own career. I reread the success stories from what I developed or participated in and I practiced articulating how my focus on innovation could add to Google's objectives. I also spoke with people who worked in companies similar to Google to measure my knowledge and test answers to possible complex questions. And finally, the support and trust of my family before and after each interview helped me get here.
Ernesto proudly holding his Noogler hat.
Any tips for aspiring Googlers?
Be your true self, and don't be afraid to apply because you feel inadequate. Google looks for people capable of learning and problem-solving over people who have complete technical mastery. After you apply, be sure to prepare for the interview so you are able to confidently speak about yourself and your experiences.
What's something people might not know about you?
I was born with a cleft lip, a condition that required seven surgeries, years of speech therapy and counseling to cope with the bullying. This condition made it difficult for me to speak publicly and socialize. But my mother challenged me to have big aspirations — she pushed me to dream big regardless.

Today I'm an Ambassador of the Smile Train Foundation, an organization helping children born with cleft palates and lips. I'm committed to inspiring these children that they can achieve any dream they set their minds to. I am extremely grateful for everything I have.
What advice do you have for your past self?
Never be afraid to express when I don't know, and never try to hide my cleft lip and palate. Acknowledge that if I don't know how to do something today, I can learn it tomorrow.