Growing Cloud in the Middle East with Dina Amin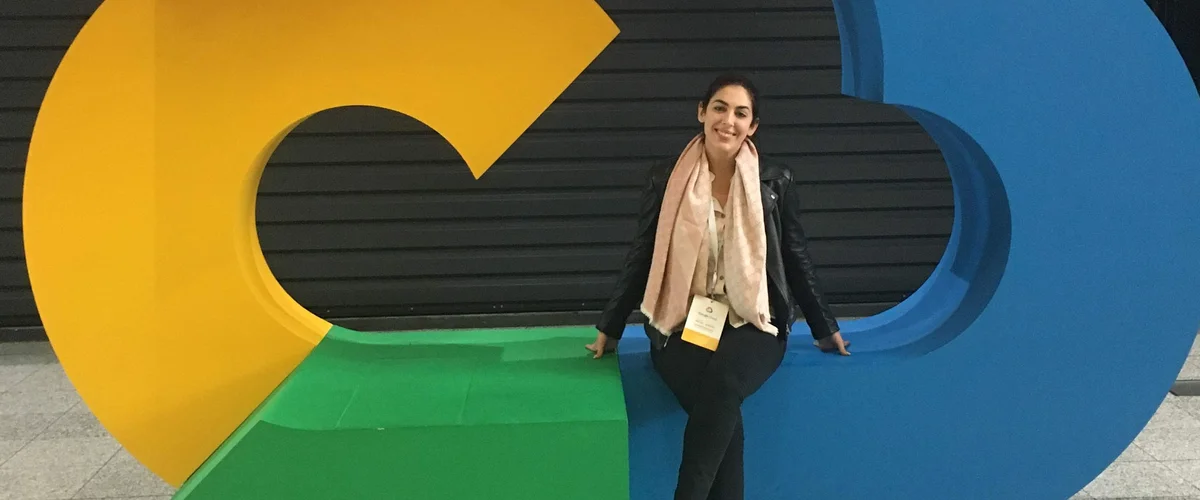 Welcome to the latest installment of our blog series "My Path to Google." These are real stories from Googlers, interns and alumni highlighting how they got to Google, what their roles are like and even some tips on how to prepare for interviews.
Today's post is all about Dina Amin, the Head Of Cloud Marketing for the Middle East,Turkey and Africa. Dina is based out of our Dubai office, and has spent the past 15 years in the city after falling in love with it during a three-month stay. The Middle East is not only deeply rooted in her present but also in Dina's past, growing up between the U.K., Jordan and Iraq. 
How would you describe your role at Google?
From a day-to-day perspective, my team and I are responsible for generating awareness of Google Cloud and Google Workspace products among existing and new customers. Our products help companies with their digital transformation ambitions so this is a particularly interesting challenge during a time when many companies are transitioning online! 
As part of my role, I have also been fortunate to be on the team responsible for some of the largest and most exciting geographic expansion projects that we are working on in Google Cloud.
What else are you involved with at Google outside of your core role?
I'm very involved with (and previously led) the Women@Google Chapter in the Middle East and North Africa. This role is one that I was very proud to hold because of the opportunity to help drive positive change in the company and our communities.
Outside of work, one of my favorite interests is being out at sea. My most recent adventure was getting my skipper license last year. Another way I make sure to get out to sea regularly is through wakesurfing, which Dubai's weather makes possible all year round.
What inspires you to log in every day?
I'm inspired by the  feeling of delivering moments for our sales team to connect with their customers. These moments truly bring the whole team together in a bonding experience.
One of my favorite and most powerful examples of this is Cloud Day, which is a one-day immersive event where Google Cloud executives, partners and customers share how the cloud is transforming business and improving the lives of people around the world. My team was able to deliver this format in two main hubs — Dubai and Istanbul, where more than 2,000 people joined us both in-person and digitally. Given we are a small team, it was a huge mission for us to achieve, and we are so proud to have done it!
What made you decide to apply to Google?
At the time, I was completing my masters in business and had heard that a guest speaker from Google was coming for a talk on campus. I was interested in learning more about the company and different opportunities, so I decided to attend. I showed up early to the talk, and saw that the speaker, who turned out to be the Managing Director of Google in the Middle East and North Africa, needed some help setting up. We  started talking, and I quickly realized how exciting this line of work sounded. The guest speaker encouraged me to apply, and I really got inspired after the talk so I decided Google could be a good fit for me.  
Almost six years later and two different job paths at Google, I definitely feel I made the right choice joining that talk and applying to Google. It truly shows you that you never know where any opportunity may lie.
What resources did you use to prepare for your interview?
I used a lot of different resources when preparing for my interview, but I think there are three that were the most useful. The first was reaching out to Googlers and meeting them to learn more about their experiences. This helped me understand more about the company and the Googlers, in their usual fashion, were very open to help! 
The second was utilizing my business school's career counseling services. It's a service that may be undervalued, but it makes all the difference to get guidance from counselors who have witnessed a variety of different career paths. 
The final resource was prepping with common interview questions to get more comfortable with these types of questions. Here's a list of best practices, advice, and tips for interviewing at Google.
Any tips you'd like to share with aspiring Googlers?
Always keep in mind that a career path does not have to be linear. Each person has their own path to take that may have twists and turns. The key is to stick with it and keep searching for the path that sparks passion within you.

I was a computer science major, but I've experienced sales, marketing, operations, technology and strategy jobs while traveling or living in at least 15 countries. I loved these experiences as they helped me become a lot more comfortable and confident in knowing myself as a professional and knowing what I bring to the table.