How Ada's work empowers Black creators and artists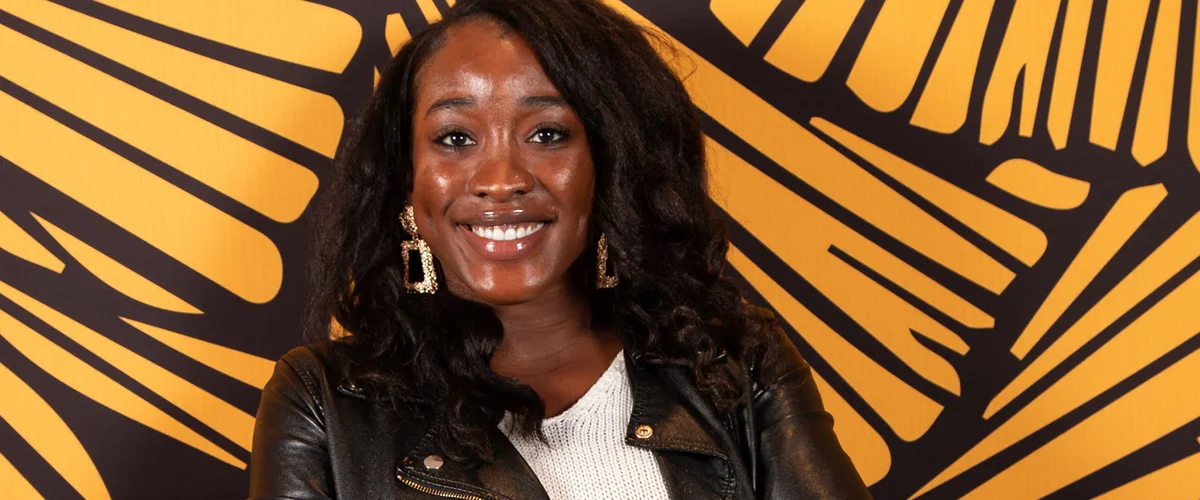 Welcome to the latest edition of "My Path to Google," where we talk to Googlers, interns and alumni about how they got to Google, what they do in their roles and how they prepared for their interviews.
Today's post is all about Adrienne (Ada) Hopkins, a Strategic Partner Manager at YouTube and a tireless advocate for Black creatives.
What do you do at YouTube?
I'm a Strategic Partner Manager on YouTube's Top Creators team, where I focus on amplifying and accelerating the growth of creators from underrepresented backgrounds. I also co-lead efforts to promote inclusion across YouTube's partnerships, and work to strengthen the relationship between YouTube and aspiring Black creators, artists, executives and creative communities. I'm called to use technology to ensure creatives, particularly those most marginalized, are educated about the businesses they occupy, have equitable access to opportunity, are compensated for their gifts and have safe spaces to use their authentic voices.
Can you walk us through a typical work day?
Part of the reason I love my job is because no two days are the same — my time is dictated by what my creators need and the big ideas they imagine. What is consistent is the fact that most of my days are spent in meetings collaborating with our most influential creators, building YouTube's approach to driving equity and inclusion in our partnerships (including how we show up authentically in cultural moments), imagining ways YouTube can invest in aspiring creators and serving our employee resource group, Black@YouTube.
What were you up to before YouTube?
If you told me I'd be working in tech 10 years post college graduation, I would have laughed you out of the room! After graduating from Stanford, I started my career in investment banking. However, I realized I needed more purpose, so I took a mini "sabbatical" to join a social enterprise in Nairobi, Kenya. That set me on a path of purpose-driven work that included a stint in social impact consulting, leadership development and philanthropy advising. I wanted to go deeper in this space, so I enrolled at the University of Pennsylvania for my MBA. During this time, I co-founded a social enterprise to bring plant-based, affordable food to low-income, food desert communities.
Ada at our Playa Vista office
How did you go from social impact to YouTube?
I began to feel overwhelmed and disillusioned by the magnitude of the problems I was tackling and knew there had to be another path to effect change. Music is a mighty tool for progress and has always played a central role in my life. Plus, I've always been struck by the challenges I witnessed artists grappling with. I thought that if I could empower creatives to manage the business side of their work while also tending to the spirit, it would help them create from healed places. That vision led me to Grammy-nominated recording artist Jidenna and other TV and film producers, directors and agencies. I found renewed purpose in this work and wanted to do it on a larger platform, which led me to YouTube.
What inspires you?
I'm inspired to open my computer everyday because at the core, I'm helping historically disenfranchised creators build intergenerational wealth. To do this work for the world's largest platform is a responsibility and gift I do not take lightly. And with YouTube's renewed commitment to racial justice, equity and product inclusion, there isn't a better time. Service is my highest calling, I'm immensely grateful for each and every day.
Ada at our Mountain View HQ during Noogler orientation
Any advice for your past self?
Find your why — what you were uniquely put on this earth to do — and focus on just that. When you are aligned with your truest and highest self, things flow and you find the right opportunities. I would tell her difficult seasons are guaranteed but suffering is a choice so find peace within if you hope for peace in the world. Finally I'd tell her not to run from her light. We're conditioned to play small and devalue our worthiness, but those days are over!
Anything else you'd like to share?
Yesterday I spoke at Google's Transforming Tech event, a month-long campaign to highlight recent transformative work in tech, the Googlers behind it and their impact on the Black community. I spoke at the "Uplifting Black Voice on YouTube" panel, where we discussed our multi-year effort to center and grow Black creators and artists. You can find it at goo.gle/bhm2022 if you want to watch!