How choosing flexible tools fuels collaboration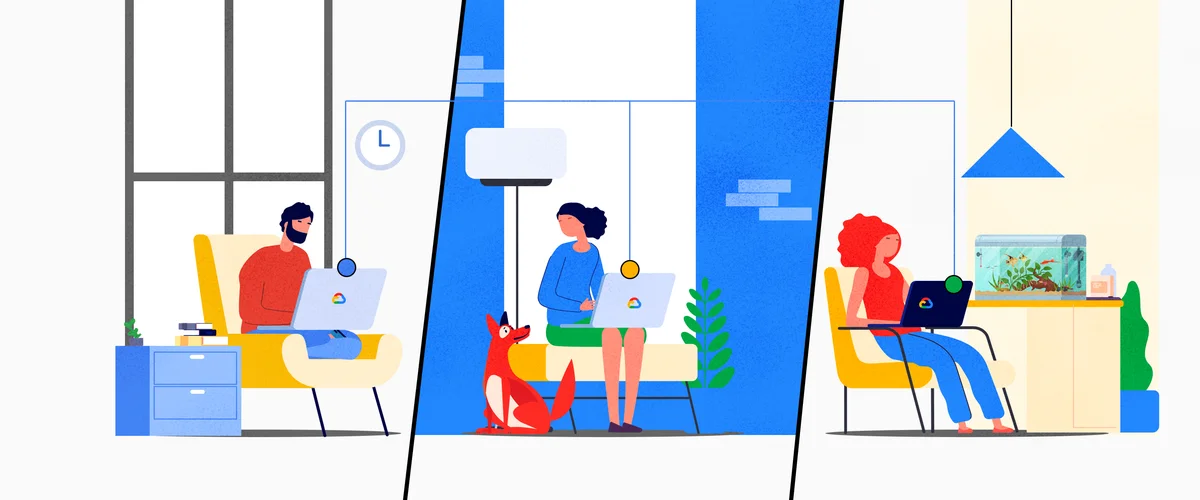 During a recent early morning jog, I had a minor epiphany about a project. I slowed down, pulled out my phone, tapped the microphone and left myself a voice reminder in the margins of my document. Later in the day—after dishes, diapers and sweeping the radius around the highchair—I used that note to build out a better presentation. From the folding table in my 7-year-old's bedroom, I shared the update with my team just before our working session. 
As a UX researcher at Google for the past six years, working on teams across four time zones in the U.S. and Europe has given me a front row seat for the increasingly fluid ways that customers and colleagues work remotely. Despite all that experience, I'm impressed at how rapidly we've adapted to change this year. Here are a few things I've learned about flexible ways of working and why it's likely to become even more important for many organizations in the future. 


The trend toward choice
First, it's important to understand just how much remote work increased before the pandemic. Regularly working from home grew 173 percent between 2005 and 2018. Today, 40 percent more U.S. employers offer flexible options than five years ago. In the wake of COVID-19, that number increased even faster.
Having choices about when and where to work was seen as increasingly important to attract and retain talent even before it became essential to keep businesses running. More employee autonomy may even mean higher job satisfaction and performance, another reason why flexible working is likely to outlast COVID.
Demand for app diversity has also grown dramatically, giving professionals an "à la carte" mix of apps to choose from. Companies now use an average of 88 apps, a 21 percent increase from three years ago. If anything, the new challenge may be managing these choices effectively. It's something we think about a lot, and it's a big part of the way we've designed G Suite.


How flexibility helps my team
Today, tools like G Suite make remote teamwork accessible with video calling and content collaboration.
But what flexibility do these trends and tools actually enable? Here's a typical collaborative workflow on my team: A few days before a meeting, I circulate a doc or slides. Everyone starts to review, raising questions, adding comments to specific snippets of content and tagging teammates who can add relevant context.
Tagging saves time in a few ways. First, it keeps the meeting smaller. Instead of meeting with 20-something people, we collect input before the discussion—getting everyone's  latest thinking in one place without cluttering calendars (and saving everyone from yet another video call).  
Second, the asynchronous conversation before the meeting gives us a streamlined agenda for our live discussion. Instead of a lengthy meeting to reach consensus on every detail, we prep for 20 minutes and spend 30 minutes talking through a shorter list of topics to clarify. 
Smaller meetings have the added benefit of allowing for more dynamic discussion—a big deal because conversation dynamics are a significant factor in how well groups solve problems and make decisions.
As we get down to business, I send my doc out to everyone on the call chat thread. That way, no one has to hunt for the document and we can dive in quicker. Instead of presenting my whole screen, I show a single Chrome tab. This gives me the flexibility to show the content that helps us get on the same page, while taking messy notes in another document.
This review process emerged organically and allows the whole team to contribute regardless of where they sit. It shows respect for time and attention. It uses our flexible tools for virtual conversation to streamline conversations and speed up decision-making. Attention matters more working from home. Time crunched, my well-intentioned efforts to stay present are tested hourly. I don't want to be the harried parent at work that you can't rely on, but I don't want to reply to emails during toddler bath time either. Teams, and the tools they choose, can help protect attention when you need to focus on work or on home.  


The future is the choices we make today
The pandemic put meetings and remote collaboration under a microscope and gave us an inspiring and instructive silver lining to learn from. Working from home has raised awareness of persistent problems like information overload, reminding us that we can make choices that enable flexible ways of working, protect our attention and streamline collaboration. 
As we look into the future, we can all make deliberate choices that bridge the virtual distance, no matter where your team members are working from.