How Grant builds inclusivity in and outside of work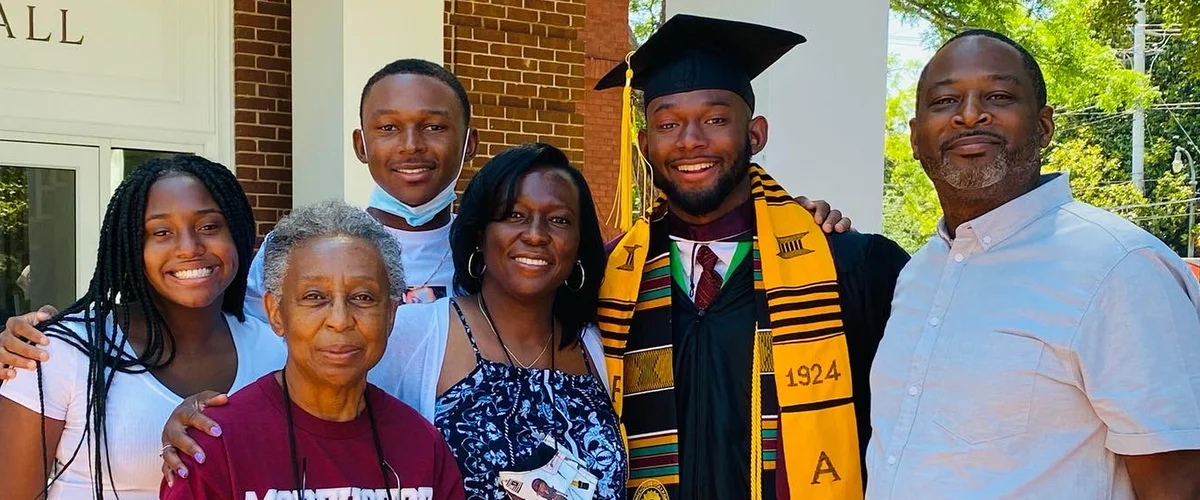 Welcome to the latest edition of "My Path to Google," where we talk to Googlers, interns and alumni about how they got to Google, what they do in their roles and how they prepared for their interviews.
Today's post is all about Grant Bennett, a Human Resource Associate working remotely from North Carolina, and his passion for driving equity and inclusivity both in and outside of Google.
What do you do at Google?
I'm in Google's Human Resources Associate program, a two-year rotational program for recent college graduates. Now in my second and final rotation, I work as an Operations and Analytics Specialist on the Retention and Progression team. I help analyze and share insights to improve Googlers' experiences.
What's your typical workday like?
I've been working remotely from North Carolina since I started at Google in 2020. My day usually begins with a morning workout and some dedicated reading time. Once I log in to work, I check emails, create my to-do list and take data science skills training. The rest of my day is spent jumping in and out of meetings with teammates and consultants, working through data and generating reports for my team.
Can you tell us a bit more about your background?
I grew up in Fayetteville, North Carolina. My father served in the military and my mother is an educator at our local community college. Baseball was my favorite activity as a kid. One time when I was practicing in downtown Fayetteville, a director asked me to make a cameo in a music video for the rapper J.Cole (which I eagerly accepted). I met J.Cole again years later, and we talked about the importance of branching out and having new experiences. That conversation inspired me to attend a Historically Black College or University (HBCU). I enrolled at Morehouse College, the only all-male HBCU in the United States, on a baseball and academic scholarship. I studied psychology and got really involved in campus life. Through these experiences, I found my passion for social impact and research.
What's your daily source of inspiration?
I'm inspired that Google continues to work towards creating a more equitable and inclusive workplace, and I'm excited to take on projects connected to our HBCU commitments. I'm passionate about this work, because I understand the value of investing in communities that have been historically under-resourced and excluded.
Are you working on any projects outside of work?
I'm the Founder and Executive Director of The Two-Six Project, a nonprofit organization helping to develop leaders from marginalized communities. We provide funding, leadership development training and scholarships to youth athletic organizations in the Fayetteville area. Thanks in part to the generous support of individual Googlers during our holiday giving campaign, The Two-Six Project recently hosted its second annual "Christmas Giveback" event and provided food, toys and winter clothing to over 2,000 people. The success of this event led to a feature in Forbes Magazine and my participation on a panel about equity, moderated by Former U.S. President Bill Clinton.
Grant at Google's Mountain View headquarters.
How did you prepare for your Google interviews?
I really studied my resumé to help me tell my career story and quantify my impact. I also researched behavioral-based questions — "tell me about a time you…" — and asked close friends to conduct mock interviews.
What advice would you give to your past self?
I would remind myself that my perspective is valuable. Coming from an HBCU, you may feel a sense of imposter syndrome or self-doubt when going through the hiring process. But it's important to remember that your unique experience helps you impact the world in your own way. I would tell myself to trust the path that got me here, and to focus on showing why I would be a good fit for the role.
Any tips for aspiring Googlers?
No matter what, be authentic. Google is a melting pot of diverse people, so know that you will add just as much value to the company as it will add to your professional growth. Don't be afraid to ask questions, be intentional with your energy and build healthy habits around networking.