How the San Francisco 49ers spent a day as Google "interns"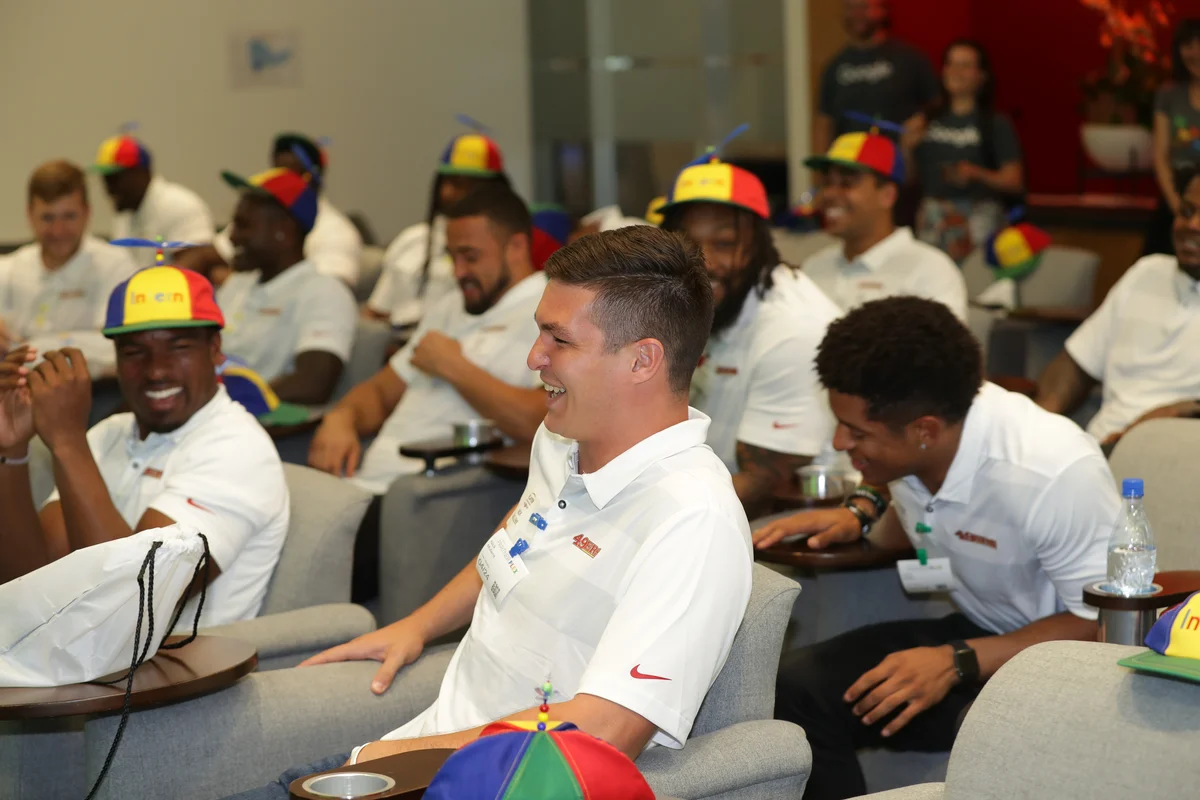 Editor's note: In April, the San Francisco 49ers visited Google for a day as part of their player engagement and development program. This program gives players life and career skills they can use to set themselves up for success after the NFL. Quarterback Nick Mullens walked us through what he learned as a "Google intern for the day."
For basically my entire life, all I've known is football. I grew up loving sports, and I played basketball and football in Hoover, AL. I played football in high school, then at Southern Mississippi, and now for the 49ers. That's why I was so excited when I received the team text from our player engagement director: "Opportunity to go visit Google, sign up sheets are in the office." We all signed up right away, to get a glimpse of life outside the next football practice.
Our player engagement program gives us all the resources we might need for life outside of football. They take rookies through a series of classes and talk about just the adjustment into the NFL. There are so many new things that you have to learn: dealing with money, dealing with family, dealing with fame, dealing with stress. Recently we realized, hey, we're in the Bay Area around all these big companies, so why not learn something great—from Google?
So after workouts the other day, we got on the bus and headed to Google. We walked in a building and immediately we saw a sign that said, "Welcome San Francisco 49ers" and this cool light-up floor.
We had a YouTube presentation that shined a light on how our whole generation is changing and how social media affects fans and people around the world. I mean, shoot, I view myself as a regular dude, but I learned there are people out there who would love to see what I and other professional athletes do on a daily basis.
Then after that there was a VR and AR demo. You always hear about virtual reality as the new thing, but I really had no clue what augmented reality was before the presentation and now I can't wait to see what else comes out of that field—there are so many possibilities.
But my favorite part of the day was hearing from Chase Williams, a former football player and Googler. It was really cool to see an athlete make their way into the tech industry and to be successful after football.
Google recruiter Chase Williams talks transferable skills.
The biggest struggle when leaving the NFL is that you've surrounded yourself with this game your entire life, doing the exact same thing over and over. When it's over, what are you going to enjoy working on? What will you love more than the sport? What else will we be good at? During Chase's presentation one of my teammates asked the question, "I've been playing in the NFL for so long, what skills do I have for the workforce? I've just been playing football!"
When it's over, what will you love more than the sport?
Chase's talk helped many of us realize that we've been developing ourselves for life after football all along. We know how to perform under pressure and have our work put under a microscope. We know how to communicate—with our teammates, our coaches, our higher-ups, our fans. After playing in the NFL for years, you have a lot of other skills, you just have to realize you have them.
When I was a senior in college, I honestly didn't know how long the NFL would last. I was actually applying for jobs at the same time that I was pursuing the NFL. At that point I wasn't looking at tech, because I just felt like I didn't know enough about it to get into it. That's changed now.
I didn't know just how many things Google could do. It's not just a search engine—there's so many different things Google is involved with. It was interesting for me to see just how many people have to contribute just to make the company go. The second I stepped on the Google campus I sensed the open atmosphere and work environment that Google has. Everybody's just "Googley"—bright, respectful and it looks like they're enjoying their work. They're not "going to work," they're enjoying what they do.
I'm so glad I signed up, because visiting Google was probably the coolest thing we've gotten to do—outside of football.