Improving accessibility led this UX researcher to Google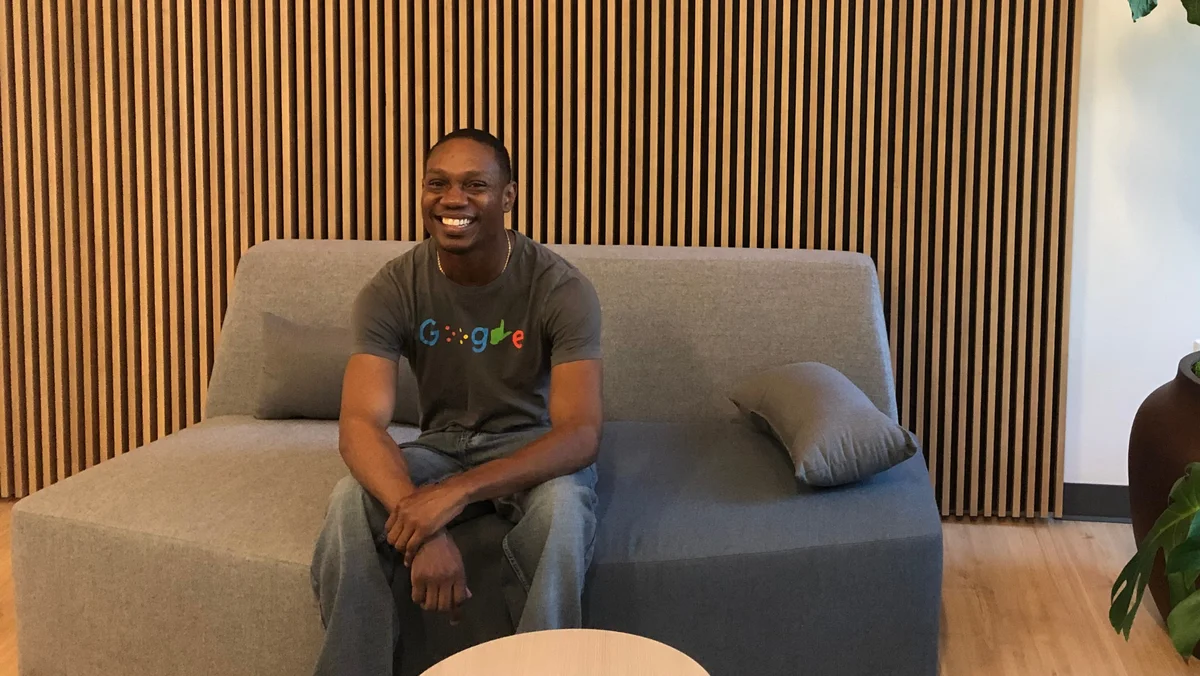 Welcome to the latest edition of "My Path to Google," where we talk to Googlers, interns and alumni about how they got to Google, what their roles are like and even some tips on how to prepare for interviews.
Today's post is all about Jerry Robinson, a user experience (UX) researcher on our Central Product Inclusion, Equity and Accessibility team.
What's your role at Google?
I'm the lead UX researcher on the Lookout team. Lookout is an Android app that uses AI to help people who are blind or have low vision perform daily tasks faster. It can read text and detect different objects within the camera's field of view. One of my favorite features is the food label mode, which can quickly identify food products — like whether you're holding a can of chicken or tomato soup.
I conduct research with current and potential Lookout users to find opportunities to make the app more useful. I love this part of my job because I get to hear directly from the people using our products and share what I've learned with my teammates. It's a privilege to be in a role where I can help our product teams better understand our users and carry out Google's mission to make information universally accessible.
Can you tell us a bit about yourself?
I graduated from Morehouse College in 2004 with a degree in accounting. After working in the banking industry for five years, I decided to go to grad school and find a career where I could make an impact on people's everyday lives. Also, as someone with a disability living in a world not always designed with them in mind, I was interested in accessibility and ways to support people with disabilities on their terms.
I earned a Master of Science in Information Management and a PhD in Information Science. My dissertation was focused on accessible design from the perspective of people with physical disabilities finding their own ways to adapt to inaccessible situations in their everyday lives.
How did the application and interview process go for you?
I met a Googler at an assistive technology conference a few years earlier who told me about the open role. I expressed interest and connected with a recruiter, and eventually received a referral from another Googler.
My biggest concern during the interview process was communication. I have a distinct speech pattern because of my cerebral palsy, and I've always been concerned that potential employers might hold that against me. However, I knew that Google had an inclusive work environment. And I was confident in my ability to conduct good UX research.
The interview process actually assured me that I was a strong candidate. My interview committee asked tough questions, but they were extremely thoughtful and kind. One of them told me to think of the interview more as a conversation, while another complimented me on my presentation. I felt a level of respect from the very beginning that put me at ease and made me more certain that I wanted to work here.
Jerry in a Google office micro-kitchen.
What inspires you to come in (or log on) every day?
I'm inspired by all the Google UXers I work with who are passionate about designing for everyone. Google, and the tech industry overall, needs people who are dedicated to making accessible design the norm rather than an afterthought.
What resources did you use to prepare for your interview?
My recruiter was incredibly helpful. He gave me tips about what to communicate during each interview round, including how best to present the scope, complexity and impact of my work. I practiced my final presentation several times before my last round of interviews to build up my confidence. And I went to bed early the night before to make sure I felt rested.
Any tips to share with aspiring Googlers?
Do all that you can to prepare, but also be confident in what you bring to the table. Know that you're going through the process because you're already a qualified candidate. Remind yourself that as often as you need to.