From managing Google Poland to leading Google for Startups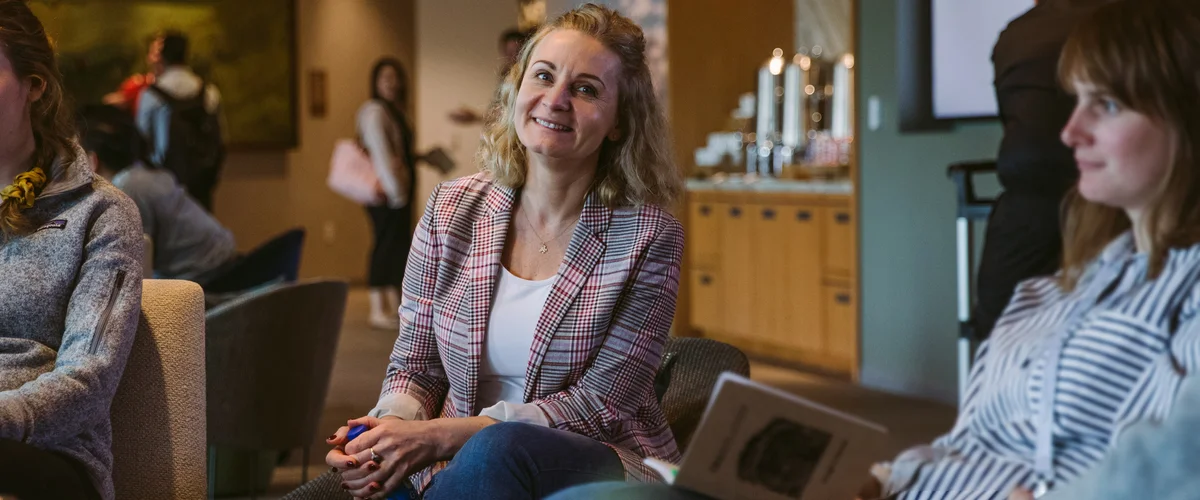 Welcome to the latest edition of "My Path to Google," where we talk to Googlers, interns and alumni about how they got to Google, what their roles are like and even some tips on how to prepare for interviews.
Today's post is all about Agnieszka Hryniewicz-Bieniek, the Global Director of Google for Startups. She shares what it was like to first serve as Country Manager for Google Poland and eventually move to a new team focused on supporting startups in the region and around the world.
Can you tell us a bit about yourself?
I'm Agnieszka Hryniewicz-Bieniek, but please call me Agni. During my first 11 years at Google, I first managed a sales team for a few years before going on to serve as the Country Manager. Later, I was promoted to Country Director for Poland, a position I held for nearly six years. Then, I led Google for Startups in the region as the Head of Central and Eastern Europe (CEE) prior to my current role as the Global Director of Google for Startups. I like to say that I used to represent my country in Google, and now I advocate for startups around the world within Google.
While my non-linear career path has spanned fast-moving consumer goods, telecommunications, banking, publishing, entertainment and technology, two things have remained constant: I love applying my knowledge from one industry to another to learn and discover new perspectives, and I thrive when helping other entrepreneurs pursue their dreams.
What was it like transitioning from Country Director for Google Poland to the Google for Startups team?
My transition came naturally because, for a long time, Google Poland felt like a startup itself. When I started in 2008, we had a team of only 10 people. By the time I left, Google Poland had more than 500 employees and had just signed a deal in Poland to build a local Google Cloud region to ensure that all Polish companies have access to Cloud technology. 
I still love leading small, agile teams in big organizations to drive high impact — and Google for Startups is exactly that. Managing such a multicultural and international team is a unique opportunity to hone my own skills while supporting startups in over 125 countries around the world. 
Agni speaking at our annual Trailblazers Summit.
How did the recruitment process go for you?
I appreciated that my interviews were dialogues. They felt more like interesting conversations. I was thrilled to speak to Googlers from Turkey, Germany and the United States. They each brought a fresh point of view to the conversation, and I knew that I wanted to work with international colleagues to broaden my own perspectives. 
What do you wish you'd known before applying?
Actually, I will reverse that question — I am so glad I didn't know more! I applied based on curiosity, which kept my mind open and positive. I encourage applicants to be more curious, more open and more sincere when thinking about their careers.
Even when I applied for the head of Google for Startups role, I knew I was taking a risk. You design your own path — don't let someone else design it for you. 
Our AI Principles prioritize creating technology that's socially beneficial. How does this keep you inspired?
Founders keep us on our toes because they have a high level of awareness of how Google technology and products work. Not only is supporting entrepreneurs the right thing to do because it makes good business sense, Google for Startups is the gateway to supporting founders of all backgrounds as they grow the businesses that will shape our world. That's why we're proud to have initiatives such as the Google for Startups Black Founders Fund, which provides equity-free cash awards to Black-led startups in the U.S, Brazil and Europe. 
I've seen firsthand how digital transformation and startup ecosystems can transform economies for the better. Poland is part of Central Eastern Europe, a region that has been one of the fastest growing economies in the world. Growth was initially fueled by traditional industries, but entrepreneurship has really put CEE on the map. I'd love to do the same for other emerging regions around the globe.
Do you have any tips you'd like to share with aspiring Googlers?
Ultimately, the company you work for is more important than the role itself. The company fosters the culture that will create your professional experience. Rather than getting hung up on a job title or moving up the ladder, consider the opportunities that the organization may open for you. Do you connect with the people, and do they share your values? Who you work with is just as important as who you work for.