Persistence paid off for intern James Frater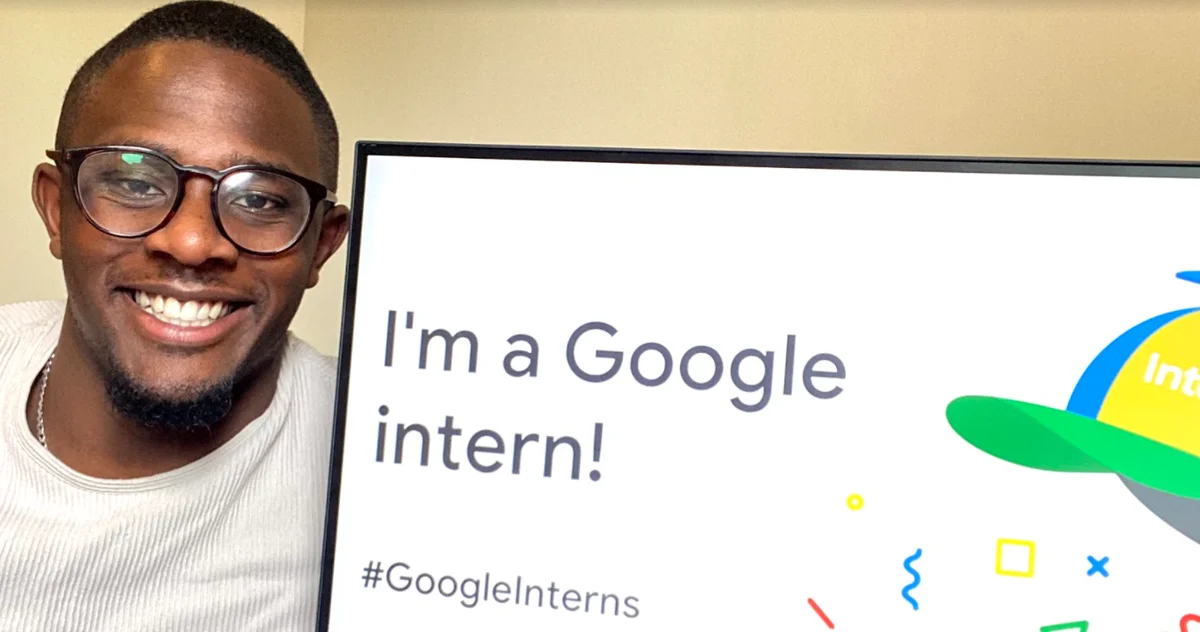 Welcome to the latest edition of "My Path to Google," where we talk to Googlers, interns and alumni about how they got to Google, what their roles are like and even some tips on how to prepare for interviews.
Today we spoke with James Frater, a business intern working virtually in London. Learn how James's passion for equitable solutions and love of learning brought him to Google.
What do you do at Google?
I am a Business Development Representative Intern for Google Cloud working in the Europe, Middle East and Africa (EMEA) region. In the role, I help leaders within organizations to work through their specific pain points and match them up with the arsenal of specific solutions that Google has to meet their needs. 
I am fortunate to be in one of the most supportive and encouraging teams I have ever had the pleasure of working in. It means that everyday when I wake up, I look forward to coming to work because I know that irrespective of the challenges that lie ahead, I have a team that will support me.
What made you decide to apply to Google?
My decision to apply to Google was simple. I wanted to be somewhere that allowed me to build sustainable and scalable tech solutions that measurably improved the lives of the people that needed the most help. In particular, a long term goal of mine is to make sure that everyone in the Caribbean has access to good healthcare, education and technology that makes their lives easier. Google is a positive and transformative vehicle that serves the needs of billions of people. I wanted to be a part of that.
I had applied to Google before; this was the third year in a row, in fact! I was really determined to get in because I knew what a great opportunity this was and I really believe I had what it took to be a Googler. I was fortunate enough to attend a Google Black talent event in 2020 and I was able to get some really great advice about applications. For example, in the interview it's less about arriving at the right answer and more about the thought process. Being able to ask clarifying questions, especially when you're not sure, will impress your interviewer. It was definitely third time lucky for me!
How would you describe your path to Google?
My path to my current role was… unconventional to say the least. I am a medical student, who has completed a management degree and also dabbles in efforts to reduce inequitable access to opportunities. I have completed internships in insurance, professional services, education and technology.
What's something you're working on outside your internship?
I am very passionate about the structural challenges that a lot of underrepresented groups face, so I work to make access to institutions (primarily educational) more equitable. I co-founded The Ladder Project CIC which is a social enterprise that helps to holistically develop young people through a series of online and in-person workshops. Our mission is to ensure that all students leaving school are equipped with the skills required to succeed in the world of work and in higher education. Having projects and interests outside of my internship is something that has been encouraged, so it really gives me the confidence to bring my whole self to work.
What's one thing you wish you could go back and tell yourself before applying?
"Relax!" is probably the main thing but some more practical things are:
Qualify everything you say on your CV/resume. Put numbers and percentages, talk about the impact your work had and its significance in context.

In interviews, it is okay — and encouraged — to talk through your thinking, especially when you are not sure.

Enjoy the process.
Any tips for aspiring Googlers?
Start creating solutions that help people. You don't have to wait until you get into a role to start doing things you are passionate about. I started doing talks and workshops for young people. From that, I co-founded The Ladder Project to help even more young people. It will also make your application stand out if you are able to demonstrate that level of initiative.