From startup founder to product manager in Nairobi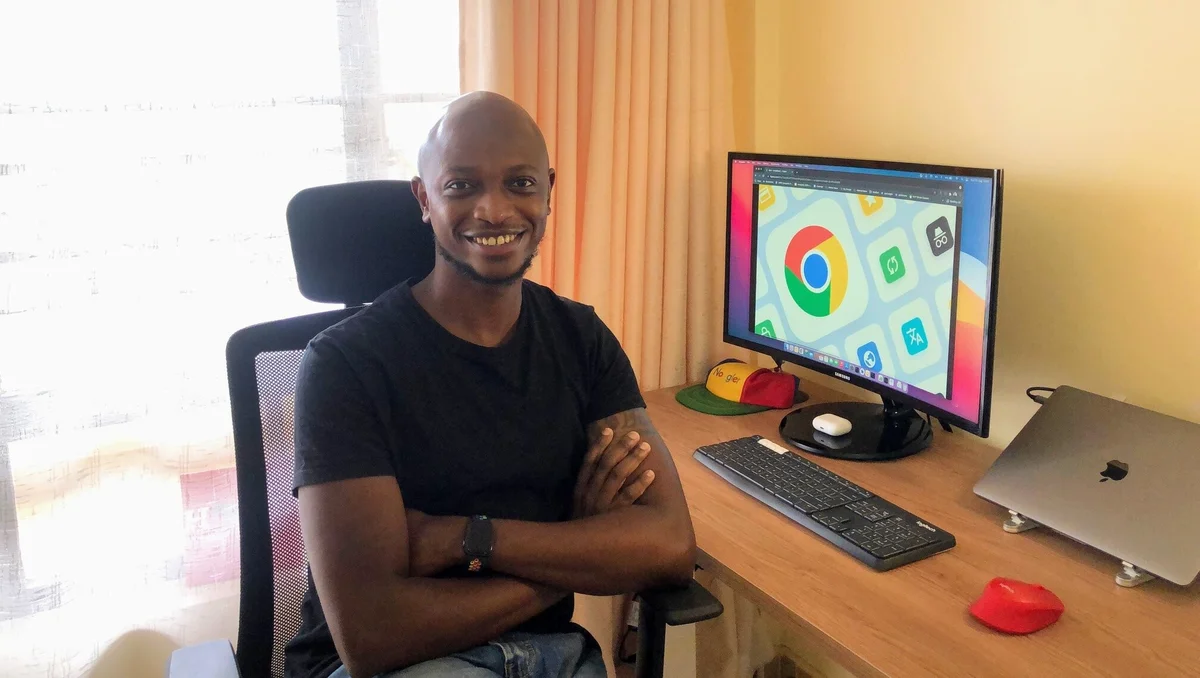 Welcome to the latest edition of "My Path to Google," where we talk to Googlers, interns and alumni about how they got to Google, what their roles are like and even some tips on how to prepare for interviews.
This week we spoke with Andrew Kamau, a Noogler — new Googler — who recently joined as a Product Manager in Nairobi. Learn how Andrew's career took him from startups in Kenya to creating products at Google.
What do you do at Google?
I'm a product manager working on the Privacy team for Chrome Browser. Product management typically involves wearing multiple hats, but I can summarize it as supporting my team in ensuring that we are delivering product features that help our users stay and feel safe while using Chrome to access the web.
I work closely with a team of engineers, designers, product managers and other cross-functional roles to anticipate our users' needs such as easy-to-use privacy controls and protection from online threats. We then design product strategy that meets those needs. This usually involves weaving together inputs from our users and colleagues across different teams and then making product decisions that align with the company's mission.
How would you describe your path to Google?
I've had a somewhat unusual path compared to most folks in my position. My career background is largely in tech startups. I live in Nairobi, which has a thriving community of creative talent from which I've benefited from and to which I've contributed. My time as an entrepreneur working on financial technology exposed me to opportunities that helped diversify my experiences and build up the empathy and skill set that is extremely invaluable as a product manager.

Coming from a startup background, I was — on one hand — nervous about moving to a global corporation. I worried that I might not fit into the culture, having not worked at any organization with more than 40 people in the entirety of my career before this. On the other hand, the interesting thing about working at Google is that I'm still able to channel my scrappy, entrepreneurial approach to experimenting and building products. The difference is that I now have access to world-class technology and talent to support me every step of the way and the impact of my work has increased exponentially.
What's the one thing that surprised you about the interview process?
Considering that I went through the entire process in the midst of the pandemic and working from home, I was pleased to find that everyone involved was gracious enough to accommodate my preferences, so I didn't have to worry about awkward situations like my son barging in on our video calls.
I did have some preconceived notions about what the recruiting process would look like. One that took me by surprise was how helpful and supportive my recruiter was. She helped make the process less jarring and more rewarding; even going so far as to set up calls with product managers and engineers who work at roles similar to the one I was interviewing for. They voluntarily provided guidance and advice, which helped me be better prepared for the technical interviews.
What gets you most excited in your role?
Chrome is used on billions of devices across the world to access the web. Building and maintaining safe and reliable product experiences for our users at this scale is a huge responsibility and source of motivation for me. I enjoy working on technical solutions to advance our mission and deliver value to our users. I'm particularly fortunate to work with incredibly smart engineers and designers on our teams.
In my role, every day is different. Some days are spent largely on meetings, chat and email with my colleagues brainstorming and planning, while others are heads-down working on synthesizing feedback from users and developing product requirements. 
I regularly carve out time on my weekly calendar for virtual coffees and lunches where I get to meet folks in the company based in Munich, London, Dublin, and other locations globally. Due to the diversity of backgrounds and experiences in the company, there's always something fun and interesting to learn from others.
Any tips for aspiring Googlers in Africa?
First and foremost, focus on being great at your craft while maintaining a low ego. I strongly believe that confidence, ambition and humility can co-exist.
Having mostly worked in the African tech industry, I'm constantly blown away by the talent and creativity that I encounter. I'd encourage anyone who aspires to make the jump not to doubt themselves and apply. You don't need to know anybody (I didn't!) or pull any strings.
It's also important to take time to find a role and team that is an ideal match. For example, I had to delay my process for a few months until I found the role and team that best matched my interests. Eventually, I ended up interviewing for a different role from the one I was invited to apply for — and it worked out great.