Office spotlight: Singapore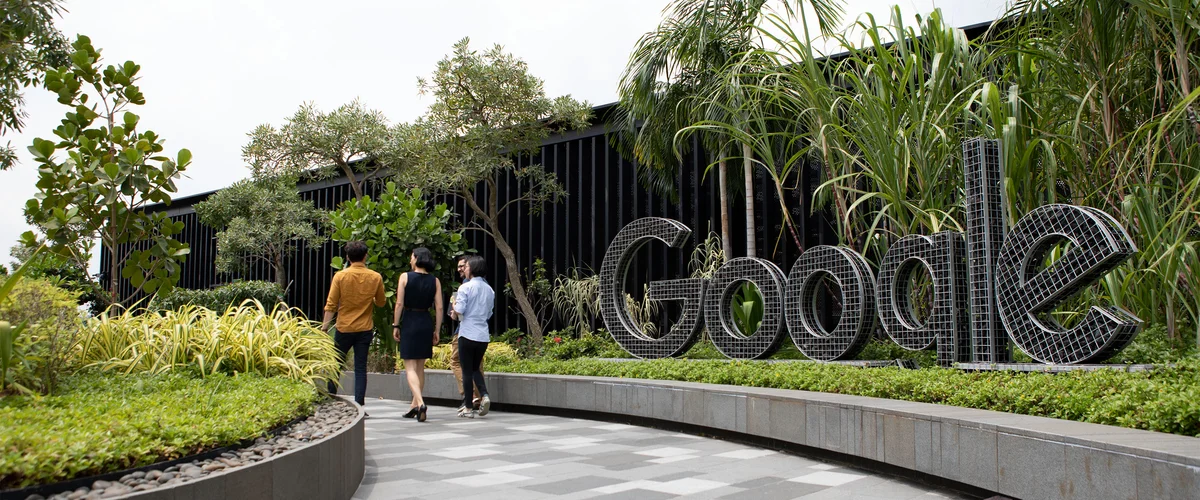 From the Shiok cafe in Google's Singapore office, you can catch a glimpse of the docks along Singapore's west coast — and beyond that, the Singapore Strait, one of the busiest shipping lanes in the world. It's a reminder of Singapore's long-standing role as a hub for global trade.
We first opened a Singapore office in 2007 — a tiny space in the business district — before moving to a new, purpose-built space in 2016. Today, Singapore is our Asia Pacific headquarters, located at the center of Asia's vibrant digital economy, and home to more than 2,000 Googlers. Like Singapore itself, the office is a melting pot of cultures, languages, ideas and (importantly) incredible food. It gives us a platform to understand, build for and invest in the entire region. But it's also deeply anchored in the local community: from the names of the kampongs (village in Malay) and meeting rooms where Googlers work, to the outreach programs we run in support of Singaporean developers, nonprofits and students. Let's take a closer look…
Shared spaces and a close-knit community
Exploring the office, you may see people sharing ideas for products in the Maker Space, going for a stroll in the rooftop garden or catching up with colleagues over kopi in one of our cafes. Over the past few months, Googlers in Singapore have been gradually (and safely) returning to the office, as local restrictions ease. Right now, only a certain percentage of Googlers are able to be in the office at any one time, while others work from home. It's part of our new, hybrid approach to work — which focuses on flexibility, giving Googlers more options for where and how they work in the future.
The office's Maker Space is a place where Googlers and collaborators can brainstorm, explore and build quick prototypes to bring their ideas to life.

In the Google Assistant Experience Room, visitors to Google Singapore can interact with the Google Assistant and understand the helpfulness it can provide in their everyday lives.

The rooftop gardens include lush greenery, walking paths and even a slide.

Throughout the year, spots around the office such as staircases and the lobby are decorated to celebrate occasions like Lunar New Year and Pride Month.

Shiok cafe showcases different cuisines of Singapore, including Hawker fare. If you're lucky, you might be able to try our Chef's Chicken Rice!
Whether at the office or working from home, Googlers often connect through clubs, cultural celebrations and employee resource groups (ERGs). ERGs are communities where members support each other in personal and professional development. Googlers also support each other through groups such as the Blue Dot peer support network, which aims to destigmatize mental health conversations. Clubs give Googlers an opportunity to share hobbies, such as the gardening group that grows herbs for our cafes. Google Singapore is home to one of the largest board game groups of any Google office, with more than 600 members and more than 200 games in their collection.
Another big part of life at Google Singapore is volunteering time and space to support the local community.
Developer Space @ Google Singapore brings together resources to help Southeast Asian developers, entrepreneurs and community groups grow and benefit from insights, hands-on mentorship and networking opportunities with various Google teams.

The Skills Ignition SG program helps Singaporeans and permanent residents get the skills they need for a shifting job market, such as digital marketing and cloud-related skills. Here's a photo of an onboarding session with the 100 trainees from the program who have been assigned to 18 different teams in the Google Singapore office, including our data centers, for six months.

The Code in the Community program provides multi-year, multi-level computer science computer science education to thousands of young Singaporeans from less well-to-do backgrounds. That can even include a trip to the office Maker Space, where students get to experience Google's maker culture and learn the basics of creative and design-thinking.
Singapore Googlers work on many different Google products and in areas like sales, marketing, finance and business operations. Here's a look at some of the cool stuff Googlers here help build.
Google Pay
Google Pay's Menu Discovery feature in action
This team is working to make payments more simple, helpful and inclusive for users around the world. For example, the idea for Google Pay's new Menu Discovery feature came about when a few Singapore Googlers noticed how food and beverage shops were facing a drastic drop in business during the pandemic lockdown and brainstormed how to create more opportunities for food merchants to bring their businesses online. The result: a new local feature that helped to bring over 250 merchants and their menus online for free, boosting their online presence during a challenging time. The number has grown to nearly 2,000 food merchants on Google Pay.
Google Cloud
Singapore is the first Cloud region we opened in Southeast Asia and the team here has grown significantly since.
The Cloud Marketing team hosted their first 2022 in-person customer kick-off event, Singapore Leaders Forum, at the ArtScience Museum in Singapore after COVID-19 lockdowns.
Googlers on our Cloud team help organizations around the world serve their customers and build what's next for their businesses with Google's cutting-edge, enterprise-grade technology – all on the cleanest cloud in the industry. Want to keep track of what the Cloud team is up to? Follow our SG Cloud Twitter feed.
Data Centers
More new internet users come online every day in Asia than anywhere else in the world. Our Singapore data centers help us to make sure that our users here have the fastest and most reliable access possible to all of Google's services, and then some. These facilities are also some of the most efficient and environmentally friendly in Asia.
Our Singapore data center lights up the night
YouTube
Members of the YouTube team work together to give everyone the power to share their story, explore what they love and connect with one another in the process. Singapore is the regional hub for YouTube, and the teams here focus on growing the creator environment in the region and creating locally relevant experiences for our users.
YouTube's teams in Singapore support the Asia Pacific's vibrant creator ecoystem
And that's just some of the work being done at this office! Interested in learning about job opportunities on these or other teams at Google Singapore? Check out our Careers Site to explore open roles.