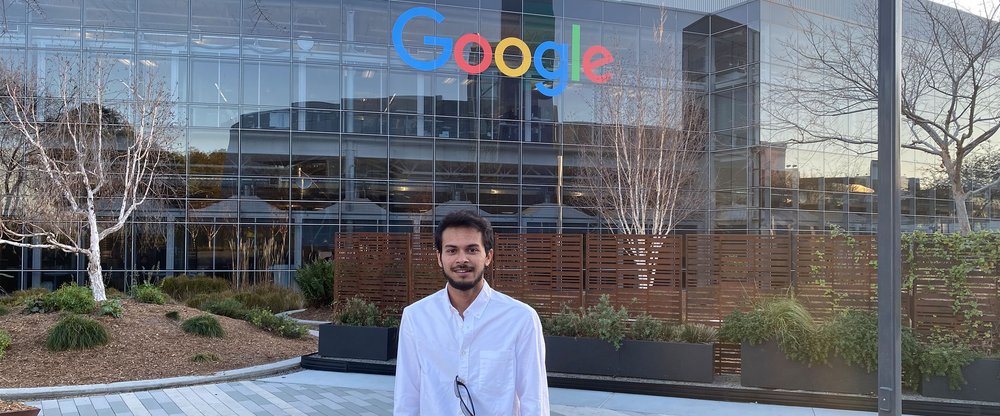 Welcome to the latest edition of "My Path to Google," where we talk to Googlers, interns and alumni about how they got to Google, what their roles are like and even some tips on how to prepare for interviews.
Today we spoke with Akash Mukherjee, a Security Engineer at our Mountain View office, about what makes his work challenging and exciting.
What do you do at Google?
I'm a Security Engineer on the Chrome Browser Core Infrastructure team. My team makes sure that the infrastructure used to build and ship Chrome to billions of users is secure. We build tools to make it easy for secure development practice across Chrome. One cool part of this work is that we not only support Google's internal developer community but also open source contributors.
What's a typical workday like for you? 
Most of my day involves designing and building out tools, so a lot of writing code and design docs. I'd say I spend 15% of my time syncing with colleagues on updates for ongoing projects. I'm fortunate to have multiple projects to work on — this helps me feel constantly challenged and motivated to work.
I feel like I have a great balance between collaborating and working independently. 
What made you decide to apply to Google?
Google had always been at the back of my mind, but I was intimidated by the interview process and held off applying for a while. Still, I'd heard good stories about the work-life balance at Google from friends. I was actually getting ready to apply right when a recruiter reached out to me! It felt like a natural match not only in terms of technical skills, but also culturally.
How did you land in your current role?
Before joining Google, I was a security engineer at another company, where I was doing more automation work. Although it was exciting, I always felt something was missing. Joining Google I realized how much I value constant innovation and building new systems and tools. One of the coolest things about building new things is that it requires you to understand the vast existing infrastructure. It's challenging, exciting work.
What inspires you to come in (or log in) every day? 
It's fascinating to see how Google's objective of building for everyone breaks down to the individual level. One of the benefits of working at Google is that the work we do impacts more than a billion people's lives. That motivates me. It would be unfair not to also mention all the amazing people I work with on a daily basis — my colleagues are a crucial part of the work I do.
Besides work, I play soccer and love to explore driving around. I also have the cutest golden retriever and outside work, that's where I spend most of my time.
How did you prepare for the interview?
Google's interview process really tests your fundamental knowledge. Work on strengthening those building blocks and answer questions with technical details. This is a good starting point that I have used. If you look at the questions, you'll see how fundamentals are important. 
Any tips for aspiring Googlers?
Believe in yourself, especially during tough times and failures. Anyone out there reading this, just get past the fear of failure and start learning from it. Failures teach us much more than success.