Prisha's path from YouTube vlogging to digital marketing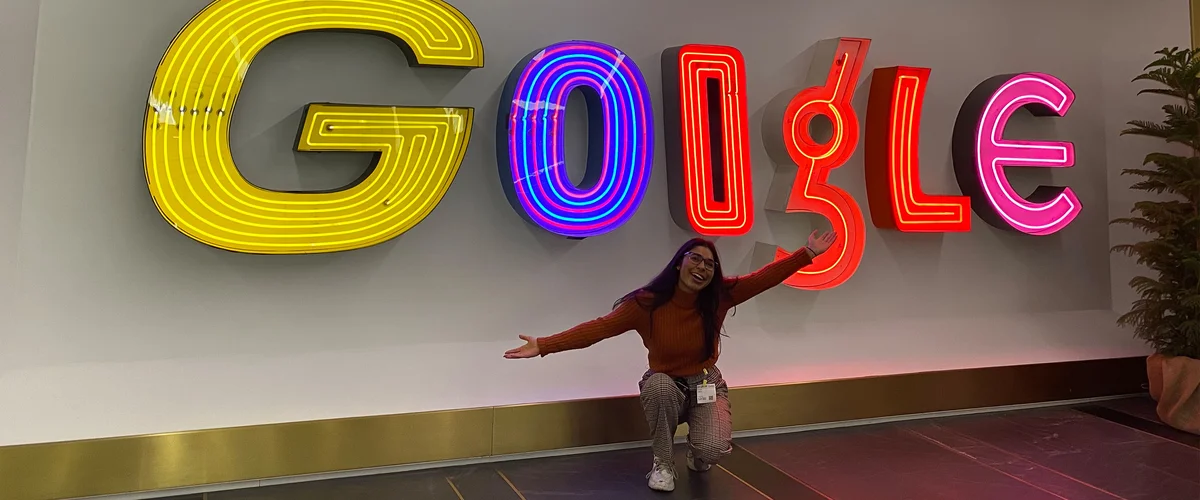 Welcome to the latest edition of "My Path to Google," where we talk to Googlers, interns and alumni about how they got to Google, what their roles are like and even some tips on how to prepare for interviews.
Today's post is all about Prisha Bathia from our London office, whose passion for creating YouTube videos led to an interest in digital marketing and eventually a full-time job helping customers at Google.
Can you tell us a bit about yourself?
One of my hobbies is filming videos for my YouTube channel, where I raise awareness of my rare chronic condition called Sturge Weber Syndrome. It's a neurological condition that affects my eyes, brain and face. I have a vascular birthmark on the left side of my face (also known as a port-wine stain), caused by larger blood vessels in my brain. It's also why I have an eye condition called glaucoma, which means I have limited vision in my left eye due to high pressure and retina detachment.
Growing up, I wasn't the most confident person. I struggled with my visible difference and I didn't see many people in the media talking about it. I wanted to change that and help others feel more confident. Part of my channel includes videos on self-confidence, bullying and my hospital journey. I also film travel vlogs to show that my condition doesn't stop me from achieving my goals.
What's your role at Google?
At 20 years old, I've recently transitioned into a full-time role on the Google Customer Solutions team as an Associate Account Strategist. I manage a portfolio of small to medium businesses, educating them on Google Ads and how to get the best return on their investment.
Before that, I had an apprenticeship on the Hardware marketing team, where I supported product launches, seasonal campaigns and paid media campaigns for over 15 countries. I loved using data and Google Analytics to plan campaigns.
How did you get interested in digital marketing?
In 2018, Great Ormond Street Hospital — the hospital I volunteer with, and the one that's treated me since I was a child — offered me a position on their digital marketing team. The role included setting up and optimizing campaigns, and analyzing data. I loved that this work was helping to raise funds for the hospital and making a real difference! That experience, combined with my own background in content creation, showed me the impact of digital presence and inspired me to pursue it as a career.
How did the Google recruitment process go for you?
I vividly remember the interview day because I met so many other amazing apprentices. It was my very first job interview so I didn't know what to expect. It was simultaneously scary and fun.
I was worried I wouldn't get the job because of my condition. Growing up, I was always anxious about my career and if my hospital life would get in the way. I worried that missing school would keep me from opportunities and negatively impact my future career, but I am so thankful that hasn't been the case. In a way, my condition created my passion for filming and posting on social media — which led me to my career in digital marketing!
Can you tell us about accommodations at Google for your work?
Everyone at Google is so supportive and shows a genuine interest in learning more about my condition and how they can help me. They understand that my condition can worsen on random days, and that I have frequent doctor appointments.
One of the main issues that I face, especially at work, is getting tired. Because I'm only able to use my right eye, my eyes often become strained — and I struggled in the first few months of my apprenticeship. But I worked with my manager, mentor, and our employee accommodations team to make some changes to my day-to-day routine. Now we make sure that I can take regular breaks, work from home, and have flexibility to leave the office early.
Working from home in the last year has been challenging. The screen time increased significantly and caused my condition to worsen at times. But by staying transparent with my team, we found solutions. If you are navigating something similar, my biggest tip is to speak openly to your manager or someone you trust.
With voluntary return-to-work at the London office, how has the hybrid model been working for you?
I love the hybrid way of working — it's been a great way to balance work and my condition. I've been able to go to the office recently, and it's helped me reduce my screen time and think less about my chronic illness.
Do you have any advice you'd like to share with aspiring Googlers?
Take every opportunity you get. Each one is a chance to develop new skills and learn from mistakes. It's the best way to grow professionally and personally.