Why Rob Tate moved from print to digital ad sales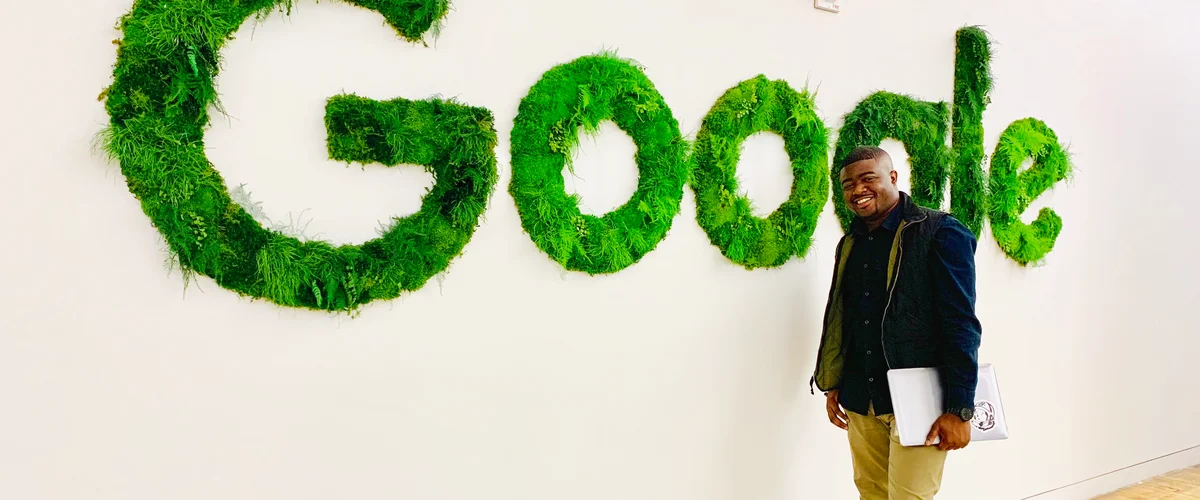 Welcome to the latest edition of "My Path to Google," where we talk to Googlers, interns and alumni about how they got to Google, what their roles are like and even some tips on how to prepare for interviews.
Today's post is all about Rob Tate, a senior account manager for digital ad sales based in New York. Rob shares his experience joining Google mid-career and how he was able to translate his "traditional" sales background in print marketing and retail to a role in digital ad sales. Rob now works helping small businesses shift their focus to e-commerce — something that's become especially prominent since the beginning of the COVID-19 pandemic.
Can you talk us through your role at Google?
As an account manager for digital ad sales, I work mainly with web hosting and email marketing companies to manage their digital advertising campaigns across Google Ads platforms. A cool project I'm working on at the moment is brand expansion through Video Ads Sequencing on YouTube. It's exciting to work with companies who really want to transform their brand story and see YouTube as a valuable piece of the puzzle.
What were you up to before joining Google?
I grew up in Prince George's County, Maryland.  Even in my younger years, I had an interest in STEM, being a part of a science and technology program in high school where I studied architectural engineering. After graduating from North Carolina A&T State University with a bachelor's degree in business management, I worked in the federal government for a few years, where I completed the USPS Management Foundations program with a focus on product innovation and brand marketing. While I was working there, I was also a graduate student at University of Maryland University College (UMUC), where I earned my MBA. 
Outside of work, what do you like to do?
I am a small business owner and run a graphic design consulting company that helps other small and medium-sized businesses build their brands online. My other passions are photography, traveling,  trying out new restaurants, writing, collecting all types of art from Black artists and spending time with my friends and family.
Can you tell us about your decision to apply to Google? 
I was always interested in Google! I applied to roles for years with no success, and finally got into the recruitment process a few years ago. I was mid-level in my career, having five years of work experience when I started the recruitment process. With a more traditional sales background working with print marketing campaigns and retail sales, I knew that my work experience along with my personal experience as a small business owner would help me in my new role, but I was still nervous.
What inspires you to come in (or log on) every day?
Knowing that the work I'm doing is helping people. It's not just advertising and marketing: We partner with our clients to build user-centric strategies that help their businesses grow. During the pandemic, so many small businesses have shifted their focus to e-commerce and websites instead of physical locations. We've been able to be a big part of those companies shifting their strategies to meet their customers' needs, even from home.
How did the application and interview process go for you? 
The recruitment process started with me being contacted via LinkedIn by a Google recruiter. I had a bunch of interviews over the course of a few months, and I wasn't used to that. I felt like Google was a whole new world, but my recruiter did a great job of providing helpful resources to make me feel comfortable during the process. 
Can you tell us about the resources you used to prepare for your interview or role?
I did a bunch of research on the role I was interviewing for — pulling information directly from the job description. I used the How We Hire section on Google's career site and tips about interviewing with Google to decide what parts of my experience to focus on during interviews. 
Do you have any tips you'd like to share with aspiring Googlers?
Show your willingness to think outside of the box. It sounds cliché, I know, but the way you think can take you far. That expertise that you may not think applies to the role you want at Google may be exactly what gets you the job! Be confident and show your personality — share how the things you do outside of work may help you in the workplace. The small details make a difference and tell your story.