Optimism for India's digital future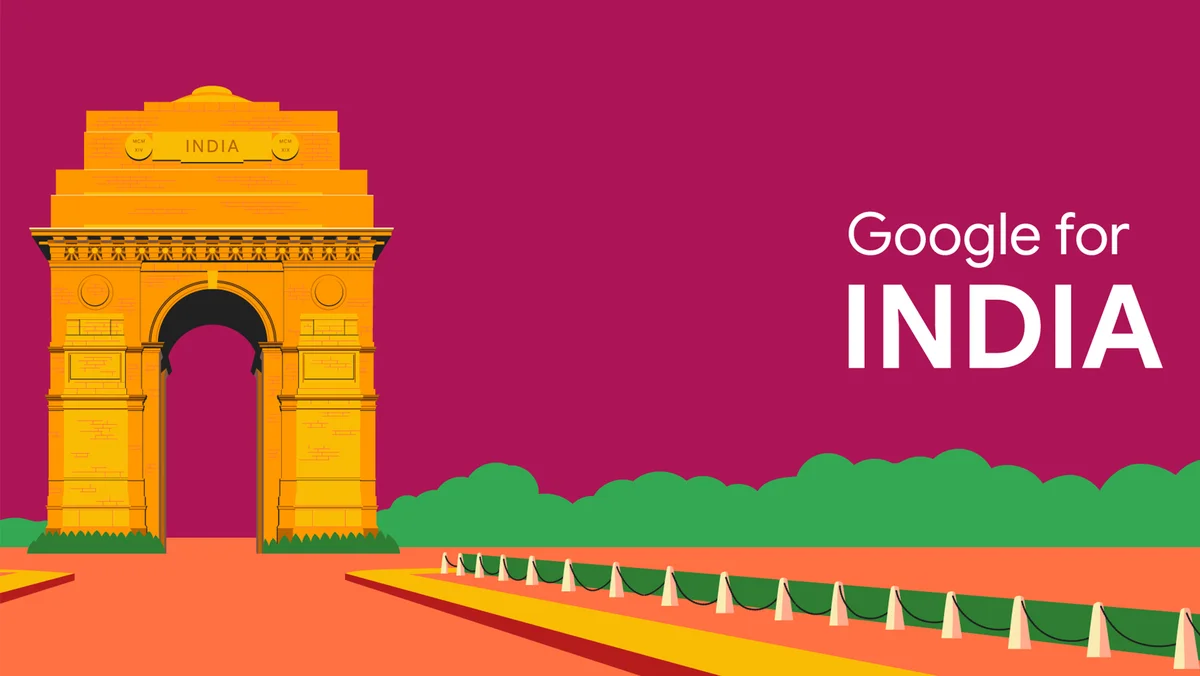 It's always special to come back to India, and this trip is especially meaningful as it's my first visit back since the pandemic. As we come out of it, there's a sense of optimism about the country's future and the role technology can play to improve lives.
Which brings me to why I'm here: first and foremost to meet with Googlers, as the team has grown significantly since I was last here. I'm also here to see progress being made from our $10 billion, 10-year India Digitization Fund (IDF), and share new ways we're helping to advance India's digital future at our Google for India event. That includes our efforts to build a single, unified AI model that will be capable of handling over 100 Indian languages across speech and text – part of our global effort to bring the world's 1,000 most-spoken languages online, and to help people access knowledge and information in their preferred language. We're also supporting a new, multidisciplinary center for responsible AI with IIT Madras. (Our VP of India Sanjay Gupta shares more details in his blog post below.)
This progress is part of how we're working to seize the opportunity in AI globally, balancing the need to be bold with innovation and responsible in our approach. I'm excited to see the ways India will contribute to breakthroughs in AI that could benefit over a billion people in India, and more around the world.
More broadly, I've been amazed at the ways people are already using technology to make their communities better. One of the local tech founders I met today has broken new ground by offering a radiation-free and non-invasive breast cancer screening tool; another developed a chatbot that helps people manage stress. I was glad to hear their stories and to share thoughts on how technology can expand opportunity during a conversation at WomenWill.
Later today, I have the honor of meeting with His Excellency Prime Minister Modi to discuss how we are supporting small businesses and start-ups, investing in cybersecurity, providing education and skills training, applying AI in sectors like agriculture and healthcare, and other priorities. Prime Minister Modi's Digital India vision has helped to accelerate the progress we're seeing across India, and I'm excited for India to share its experience with the world as it takes over the G20 presidency in 2023.
The pace of technological change in India has been extraordinary, and there's so much opportunity still ahead. Glad to be able to see it up close, and I'm already looking forward to my next visit.
Sundar
---
Editor's note: Below is an edited version of a blog from Sanjay Gupta, Google's Country Head and Vice President, India, summarizing the key announcements from Google for India.
India's digital transformation is at a tipping point. Seven hundred million connected Indians, affordable smartphones and data, record highs in digital payments, the digitization of citizen services, and a vibrant start-up ecosystem have put the technology sector on track to become the single largest contributor to the national economy.
We feel privileged to have played a part in this extraordinary story. Our mission in India is to make the internet helpful and safer for a billion Indians. We've introduced India-first innovations, worked to lower barriers to access, and invested in strengthening the strategic pillars of India's digital economy through our $10 billion India Digitization Fund.
Today, at our 8th Google for India, joined by Sundar Pichai, our CEO, and senior Google leaders and product experts, we stepped up our commitment to build a more inclusive, helpful, and safer internet for every Indian — and shared how we hope to supercharge India's digital transformation by harnessing AI.
Partnerships are the cornerstone of our journey in India, and essential for such a scaled transition. Today, with partners from across the public and private sectors, we announced new efforts focused on taking Indians from foundational access to the point where technology becomes the enabler for growth, knowledge, health and progress.
Early stage startups are the engine that drives innovation, with many building products that address key information and service needs for people across India, especially for novice internet users. Strengthening our ongoing resolve to support India's digital innovators, as part of our India Digitization Fund investments, we will be targeting support for early stage companies with a particular focus on women-led startups.
An AI model that handles 100+ Indian languages — and the next step in understanding all of India's dialects
Building on our vision of an internet experience that is responsive to every Indian's choice of language, be it via text or voice, we announced a set of AI-based product integrations that will serve Indic language internet users better through a new, evolved, multimodal, bilingual model covering over 100 Indian languages. We also introduced another India-first innovation — making Search results pages bilingual by tapping into our advanced ML-based translation models and a cross-language search technology.
Looking to the longer term, we've joined hands with the Indian Institute of Science on 'Project Vaani' — an initiative that aims at collecting and transcribing open source speech data from across all of India's 773 districts, making it available through the Government of India's Bhashini project.
Professor Govindan Rangarajan, Director, Indian Institute of Science, "India's language landscape is unique, with dialects and accents often changing every few hundred kilometers, and multiple languages spoken in the same district. And so we are pleased to collaborate with Google on project Vaani, an effort that is fundamental to creating inclusive AI technology that truly reflects India's rich spread of languages and speech. Our team at IISc is already working to gather speech data, and we aim to cover all 773 districts across the country. This information is being open sourced via Bhashini, India's national language mission, and we are excited at the possibilities and solutions that Vaani will enable."
For more details on how we're enriching our Search experience with more visual, voice and Indian language offerings, visit here.
Partnering to help deliver India's vision of Digital Agriculture
As well as harnessing AI to increase access to information and knowledge, we're also supporting partners working to accelerate AI's impact on industry sectors like agriculture — and share the benefits of technology with communities across the country.
We're collaborating with the Government of Telangana as it pilots AI-based solutions for agricultural innovation for the state's approximately 6 million farmers. And we're partnering with Cropin, a global ag-ecosystem intelligence provider, to improve applications that can track land use and bring digital services to farmers nationwide.
Rama Devi, Director of Emerging Technology, Telangana State, "AI can be a powerful tool for Governments to drive transformational impact across sectors. We want to leverage AI to boost the economic contribution of agriculture while impacting lives at scale. Our collaboration with Google will play a critical role in us enabling agriculture solutions at a field level and sharing that data with the wider ecosystem so that participants across the value chain benefit."
Enabling a secure experience across our products
Security is at the core of our product strategy. With the unprecedented growth in India's internet adoption, and people's reliance on digital in their everyday lives, the work we do to keep people safe online has never been as important as it is today. We are deepening the role of AI in helping respond to complex and shape-shifting cybersecurity challenges at scale, whether it is detecting malware and phishing, auto denying spam transactions, blocking bad content, or preventing spam messages.
We're also working with the National e-Governance Division and Ministry of Electronics and Information Technology to bring Digilocker-verified documents directly onto the Files by Google App for Android users. With this feature, people can quickly and safely organize their most-used documents on their smartphones for easy and private access on-the-go.
Shri Abhishek Singh, President & CEO, NeGD and MyGov, MD & CEO, Digital India Corporation, "With easy access to authentic digital documents, DigiLocker facilitates the speedy delivery of government benefits across financial inclusion, education, health initiatives and more. The government recognizes the role of key partnerships, and Google is an important and responsible tech player in the country that continues to offer helpful products and services to millions of Indians. We expect that DigiLocker's integration and partnership on Android will drive smoother and ubiquitous access to digitized documents in a safe and secure manner for all our users."
On Google Pay, we're introducing enhanced security features enabling an additional layer of safety for users, including multi-layered intelligent warnings to alert users if the fraud detection system detects suspicious activity.
Sharing our best practices for building responsible AI for everyone
As India's digital ecosystems increasingly adopt and leverage AI, we are committed to sharing the best practices we have been developing since 2018, when we began championing responsible AI. To help build a foundation of fairness, interpretability, privacy, and security, we are supporting the establishment of a first-of-its-kind multidisciplinary Center for Responsible AI with a grant of $1 million to the Indian Institute of Technology, Madras.
Prof. Ravindran, Head - Robert Bosch Centre for Data Science and Artificial Intelligence (RBC-DSAI); Center for Responsible AI, IIT Madras, "With the rise in the development and deployment of AI systems, it is essential to establish responsible guidelines to ensure fair, ethical and safe usage of AI based solutions. There is a need to develop technology that is understandable to the end users, providing strong safety and performance guarantees, and to raise awareness of the impact of the technology on society. The Center for Responsible AI is a first of its kind initiative in India that aims to bring together technologists, sociologists, policy and legal experts from academia, industry and the government to study all aspects of this domain called Responsible AI. We thank Google for partnering with us on this initiative and for being the first collaborator of the center."
One important dimension of responsible AI is the challenge of mitigating bias, particularly against women, who have long been inadequately or unfairly represented in society. We're increasing our focus on training natural language processing models to evaluate and mitigate gender bias, along with various other types of discrimination relevant to India. We plan to make our models open source, so we can work with industry to scale our collective efforts and support faster progress.
To learn more about our AI-led solutions and partnerships, click here.
As India enters the age of AI, we are deeply inspired by the ways hundreds of millions of Indians are using technology to shape their future, and the nation's. And we're committed to harnessing the best of Google's technology to make sure the benefits and opportunities of digital transformation are shared as widely and equitably as possible over the decade ahead and beyond.