Supporting U.S. food banks to deliver 50 million meals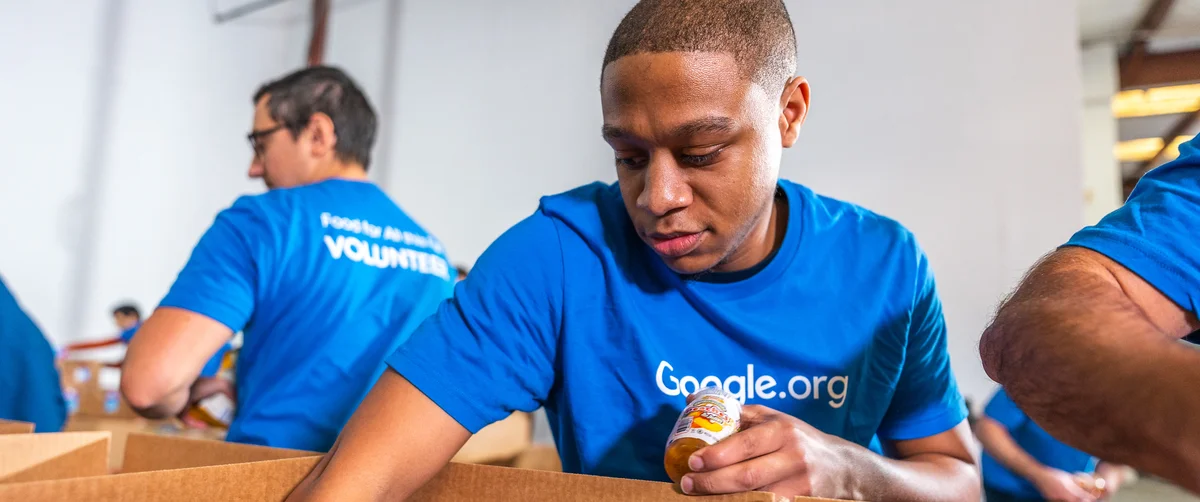 This week, we kicked off our annual holiday giving campaign. I always look forward to this time of year because it gives Googlers — our employees — a chance to amplify their generosity by directing some of the company's funds to causes that are important to them and can make an impact in their communities. Every year, food banks, along with schools, are among the most popular recipients for giving back. Our employees have given more than $43 million to U.S. food relief organizations with Google.org's gift match, as part of our $2 billion in giving since 2017.
This year, food insecurity remains a big challenge for many families across the United States. According to the U.S. Department of Agriculture, more than 10% of Americans were food-insecure at some time in 2021 — meaning they couldn't be sure that they would have enough food for their family to eat.
One of the best ways to support families is to equip food banks, especially as increasing food prices and global supply chain issues stretch them thin. That's why today we're launching a new partnership with Feeding America and its network of local food banks and pantries. Our goal is to deliver 50 million meals, while strengthening food banks' technical infrastructure for the longer term. We're also launching new features in Search and Maps that make finding food support easier.
Helping Feeding America
Google.org will contribute $10 million to Feeding America and 32 of its member food banks to help deliver 50 million meals to communities most in need. We'll partner with these food banks throughout the month to host more than 20 volunteering events in communities across the country, to raise awareness and encourage those who can to give back. In one of those communities, Mesa, Arizona, Google.org has joined forces with Waymo to expand their food rescue program, and Googlers will help load a Waymo Via semi truck full of food to deliver to local food banks. Since May, Waymo Vias have helped transport more than 44,000 pounds of bread on behalf of nonprofits' food rescue efforts.
Volunteers at the local food bank in Fort Myers, Florida, help to unload fresh produce from a truck.
Google.org is also donating Search advertising to Feeding America and local food banks and pantries across the U.S. in order to connect them with people searching for resources or ways to give back.
Over the longer term, we'll continue to partner with Feeding America on its food bank network's technology infrastructure. This work will help improve things like inventory management tools — projects that are often deprioritized so food banks can meet immediate needs, yet are vital to ensuring that the right food gets to the right households at the right time. We'll be lending our expertise to help close these gaps, creating volunteer opportunities for Googlers to put their skills to work.
Providing information through our products
One of the biggest ways we can make a difference is by helping people find information about food support in their communities. Last year, we launched Search and Maps features that make it easier to locate verified local food banks. These features also enabled people to find out more about Supplemental Nutrition Assistance Program (SNAP) benefits. And now if you search for "how to apply for SNAP" you can find information about milestones in the application process, including important details on eligibility and documents required.
Once approved for SNAP, many people use Electronic Benefit Transfers (EBT) as a payment method, and you can now search for "EBT" to find your local program's website, check your balance and find contact information to get support. Searching on Google Maps for "grocery stores that accept EBT" surfaces more than 180,000 USDA-approved grocery stores, convenience stores, farmers' markets and other nearby retailers that accept this payment method.
It will take a sustained and coordinated effort to address the challenge of food insecurity. Working with Feeding America and its partners, we're committed to raising awareness of this ongoing crisis, and encourage others to help, this holiday season and all year round.