Google's new Viger office is an homage to Montréal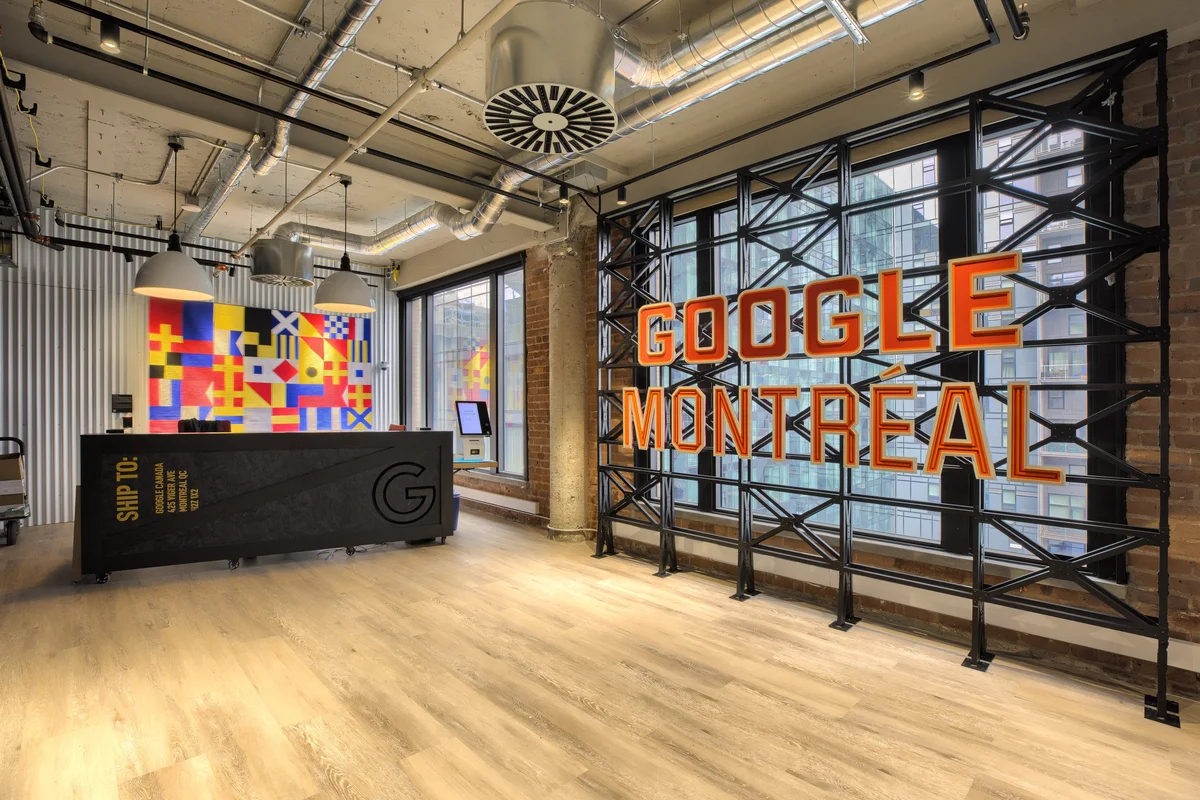 Google first laid down roots in Québec in 2004, when three engineers worked out of shared coworking spaces no larger than vestibules - including me, I'm employee number five in Montreal! Over the years, Google expanded, we called McGill College homebase for many years - where team members shared milestones as they worked together to build global-scale software that touches the lives of so many here in Quebec and around the globe.
Today, we're proud to continue our commitment as we enter a new frontier for Google in Québec, by celebrating the official opening of Google Montréal Viger, a sustainability-focused office located in downtown Montréal, on the periphery of the city's beloved Old Port. We're also announcing $2.75 million towards Québec's tech ecosystem & digital skills training.
The new office is home to a variety of teams that work on some of the most crucial products and services Google offers worldwide, including cybersecurity, AI research, Chrome and Cloud. There's too much exciting innovation going on to list it all here; if you'd like to meet the faces behind Google Montréal and find out how some of your favourite Google features were developed in this office, click here.
Explore Google Montréal's Viger space
Montreal is often referred to as a medley of neighbourhoods, each with their own distinct identity. The retrofitted historical building pays homage to Montréal by reflecting the essence of five of the city's most beloved neighbourhoods - Little Italy, Le Village, Le Plateau, Chinatown and Old Port. Every inch of the office celebrates the spirit of this vibrant city from the Farine Five Roses style Google Montréal sign when you enter the lobby, to the playful nods, traditional elements and architectural detailing of historic neighborhood like Chinatown's flock and damask, Little Italy's artisan markets, Old Port's industrial roots, and Le Village's festive spirit.
The building is equipped with the latest LEED Gold sustainability standards, and includes enhanced ventilation that helps conserve energy and sustainably sourced furniture and materials. Throughout the space you can discover carefully curated art from Quebec artists, which aims to inspire employees and strengthen connections that Google maintains with local makers. Some of the artists featured include Nadia Myre, a Montréal-based member of the Kitigan Zibi Anishinaabeg First Nation, and Bryan Beyung, a street artist and painter born in Montréal into a Chinese-Cambodian refugee family.
To acknowledge Indigenous connection and stewardship to the land where Google Montreal exists, and to help remind Google team members of this history, we named many of our meeting rooms after local tree species in the Kanien'kéha (Mohawk) language. The name selection process was conducted in consultation with the nearby Mohawk community of Kahnawake. A native Kanien'kéha speaker helped ensure spellings were correct, that traditions and cultural practices were respected.
Supporting Québec's tech ecosystem
Today, we are also excited to announce a contribution to Québec's tech ecosystem of over $2.75 million. This funding will support curiosity-driven research that tackles some of the most important 21st century challenges and catalyze Quebec's future digital builders and innovators:
Google Canada is committed to pushing the boundaries of deep learning research and is renewing its collaboration with Mila by providing $1.5M in funding for 2023. The funding will help support fundamental AI research projects in areas like AI for Humanity, climate change, and sustainable agriculture. Support will also be provided to increase successful participation of students and faculty from underrepresented groups in computing research careers.
To create new opportunities for students across Quebec looking to build digital skills, Google.org is providing a grant to Digital Moment (formerly Kids Code Jeunesse) to help their organization launch The Quebec Digital Literacy Project, a program aimed to equip teachers & students in grades 3-12 with digital skills.
To help job seekers in Quebec gain the technical and digital skills required in the current job market, Google is now offering the Project Management and IT Support Google Career Certificates in French. The courses will be available to the public on Coursera, a global online learning platform.
Google.org will also provide a grant to NPower Canada to offer need-based scholarships to learners taking the Google Career Certificates in Quebec, with support from local workforce development nonprofits La Maison de l'Amitié and AIM CROIT.
Google and Google.org are providing additional support to local Quebec organizations, like Startup Montreal, Pathways to Education, E2 Adventures, UpstartED, AI4Good Lab, and Resilience Montréal. These organizations work to tackle digital skilling, fostering startup communities, STEM education, job training and often support some of Québec's most underrepresented communities.
For over 16 years, I've watched our team in Quebec grow and work on some of Google's most beloved products. Today, I'm proud to continue this journey and expand our commitment to Quebec's tech ecosystem. I look forward to what the next 20 years brings.