Making an Impact in Canada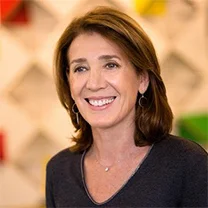 Aamir Baig was an entrepreneur with a big idea — to build a company that reimagines how customers furnish their homes and workplaces. With Fraser Hall and brothers Sam and Andy Prochazka, Baig co-founded the furniture retailer Article. They then turned to digital advertising services to find new customers across Canada and the U.S. and drive growth. Thanks to digital technologies, the Vancouver-based company has built a rapidly expanding business in just six years, and is now Canada's fastest growing company according to Canadian Business.

Google has helped Canadian enterprises of all sizes to unlock the prosperity of the internet. According to new research from Public First, last year Google's search and advertising products helped generate an estimated $23 billion CAD in annual economic activity for more than 500,000 businesses in Canada—a total impact equivalent to approximately 1.1 percent of Canada's entire GDP.

Why digital matters for Canada
The transition to digital reflects incredible momentum for Canadian businesses leveraging data and online technologies. Canada's digital economy generates some $100 billion CAD in annual revenues, more than the forestry, mining and gas industries combined. The internet addresses many of the traditional economic challenges that a country of Canada's vast size once faced—a population the size of California, spread over a land mass roughly the size of Russia. The open web helps solve for distance and lack of population density, and allows any size company or individual creator in Canada to become a global business and reach customers across the planet. Google's products alone support $1.7 billion CAD annually in incremental exports for Canadian businesses. And 160,000 Canadian YouTube creators see 90 percent of their views come from outside Canada's borders.

Sustaining this kind of economic growth hinges on building a smart and adaptable workforce. Canada's investments in first-rate education and technological research--spearheaded by facilities like MILA in Montreal and Toronto's Vector Institute-coupled with its consistent welcoming of global talent, reflect a commitment to a labor force designed to seize the opportunities of the digital economy.

Growing Google in Canada
Google began its business in Canada in 2001, when our office in Toronto was opened with one salesperson. Nineteen years later, we employ more than 1,500 people—including engineers, sales leaders and AI researchers—across three offices in Waterloo, Toronto and Montreal. Today we're pleased to announce that we're expanding our presence in Canada and building three new offices, one in each of these cities. By 2022, these offices will accommodate up to 5,000 employees.

Investing in Canada's future workforce
Our investment in Canada extends beyond our facilities—we also aim to support the communities in which we live and work. Just in the last five years Google has invested $17 million CAD in Canadian nonprofits, specifically to help Canadians learn essential digital skills training with programs like the Google IT Support Professional Certificate program.

Programs like these have helped people like Jean Claude Kamov transform Canada. Jean Claude was a refugee from the Congo who moved to Canada to escape violence and build a better life for his family. He always dreamed of a career in technology, but the cost of training held him back. Jean Claude heard about our program, which offers people with no previous tech experience the training to become certified in IT support. He applied at the Edmonton Public Library and became the first graduate to be hired into a new high tech career.

Stories like Jean Claude's are why we're continuing to invest in skills training programs. Today, Google.org is announcing a $2.5 million grant for NPower Canada, a charitable organization that launches underserved young adults into meaningful and sustainable careers. Through this grant, we'll support 1,700 Canadians with technical skills through the IT Support Professional Certificate and the IT Automation with Python Certificate.

Helping Canadians benefit from digital opportunities

Google is pleased to play a part in Canada's ongoing digital transformation. We're helping Canadian businesses grow, we're investing directly in programs to support Canadians learning new skills and we're expanding our offices to accommodate for long-term growth. When Google looks to Canada, we see the potential of technology to drive business and change lives. We're committed to helping Canadians deliver on that potential.



Posted by Ruth Porat, Senior Vice President and CFO for Alphabet and Google